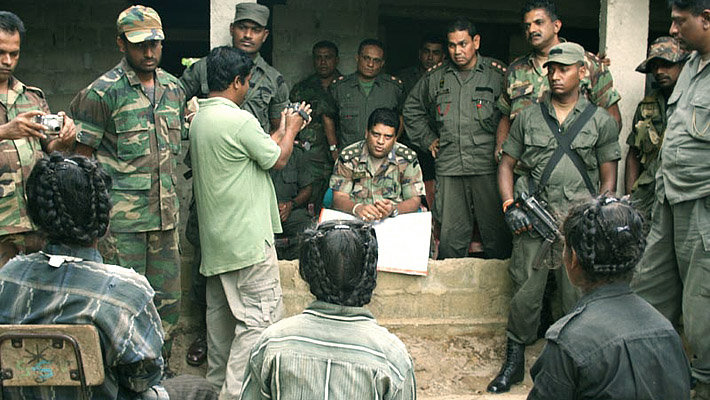 Sri Lanka that denied Tamil Tigers handed themselves over to the military in the last days of the civil war, acknowledged the existence of a record that contains names of rebels who surrendered to security forces.
A military division accused of committing war crimes is in possession of a list of those who handed themselves over to security forces in the final days of the bloody battle, a senior military commander revealed in courts.
Habeas Corpus
Senior human rights lawyer KS Ratnavale appeared on behalf of relatives of the victims.
"During the hearing, the Commander of the 58 Division denied receiving any such surrendees. But when cross examined, he admitted that his denial is based on the official records maintained by his division which included the names of the surrendees they received," Ratnavale told JDS.
Mullaithivu magistrate MSM Samsudeen ordered the military to provide the list of surrendered rebels, in the possession of the 58th division.
Since the government announcing its military victory over Tamil Tigers (LTTE) in 2009 May, Sri Lanka has continuously denied  that any LTTE militants surrendered to the military.
Relatives of thousands of disappeared Tamils have been maintaining that their loved ones were handed over or abducted by state security forces.
White flags
Major General Shavendra Silva who led the 58th division received surrendering Tamil tigers during the final days of the war, aninternational human rights organisation told in 2013 quoting eye witness.
Sri Lankan and international bodies have recorded that LTTE political wing leader Balasingham Nadesan and head of the LTTE peace  secretariat Seevaratnam Pulithevan were among those who surrender with white flags as instructed by Sri Lanka and foreign government, before they were executed.
However, Sri Lanka defence ministry announced on its website that the Nadesan and Pulidevan were among the the 18 senior LTTE leaders found among the dead on the 18 May 2009. 'Armed forces officials have positively identified the bodies' it said. However, the announcement did not detail the circumstances of the killings.
The UN has identified the killing of surrendees including Nadesan and Pulidevan as a war crime and called for an independent probe into the killings.
Major General Shavendra Silva managed to avoid a lawsuit filed by relatives of disappeared in New York as he enjoyed the privilege of diplomatic immunity as the Sri Lankan Deputy Permanent Representative to the United Nations in New York in  2011.