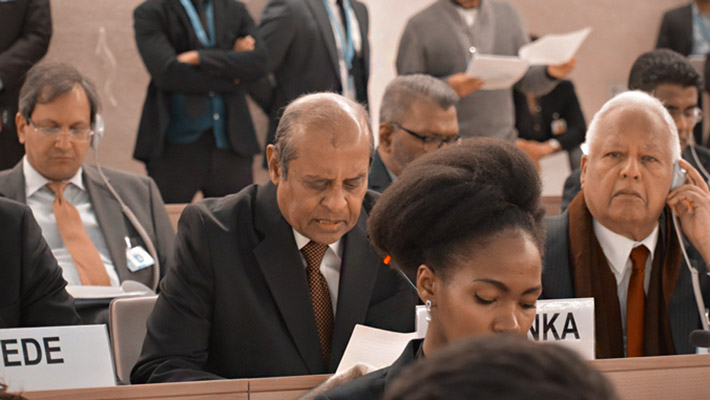 By Athula Vithanage, Journalists for a Democratic Sri Lanka, Europe, March 22, 2019
Thousands of acres of land occupied by the military in northern Sri Lanka will not be released to their rightful owners despite ongoing protests.
Scores of war displaced Tamil families have been protesting for more than two years by the wayside opposite sprawling camps built over their traditional lands demanding the military to vacate.
Their land "would continue to be held by the security forces" Sri Lankan foreign minister adamantly told the UN rights body reviewing the country's human rights record.
Leading a cross party delegation to the UN Human Rights Commission convening in Geneva for its 40th session he disputed a report by the UN top rights official quoting government figures, which said that only 75% of occupied land have been released so far.
"Of the 28,215.29 acres of the private land held by the Security Forces since May 2009, 26,005.17 acres (92.16%) have been released as at 12th," Sri Lanka Foreign Minister Tilak Marapana told the UN Human Rights Council (UNHRC).
"However, the remaining lands, which are a necessity in the context of national security, would continue to be held by the security forces, with compensation being paid in respect of privately-owned lands."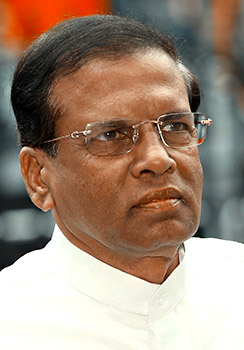 Figures released by the ministry of defence in January said that the military has only released 75% of occupied land.
It further stated that almost 29,000 acres of private land was occupied.
National security V "casteism"
Although Minister Marapana referred to "national security" as justification for the continuing occupation of private land, a day before, Sri Lanka's president blamed what he called as "casteism among Tamils in the north"as the reason for the failures in redistributing the land.
"Due to casteism, authorities in those areas are distributing the released land according to their value among individuals who belong to different castes," President Maithripala Sirisena toldrecipients at a university award ceremony.
Concerned about the land distribution process, the UN Human Rights Commissioner Michelle Bachelet had recommended an independent mechanism to handle the matter.
"Establish an independent mechanism to determine specific cases in which land must be allocated for military use owing to security reasons and identify appropriate compensation or substitution for land owners or occupants," Michelle Bachelet said in her report.
Apart from releasing military occupied land, Sri Lanka in 2015 pledged to investigate alleged wartime abuses by its military with the involvement of foreign judges.
After dragging its feet for four years, Sri Lanka rejected its commitment for criminal accountability claiming for the first time that the country's law does not allow "non-citizens" as judges.
"The Government of Sri Lanka at the highest political levels, has both publicly and in discussions with the present and former High Commissioners for Human Rights and other interlocutors, explained the constitutional and legal challenges that precludes it from including non-citizens in its judicial processes. It has been explained that if non-citizen judges are to be appointed in such a process, it will not be possible without an amendment to the Constitution by 2/3 of members of the Parliament voting in favour and also the approval of the people at a Referendum," Minister Marapana, a lawyer himself, told the UNHRC.
'No proof of war crimes'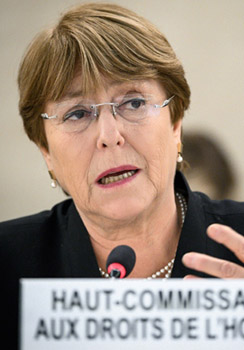 He also rejected any probe of the country's security forces, on the grounds that the UN findings are "not proven".
"At a time when the world is confronted with increasing acts of terrorism and violent extremism, as I stated before this Council last year, the action by the Sri Lankan security forces during the conflict was against a group designated as a terrorist organization by many countries, and not against any community. Further, it must be asserted that there are no proven allegations against individuals on war crimes or crimes against humanity in the OISL report of 2015 or in any subsequent official document. It is an injustice to deprive any serving or retired officer of the Sri Lankan security forces or the police of their rights."
Referring to war time abuses including extrajudicial killings, bombing of civilian assets, abductions, enforced disappearances, torture and sexual violence the OISL report concluded that the credible evidence it gathered deserves an independent judicial process.
"These patterns of conduct consisted of multiple incidents which occurred over time. They usually required considerable resources, coordination, planning and organisation, and were usually executed by a number of perpetrators within a hierarchical command structure. Such systemic acts, if established in a court of law, may constitute war crimes and crimes against humanity, and give rise to individual criminal responsibility," it said.
In response to the uncompromising standpoint taken by the Sri Lankan government the human rights commissioner reiterated her call to take action against alleged perpetrators.
"My report records that in the absence of progress member states should consider the using universal jurisdiction principals to prosecute Sri Lanka against credible allegations of war crimes and crimes against humanity," said Michelle Bachelet.
She will be "carefully exploring other alternatives" eventually, the high commissioner told the UN assembly.
However, a resolution requesting the UNHRC to allow Sri Lanka to carry on with its present course of action was unanimously adopted a day after the Minister Marapana rejected the high commissioner's report. The resolution does not have any clause demanding international jurisdiction