by Mark Townsend, 'The Guardian,' Manchester, July 21, 2018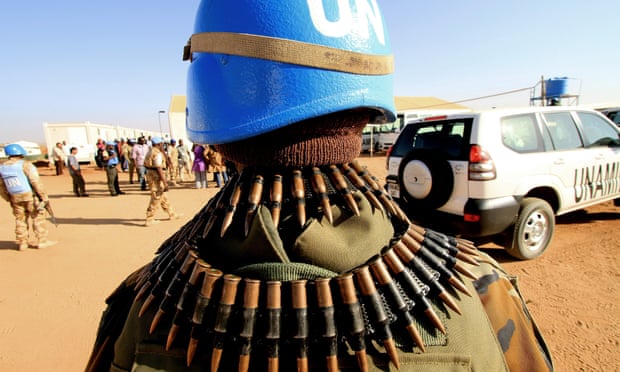 The UN has been sending alleged war criminals to act as peacekeepers in conflict zones, a confidential report claims.
The document, seen by the Observer, and sent to the UN's Department of Peacekeeping Operations last month, claims that senior Sri Lankan officers accused of war crimes have been deployed to UN operations in Mali, Lebanon, Darfur and South Sudan.
Drawn up by the South-Africa based International Truth and Justice Project, the 41-page document, marked confidential, claims a cohort of senior Sri Lankan commanders who have been deployed to UN operations were involved in alleged abuses during the final phase of war with Tamil rebels in 2009.
Among them is a commander sent to oversee UN peacekeeping operations in Mali, west Africa, and who controlled Sri Lankan troop divisions alleged to have committed war crimes during the finale of Sri Lanka's 26-year civil war, which left at least 100,000 people dead.
Another Sri Lankan commander said to be implicated in alleged abuses was appointed to lead a UN peacekeeping mission earlier this year, but was not eventually deployed.
However, it is confirmed that in 2016 a senior Sri Lankan officer was sent to Darfur, western Sudan, and another was deployed to South Sudan where fighting continues. Although the UN has introduced a vetting process for Sri Lankan soldiers involved in its peacekeeping missions, which is designed to screen out anyone who was involved in frontline combat positions in the final phase of the country's civil war, campaigners say it has failed.
During the military offensive, reports of gross violations of international humanitarian law emerged, including allegations of repeated targeted attacks on civilians, hospitals and extrajudicial killings.
Yasmin Sooka, executive director of the International Truth and Justice Project, who has sat on a UN commission inquiry into sexual exploitation and abuse by peacekeepers in the Central African Republic, said: "Sri Lanka's security forces were involved in mass atrocities in 2009, for which there has been zero accountability – instead, alleged war criminals have been promoted and rewarded with prestigious and lucrative UN postings.
"This is an affront to those they are supposed to be protecting in Mali and Lebanon – as well as to victims in Sri Lanka who are desperate for justice. The UN needs to ensure countries like Sri Lanka publish the names and photographs of their peacekeepers a reasonable period before deployment, so that civil society can play a role in vetting them. Peacekeeping is a privilege, not a right – only the very best should represent the country."
Her comments follow concerns raised by Tory MP Paul Scully, chair of the all-party parliamentary group for Tamils, who in May wrote to the UN's peacekeeping operations asking for details of the vetting and screening process of members of Sri Lanka's Special Task Force who may be deployed by the UN.
His letter makes reference to a senior Sri Lankan special task force officer "who appears to be currently deployed in Africa in a UN peacekeeping role, despite there being allegations that he was involved in ordering summary executions of Tamils in the east of Sri Lanka during the war".
A UN Peacekeeping spokesperson said it was developing a strict vetting process with Sri Lanka to ensure all peacekeepers met their standards.
The UN said it was working with the government of Sri Lanka to ensure that the country's domestic screening process complied with the UN's policy on screening personnel. "This is necessary before the UN can receive any further deployments or rotations from Sri Lanka," it added. It is important that all procedures and institutional arrangements are in place so that the domestic screening process can meet these requirements.
"The national Human Rights Commission plays a key role in this process and we trust the government will facilitate its important work."