This is one set of numbers re casualties from Sri Lanka's war.  The 65,000 missing number comes from those reported to various official Sri Lankan commissions & officially accepted by Pres. Sirisena's government in 2016.  Accurate figures of casualties are one of the biggest challenges of the war.  The numbers for civilian casualties in this article are low, since the 2010 UN Panel of Experts' Report estimated 40,000 civilians died in the conflict areas of the primarily Tamil NorthEast in the last months of the war, the 2013 Petri Report said credible sources estimate 70,000 civilian deaths and the Catholic Bishop of Mannar told the LLRC in 2011 that 146,000 civilians needed to be accounted for.  See http://sangam.org/2007/11/Killed_1956_2007.php?uid=2619 and http://in.reuters.com/article/sri-lanka-rights-idINKCN0YU277 and http://www.ipsnews.net/2016/08/tracing-war-missing-still-a-dangerous-quest-in-sri-lanka/— Ed/
by DataLEADS of Asia News Network in 'The Daily Star,' New Delhi, May 27, 2017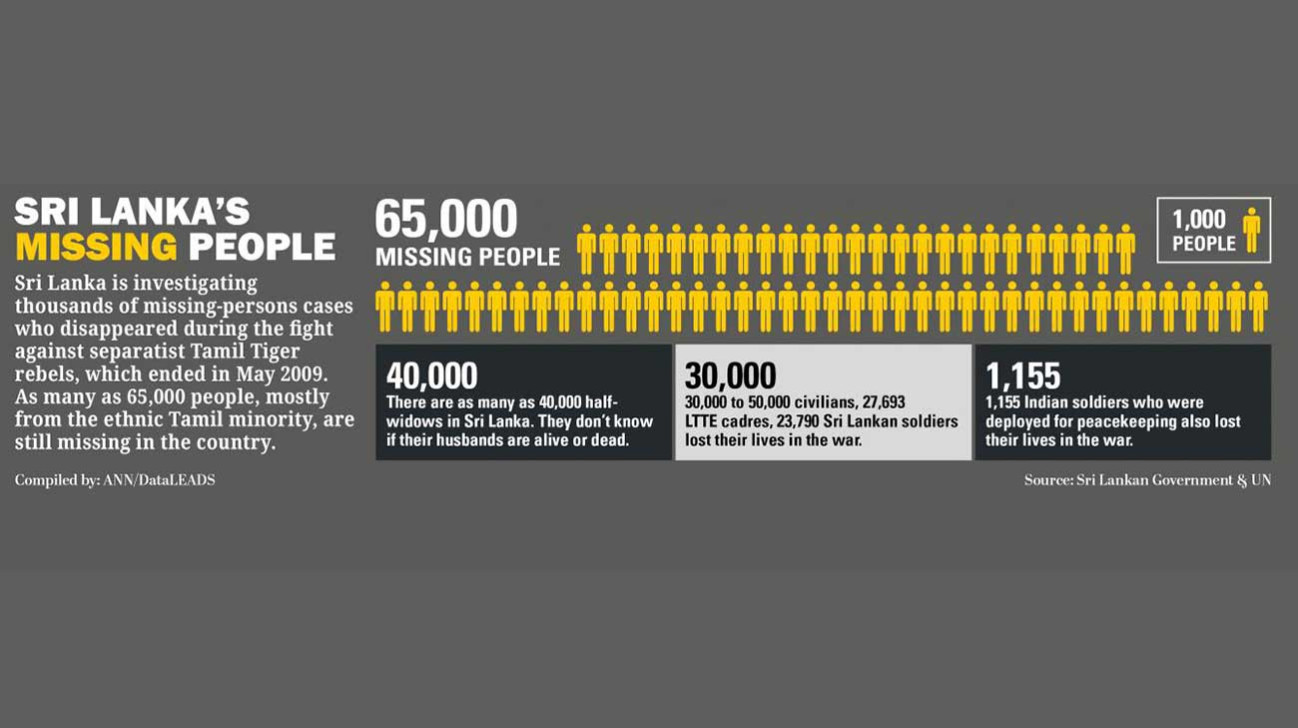 Sri Lanka is investigating thousands of missing-persons cases who disappeared during the fight against separatist Tamil Tiger rebels, which ended in May 2009. As many as 65,000 people, mostly from the ethnic Tamil minority, are still missing in the country.
It was in 2016 that Sri Lanka set up an office to locate thousands of people still missing years after the defeat of separatist Tamil Tiger rebels. The Office of Missing Persons (OMP) is tasked to recommend compensation and clear the way for families of the dead to take legal action against anyone responsible for the disappearances of their loved ones.
The government has agreed to issue certificates of absence to relatives of over 65,000 that went missing during the civil war. There are as many as 40,000 war widows in the country. These widows don't know if their husbands are alive or dead.
The OMP this year released the National Policy on Reconciliation and Coexistence. It said that the country has endured a three-decade long civil war including a protracted armed conflict which has caused suffering and damage to all communities and people in the country.
"The armed struggle concluded in 2009, leaving behind a breakdown in relations and trust, intolerance and prejudice between and within communities in the country", it said.
The missing disappeared during the fight against separatist Tamil Tiger rebels, which ended in May 2009, when the Sri Lankan forces crushed the rebels fighting for a separate homeland for the ethnic minority. In 1983, the Tamil Tigers began fighting for an independent Tamil state in the north and east of the island of Sri Lanka. Later, a radical Marxist group waged an armed revolt against the government in 1987-89.
As there are apprehensions that some of the missing might be still at locations used for incarceration of rebels and suspected rebels by the government forces during the war, Sri Lanka's President Maithripala Sirisena on May 21, said, "If there are allegations that people are still being held in some locations, the government will set up a mechanism to inspect them."
According to India's former National Security Advisor and Foreign Secretary, Shivshankar Menon, between 1983 and 2009, nearly 80,000 to 100,000 people, including combatants from both sides, lost their lives.
According to Menon's book, Choices: Inside the Making of India's Foreign Policy, among them were 30,000 to 50,000 civilians, 27,693 LTTE cadres, 23,790 Sri Lankan Army personnel, and 1,155 men of the Indian Peace Keeping Force (IPKF). Some 40,000 people are believed to have been killed in the final few months of the conflict alone.
Copyright: DataLeads/ Asia News Network