by Tamil Guardian, London, May 7, 2020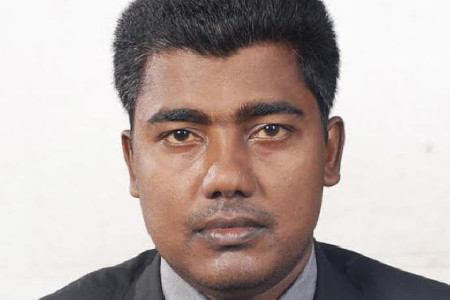 On this day 11 years ago, Stephen Sunthararaj, an activist who had exposed the trafficking of Tamil children into international prostitution rings, was abducted and forcibly disappeared in Colombo by armed men in military uniforms.
Sunthararaj, was the Project Manager of the Centre for Human Rights and Development (CHRD) in Colombo.
Exposing child trafficking in Jaffna
As part of his work he had told the then United States Ambassador in Colombo about prostitution rings run by government aligned paramilitaries in Jaffna. The paramilitaries were trafficking children into sex rings in India and Malaysia with the help of immigration officials.
See extracts from a leaked US embassy cable below.
17.  (S)  On March 26, Mr. Stephen Sunthararaj (strictly protect), Coordinator for the Child Protection Unit of World Vision in Jaffna, said he believes that EPDP is operating child trafficking rings in Jaffna with a base on Delft island, which the EPDP "owns."  Sunthararaj explained that because of the large number of widows in Jaffna, men associated with the EPDP, often from neighboring villages, are used to seduce women with children, especially girls, with the promise of economic protection.  After establishing a relationship, the men then take the children, sometimes by force and sometimes with the promise that they will be provided a better life.  The children are sold into slavery, usually boys to work camps and girls to prostitution rings, through EPDP's networks in India and Malaysia.  Sunthararaj maintains that children are often smuggled out of the country with the help of a corrupt Customs and Immigration official at Bandaranaike International Airport in Colombo.

18.  (S) Sunthararaj's story was partially verified by Government Agent Ganesh, who stated that the EPDP works in concert with the Sri Lanka Army (SLA) to operate Tamil prostitution rings for the soldiers.  Ganesh stated that young women were taken and forced to have sex with between five and ten soldiers a night.  Sometimes they are paid approximately a dollar for each "service."  The young women's parents are unable to complain to authorities for fear of retribution and because doing so would ruin the girls' reputation, making it impossible for them ever to marry. Families have begun arranging marriages for their daughters at a very young age in the hopes that the EPDP and soldiers will be less likely to take them.  In addition to trafficking in children, Sunthararaj detailed how the EPDP operates an illicit alcohol smuggling ring using child "mules."
The cable was written by then Ambassador Robert O. Blake on May 18, 2007.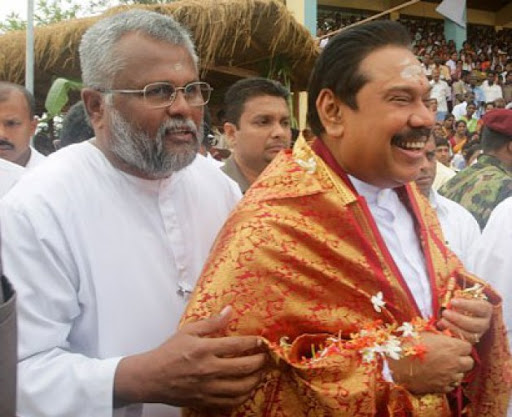 Douglas Devananda, the leader of the EPDP, a government aligned paramilitary group with a long history of rights abuses, is currently Sri Lanka's Fisheries and Aquatic Resources Minister. In 2012, the Sri Lankan government sent him to the UN Human Rights Council as part of its official delegation to Geneva.
Life under threat
Sunthararaj was a well-known activist on the island, having documented cases of child abuse as part of his work as Coordinator for the Child Protection Unit of World Vision in Jaffna. He had been Assistant Social Science lecturer in Jaffna University from 2001 to 2005 and in Colombo University from 2003 to 2005.
In 2007, he moved to Colombo after facing threats in the North-East due to his work, and he joined CHRD. Whilst residing in Mount Lavinia he had already been visited by armed men on motorbikes, who were part of Sri Lanka's Special Task Force (STF).
On February 12, 2009, members of the STF tried to force Sunthararaj into a van as he was leaving his office in Colombo. He was subsequently taken to Kollupitiya police station in the capital, where he was formally detained without charge under the Prevention of Terrorism Act (PTA). His wife received a phone call soon after from an anonymous number warning her, that "even if you get Stephen released from police, we will see that he is lifted again". Another call warned that Stephen would be tortured unless a million rupees was paid in ransom.
After almost 3 months in detention he was finally released on May 7, 2009.
The abduction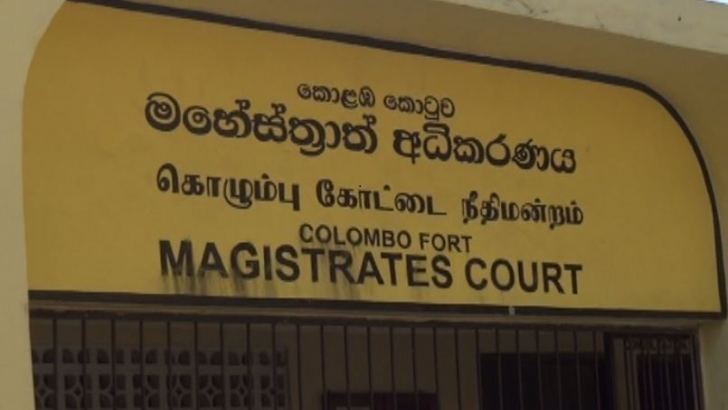 On the day Suntharaj was released, he was forcibly disappeared. He had been returning from Colombo Fort Magistrate Court, where his detention order had been cancelled.
The International Federation for Human Rights retells events of the day.
While returning from court in the vehicle of their lawyer, Mr. and Mrs. Sunthararaj noticed that they were being followed by two persons travelling on a motorbike, supposedly two army intelligence officers in plain clothes. After leaving their children with one of Mr. Sunthararaj's colleague, Mr. and Mrs. Sunthararaj stopped at the Kolpity police station to get back his mobile phone, passport and other personal belongings. After they resumed their journey, while they were approaching the Town Hall Junction two persons on a motorbike blocked their way and simultaneously a white van approached. Five armed men in army uniform alighted of the van, opened the door of the vehicle in which Mr. Sunthararaj was travelling, bundled him into the van and sped off. According to the information received, those events occurred in a busy and crowded street. One of men removed the keys from the car that Mr. Sunthararaj and his family was travelling in and fled from the scene in the van.

Afterwards, the officers of the Cinnamon Garden police station arrived and took the vehicle together with the passengers to the station where their statements were collected. Mr. Sunthararaj's wife has identified one of the perpetrators of the abduction as one of the Criminal Investigation Department officers who had previously visited her home for inquiries while her husband was held at Kolpity police station. However, no investigation was initiated.
Admission of guilt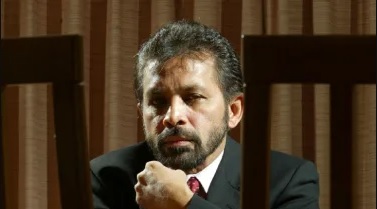 In December 2009, Sri Lanka's Permanent Secretary to the Ministry of Foreign Affairs, Palitha Kohana, stated in conversation with US Embassy and European Union officials, that Sunthararaj was not forcibly disappeared, but had been arrested by intelligence services. 
That claim has never been investigated further. No further information was given..
The abduction drew widespread condemnation, including from World Organisation Against Torture and Amnesty International.
"The incident points out to systematic operation by several persons drawn from the Army, Police and Tamil paramilitary groups which are bent on targeting whomever they suspect and to settle old scores and for monetary benefits by way of ransom," said the Asian Human Rights  Commission.
"The manner in which this operation was carried out with utter disregard for law and order highlights the extreme state of impunity prevalent in this country. The suspicion strongly points to the Army Intelligence Personnel who may have had assistance from the Kollupitiya Police Station to follow the vehicle in which Stephen was travelling and to relentlessly reach their target with nary a care for the order made by a court of law by which Stephen was set free."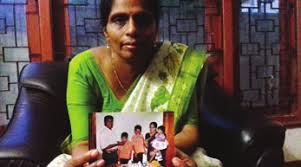 Still searching for Stephen
In 2016, his wife Vathana, an active member of CHRD's campaign in ensuring justice for the families of the disappeared, was due to address the UN Human Rights Council in Geneva.
On 25 August 2016, as she was preparing for her trip to the United Nations, Stephen's mother in Kilinochchi was visited by unknown persons who claimed to be army intelligence personnel.
They told Stephen's mother that they had him in their custody and that he would be released the following day. Stephen's mother went with the two intelligence operatives from Kilinochchi to Colombo, in a journey that involved several stops and lasted 2 days.
Eventually Stephen's mother was taken to Vathana in Colombo. The operatives then asked Vathana to accompany them, promising that Stephen would be released if she did. She refused, stating she needed to stay with her children. Stephen was never released.
Vathana believed the incident was part of efforts to stop her from travelling to Geneva. She went regardless and delivered a statement to the council.
"I got fresh hope when I was here last September, when the OISL report was presented at the 30th session leading to a resolution on Sri Lanka," she told the council. "But progress in implementation has been slow and the government appears not to have political will to ensure rights of families of disappeared like me."
"I have made many complaints about Stephen's disappearance. But I got no answers for 7 years. Like me, many other wives, mothers, daughters, sisters are in search of their loved ones. So we have lost faith in government initiated mechanisms."
"An Act to establish an Office of the Missing Person (OMP) was rushed through parliament without genuine consultations with us. Families fear that it may obstruct our right to criminal justice and reinforce impunity, as it appears to lack linkages to a justice process. We want to make sure the OMP has strong involvement of families of disappeared and international experts."
"The UN staff and member states doesn't seem to recognize these realities and appear to be losing interest in us, families of disappeared. The UN Secretary-General didn't meet us during his visit. I appeal to you not to abandon us. We need your help."