by Tom Seymour, 'The Guardian,' UK, March 31, 2016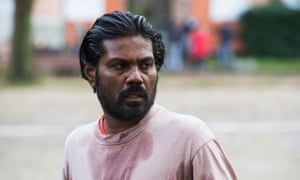 It's hard not to look at Antonythasan Jesuthasan's forearm. As he reaches for his espresso, he catches me doing so. He pulls his sleeve back, revealing a dense lattice of scars. "I did those to myself," he says. He mimics running a blade across his skin. "I was 22, and I had spent years trying to come to the west. I wanted to get a fake French passport, but I had to be accepted as a refugee. I went to the UNHCR [the UN High Commissioner for Refugees], but they wouldn't believe my story. So I cut myself, and held up my arm, and said to them: 'Look at my blood. This is my word.'"
To be fair, it has been some story. As a teenager, Jesuthasan was a soldier for the Tamil Tigers during the Sri Lankan civil war. Now, after 23 years of political asylum in France, he is the star of Dheepan, the new film from Jacques Audiard, perhaps France's most celebrated modern director.
We are in the bustling cafe of the Cinéma du Panthéon in Paris. No one pays any heed to the slight, quiet man in bootcut jeans and a tracksuit top, despite his looming presence on a huge, Taxi Driver-like poster in the foyer. But Dheepan, which is based loosely on Jesuthasan's early life, has already proved wildly successful. Last May, Dheepan won the Palme d'Or at Cannes; 11 months on, the film has a global cinema release, and 48-year-old Jesuthasan is facing up to the prospect of movie stardom.
It's a cold, crisp spring day in Paris's Latin Quarter. But Jesuthasan isn't totally sold. "Paris has been good to me, but I don't want to be here," he says. "I haven't been home for 26 years, and I want to return to Sri Lanka. I live here waiting, and in hope." His life in the French capital is one of exile; a state of suspension, wondering if he will ever be able to safely return to the country of his birth. But, as he talks at a furious speed, in a mixture of Tamil, French and English, it's clear in his head and heart, at least, that he has never really left. He misses "everything", he says. "But I haven't been there for so long, I don't know what awaits me."
What would he do if he was given safe passage today? "I would launch a magazine in Colombo, dedicated to Sri Lankan society," he says without pause. "The manifesto is already written. It's in my flat, on the wall of my bedroom."
Does he think this film will help this dream? He shrugs. "There's posters all over the world of the film, but there's been no change for me," he says. "There's only one positive: it allows me to explain the problems in my country."
The Tamil cause is an indivisible part of Jesuthasan. Over the past two decades, he has sold roses, stacked shelves, washed dishes, swept streets and, for a while, worked as a bellboy in EuroDisney. But, at the same time, he has forged a successful double-life as a writer of Tamil fiction, and is now a well-known figure among the Tamil diaspora.
"I was a writer and dramatist even as a militant," he says. "I wrote poems and essays about the liberation of the Tamil people. I would write theatrical performances and we would act them out in the villages. It's part of me."
But he remains stunned, he says, by how little western people know about Sri Lanka's long and bloody civil war, which lasted from 1983 to 2009 and claimed up to 100,000 lives, according to UN reports.
Jesuthasan was born in the tiny village of Allaipiddy, on the northern island of Velanaitivu. As a teenager, he was radicalised by the Black July anti-Tamil riots, joining the Liberation Tigers of Tamil Eelam, one branch of the militant wing of Sri Lanka's persecuted Tamil minority. At 17, he became a full-time member, using the nom de guerre Buckle and taking up arms against his government.
Of the 30 young men in his "set", all related, 23 were killed by the Sri Lankan army in August 1990. "Their bodies were thrown into a well. Today, my whole village has been destroyed."
Shortly after, Jesuthasan was detained on terrorist charges in Colombo. Then, during a ceasefire, he was released, escaped Sri Lanka and, after a few years floating through Indochina, made it – with the help of fake documents and illegal traffickers – into France.  trying to sell, in broken French, plastic tat from a shelf hanging from his neck. He is seen running, desperately, from the police, then returning to the tiny banlieue flat he shares with his pretend wife and daughter. There, without help, they must slowly learn to live together in such an alien place.
The film's first act cleaves closely to such experiences. In Dheepan's opening scenes, Jesuthasan's character is shown as a defeated warrior, laying to rest the corpses of friends in the lush greenery of Sri Lanka's hinterlands. Then, in a refugee camp, he is given the passport of a dead man. In order to escape, he must pretend to have a family, and is paired with a pretend wife, Yalini (Kalieaswari Srinivasan), and a nine-year-old girl, Illayaal (Claudine Vinasithamby), who has lost her own parents to the war. Together, the strangers are placed on a rickety, crowded boat full of those lucky enough to escape.
Cut to Paris's streets, where we see Dheepan moving wearily from table to table, trying to sell, in broken French, plastic tat from a shelf hanging from his neck. He is seen running, desperately, from the police, then returning to the tiny banlieueflat he shares with his pretend wife and daughter. There, without help, they must slowly learn to live together in such an alien place.
Jesuthasan remembers such moments only too well. "Humiliations and rejections are my inspiration," he says. "It is not easy to remember such things, but it's what I focused on for the film."
Audiard's flair and mastery as a film-maker are in full force here – his ability to channel rivers of emotion through small, almost trivial moments. But the film is made by Jesuthasan's extraordinary performance, one of studied inscrutability, under which trauma, memory and desire boil. This is not a show of technique, but of catharsis.
Dheepan was conceived before Audiard's Rust and Bone, in the months afterA Prophet was released in 2009. Audiard wanted to tell a story that put the audience in the shoes of a refugee escaping war for the promise of a better life. "What interested me was the position of someone different in society," the director told the LA Times. "How the people who sell us roses when we're sitting in a cafe live, where they come from."
Jesuthasan heard of the film, and auditioned for a minor part. Three weeks before the film was slated to shoot in early 2014, Audiard learned of his actor's backstory, of how closely it matched the drama in his script. Jesuthasan, who had never appeared in a major feature before, was rushed into classes and, in a remarkable show of directorial conviction, made the lead in the film. Was it emotionally exacting to play a part so closely related to what he has been through? "Yes," he says – yet he always sensed some strange serendipity. "In a way, I expected this to happen in my life. Every day on set, Jacques would come to me and say the same thing: 'I've written these characters, but I don't know what they're like in real life, so you show me.'"
That approach culminates in the most moving scenes in the film, when, for the first time, Dheepan and Yalini seem destined to part. It was completely unscripted. "Kalieaswari said something in the scene I didn't expect, and I responded to it instinctively, and the scene went its own way. Jacques was delighted, and it's still in the film," he says. "He's become a very good friend."
When did he turn against violence, I ask? Jesuthasan raises his eyebrows at me. "You come from the UK?" he asks. "The UK helped the Sri Lankan government." He lets a silence hang. "You might come from a place without violence, but your government is violent." He stares at me again, waiting for my recognition. "Iraq, Syria? There's no place without violence."
He pauses again. "I didn't know real life in Sri Lanka. Just the war. And it has shaped everything. Still, I am at war. I always will be."
Dheepan is released in the UK on 8 April.