by Tamil Guardian View, London, August 26, 2021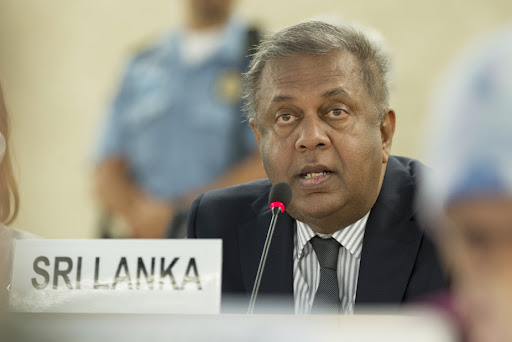 Mangala Samaraweera, a formidable figure in Sri Lankan politics who previously held several ministerial posts, passed away from COVID-19 at a private hospital in Colombo this week. News of his death was met with international tributes from senior political figures worldwide, including the United States, UK, Europe and India. Many of those messages mourned the loss of a man that came to espouse the type of liberal Sri Lankan politics that reverberated with those powers. His passing will therefore be a particular blow to longstanding Western efforts that seek active partners amongst the Sinhala Buddhist polity for the liberal order project.
Across the Sinhala political spectrum, from the far right Sinhala chauvinists of the Sri Lanka Podujana Party (SLPP), to the more liberal United National Party (UNP) and Samagi Jana Balawegaya (SJB), Samaraweera's death was mourned with tributes of how, regardless of political affiliation, he remained a Sri Lankan "patriot". Whilst the Tamil National Alliance also paid tribute to his active efforts "for a political solution to the Tamil national question", other Tamil reactions have been more muted. Indeed, Samaraweera has a long history in politics, with a chequered past.
His first venture came with the Sri Lankan Freedom Party (SLFP), where he quickly grew into a party stalwart. His free market policies are credited to have been the driving force behind achievements such as expanding telephone coverage whilst Minister of Post and Telecommunications. Yet that tenure also continued a period of media censorship and repression, which journalists repeatedly protested against. In the years that followed, Samaraweera showcased that he was an undoubted Sinhala nationalist, including through attending a 2003 demonstration against the alleged "betrayal of the Sinhala nation" by the UNP government's decision to sign a ceasefire with the LTTE. Under then-president Chandrika Kumaratunga, he continued to play a key role and shaped policies such as opposition to the 19th amendment and was instrumental in her 2003 seizure of power which almost derailed ongoing peace talks, even after the LTTE had made concessions to explore a federal model within a united Sri Lanka. He went on to become a close political ally of Mahinda Rajapaksa, leading his staunchly Sinhala nationalist 2005 presidential election campaign. As Rajapaksa's foreign minister, Samaraweera played a crucial role in calling for the ban of the LTTE abroad, even as peace talks continued. He led calls for the banning of Tamil aid charity TRO, whilst trashing the 2006 abduction and murder of their staff members as "untrue". His flat rejection of the international Sri Lanka Monitoring Mission (SLMM) findings that 17 aid workers were executed by the security forces in 2006, also remains in the memory of many.
In 2007, however, a highly public split with the Rajapaksa camp saw Samaraweera significantly shift his politics. He went on to become a vocal critic of the regime, distancing himself from the abuses and massacres that his work had ultimately paved the way for. Samaraweera's calls for democracy, the respect of human rights and often public rebukes of the Rajapaksas were roundly welcomed, finding particular traction with the West, whom he had close relations with and regularly confided in. Samaraweera had seemingly moved on to embrace a more liberal vision of the island, at odds with his former comrades.
His subsequent return to power in 2015 provided a welcome reprieve from Rajapaksa rule. On international stages he started using the right language and making the right promises, which left many optimistic about a window of opportunity for change. His repeated pledges of justice, accountability and reconciliation were widely welcomed, though cautiously so by a wary Tamil population who had suffered decades of deception by the state. Nonetheless, Samaraweera's efforts culminated in Sri Lanka co-sponsoring a landmark UN resolution that pledged to mandate a hybrid court to prosecute those accused of right violations, despite significant pushback from Sri Lanka's right-wing chauvinists. He stated that Sri Lanka was "not a Sinhalese Buddhist country" and claimed that the island had gone through a "rainbow revolution… against nepotism, corruption and oppression".
However, either through lack of will or due to the very nature of the Sri Lankan state, there was a failure to push through on those pledges when most required. The much-hyped Office of Missing Persons remained toothless, protested against by the very families it claims it was set up for. UN investigators continued to be denied access to the island by the new government. And the lauded UN resolution was never implemented. Whilst Samaraweera would later lament the failure of the government of which he played a key role, he continued to, on occasion, espouse nationalist stances. Indeed, even though he criticised the Rajapaksas, Samaraweera still maintained close ties to Mahinda. Despite the former president bearing responsibily for massacres that Samaraweera was advocating accountability for, he still invited Rajapaksa to a front row seat at an event to celebrate his career in politics.
A true reconciliation must see justice, and for many Tamils that is ultimately where Samaraweera fell short. Though his shift in position from hardcore Sinhala nationalist to moderate Rajapaksa critic and the small, albeit temporary, opening of space was welcome, Samaraweera's failure to bring about tangible action ultimately provided a veneer to a chauvinist state. His untimely demise comes at a time when that chauvinism has been unleashed and is more rampant than almost ever before. Tamils who had hoped for a negotiated political settlement with the state are left with a government that makes no attempt to cloak its racism. For the West, the loss of someone who was seen as a valuable partner and the most workable of all Sinhala politicians, poses an even bigger dilemma. Their best efforts with even the most cooperative of Sinhalese has resoundingly failed. The veneer of liberalism that Samaraweera provided the island has now gone. Hard choices and tough action lie ahead.