by Fr. Emmanuel Sebamalai, US Congressional Caucus briefing on Sri Lanka, May 11, 2023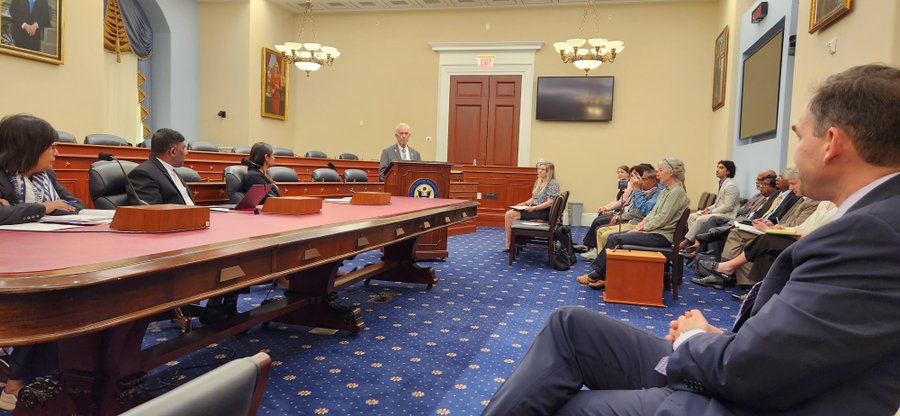 First of all, I sincerely thank Congressman Bill Johnson and Congressman Danny Davis for organizing this event. I am privileged to air my grievances on behalf of the Tamils living in Sri Lanka and abroad. For Tamils, May 18 is the "Tamil Genocide Remembrance Day."[1] In Bill 104 of Ontario, Canada, the legislature has proclaimed "Tamil Genocide Education Week: the seven-days in each year ending May 18."[2] I pray and pay my respect to all those who died in war and the fight for freedom, respect, dignity, and self-determination.
According to the Convention on the Prevention and Punishment of the Crimes of Genocide, Article II, genocide means; "acts committed with intent to destroy, in whole or in part, a national, ethnical, racial, or religious group."[3] As a child of war, I have gone through and witnessed the horror of war, and having learned the history of the problem, I firmly believe that Sri Lanka had the intent to "destroy the Tamils in whole or in part" and committed genocide against Tamils. It continues its hidden agenda of destroying the Tamils in Sri Lanka. I am here to speak on "the current financial and political crisis and the possibilities for fundamental change. In my opinion, there cannot be real change without addressing the basic needs and root causes of the problems, which have remained unresolved since independence.
I first experienced the horror of war in 1986. And in 1989, a bomb fell just a few yards away and miraculously did not blast. My whole family would have been killed had the bomb exploded; however, by the providence of God, we were saved. One of my relatives was severely injured by another gunshot while fleeing their homes. Since then, my family has experienced multiple displacements and finally escaped from the No-Fire Zone, Mullaitivu, in 2009. This has been the experience of the Tamils in the North and East.
The final war against the Tamils was brutal, catastrophic, and disproportionate, indiscriminately killing hundreds of thousands of innocent civilians despite many early warnings of potential civilian casualties. The victims of families of enforced disappearances are still waiting for the truth about the fate of their enforced disappeared relatives. Political prisoners, some of whom are detained for more than ten years. Further, the Tamil people and the victims of enforced disappearances constantly demand an international, independent, and impartial inquiry into the allegations of genocide and other human rights violations in Sri Lanka. Any domestic investigative mechanisms will never deliver justice to the Tamils, given the situation of impunity and numerous failed domestic commissions in Sri Lanka. The victims are tired and repeatedly victimized as they have already testified to the commissions such as LLRC (Lesson Learnt and Reconciliation Commission-2011), Paranagama Commission (Presidential Commission of Inquiry Into Complaints of Abductions and Disappearances-2014), and OMP (Office on Missing Persons' Commission- 2018).  On top of that, in recent days, increased activities of destroying Hindu Temples, particularly in the North and East, have been recorded. Destruction of Hindu Temples on which Buddhist Temples are built in and around strategically significant places is not a new phenomenon in Sri Lanka. This strategy has been used ever since the independence with the intention to change the demography either by destroying or chasing the Tamils out of place.
IMF (International Monetary Fund)
"IMF executive board approved nearly three billion$ bailout plan to Sri Lanka, and about three hundred and thirty-three (333) million$ was to be disbursed immediately to help alleviate the country's humanitarian crisis."[4] It is true that Sri Lanka has been facing high inflation, unsustainable public debt, and depleted reserves, but not without reason. The reasons are corruption, impunity, lawlessness, dishonesty, continuous anti-Tamil pogroms, and the behavior that Sri Lanka is a Sinhala Buddhist country that evades the opportunities to be given to talented persons.
I appreciate that the IMF is conducting "an in-depth governance diagnostic exercise which will assess corruption and governance vulnerabilities"[5]  and the close observatory remark of the IMF managing director on Sri Lanka, who said, "Institutions and governance frameworks require deep reforms." However, Tamil leaders feel that they are alienated from the process. I would like to echo the words of one of the Tamil Parliamentarians who said last month in the Parliament, "We heard that IMF is going to give money to Sri Lanka, and we do not know anything about that. Moreover, what is the guarantee we have that Sri Lanka, having gained strength, will not wage a genocidal war against us in the future."[6]
I would like to quote the words of Senator Patrick Leachy, On the situation in Sri Lanka, in February 2009, in which he wrote, "How they respond to today's humanitarian appeals will weigh heavily on how the United States responds when that day comes."[7]
This is the time to respond "heavily" to Sri Lanka and find a meaningful and longstanding solution for the Tamils. The meaningful solutions would be "Recognition of Tamil's nationhood, homeland, and self-determination in keeping with the international laws. Anything less than that, I fear, would eventually result in another genocidal war against Tamils. The national and international leaders, including some Tamil leaders, who advocate/promote/impose solutions for Tamils within the unitary structure (constitution) of Sri Lanka will have to regret as earlier leaders did, and the next generations might pay the price for the decisions that we make today.
Finally, let me end with this request, along with other requests, that please do not allow the Tamil victims to testify in front of the perpetrators with the idea that they will deliver justice. It is exactly like perpetrators investigating their own crimes.
Thank you, and God bless. 
Footnotes
[1]. https://countercurrents.org/2022/08/may-18th-tamil-genocide-remembrance-day/. Viewed. 04/28/2023.
[2] Bill 104, Chapter II, Statues of Ontario, 2021. (https://www.ola.org/sites/default/files/node-files/bill/document/pdf/2021/2021-05/b104ra_e.pdf.)
[3]https://www.ohchr.org/en/instruments-mechanisms/instruments/convention-prevention-and-punishment-crime-genocide. Viewed. 04/28/2023.
[4] https://www.britannica.com/news/561906/3e8ff239f8a8a9951a8f1fea27be4133, viewed.04/19/2023
[5] https://www.britannica.com/news/561906/3e8ff239f8a8a9951a8f1fea27be4133, viewed.04/19/2023
[6] https://mail.google.com/mail/u/0/#inbox/QgrcJHsTnPhMbqtkNvFqHXlsrGSPLZgvhFg?projector=1. Viewed.04/27/2023.
[7] Patrick Leahy, Statement of a Senator on Situation in Sri Lanka, February 3, 2009,
(8) Civilian Casualties in the Vanni, North/Sri Lanka, March 2009 (United Nations of the Resident Coordinator, Sri Lanka, Civilian Casualties, Vanni Overview, March 2009).