British Prime Minister David Cameron's presence at last week's Commonwealth Heads of Government Meeting (CHOGM) facilitated coverage that might not have been possible otherwise for media organisations. But if the human rights and war crimes issues highlighted by the international media are to be redressed and Commonwealth values and international law upheld, the band-aid solution proposed by the Sri Lanka government and aided by the Commonwealth Secretariat has to be dismissed. Instead, what is required is implementing an international investigation into war crimes.
Cameron's answer to his critics demanding his boycott of CHOGM was that he wanted to shine a light on human rights abuses in Sri Lanka. By taking the British media with him to Jaffna and adopting the position that Sri Lanka needed to have an independent domestic inquiry into war crimes in order to avoid international censure, he assumed a controversial roleat the centre of the drama, which was a godsend to the cameras.
British Prime Minister David Cameron greets villagers of Internally displaced people's camp at Chunnakam village, in Jaffna, northern Sri Lanka, Friday. Pic: AP.
However, the fact is that the issues raised by Cameron's visit to Jaffna were not substantive ones. What was highlighted in Jaffna – the suffering of the families of the disappeared, the continuing rights violations and lack of accountability for past crimes – had been already raised by the UN officers, forensic experts and the media, particularly the three 'Killing Fields' documentaries by UK's Channel 4 television. Notably, Channel 4 has withdrawn its journalists from Sri Lanka amid claims of intimidation wile reporting on last week's summit.
If anything tangible is to emerge from Cameron's extended photo op, the survivors of war crimes and other human rights violations need justice for the abuse and violence they suffered. But it is precisely here that Cameron's contribution to the process becomes a little murky.
Cameron's approach to the question of an investigation was qualified. He first said that if the government is unable to complete an independent inquiry into war crimes by March 2014 he would push for an international investigation at the UN Human Rights Council. Back in Britain he further softened his stance saying that if Sri Lanka had not begun an internal inquiry by March he would press for an international one.
In effect, Cameron's words mean that he still trusts the Sri Lanka government to be capable of conducting an independent inquiry, which it is not. He gave Sri Lanka the leeway it needed to manoeuvre.
Sri Lanka's President Mahinda Rajapakse lost no time capitalising on the lifeline offered to him. "It will take time. We have to change the minds and thinking of the people, not only in the north, but in the south, too… You can't say do it in one week or four months. That's very unfair," he told a CHOGM press conference.
On the final day of the CHOGM, Sri Lanka began taking steps to realise Rajapakse's strategy. A Sri Lankan Sunday newspaper said that the government was considering a proposal by South Africa to set up a Truth and Reconciliation Commission (TRC) to "examine human rights and other accountability issues including alleged war crimes." On November 19 another Sri Lankan newspaper said that the Human Rights Commission of Sri Lanka (HRCSL), which is not an independent body but controlled by the government, had "decided to conduct a national inquiry into the alleged human rights violations in Sri Lanka with technical assistance of Commonwealth Secretariat." According to the story, the national inquiry would be on allegations of torture that took place between 2009 and 2013.
It is important to note that no other details of either body have emerged as of time of writing.
To take the second initiative first, a national inquiry by the HRCSL and Commonwealth Secretariat appears to have the making of a free and fair body because of international involvement. But there are drawbacks.
First, the Commonwealth Secretary General Kamalesh Sharma himself acknowledged that before CHOGM he had withheld from the key Commonwealth Ministerial Action Group (CMAG), reports of Sri Lanka's violations of human rights by eminent jurists. He said these communications to him were "privileged." Therefore, technical assistance by a body headed by someone who has already suppressed findings of violations will not be credible at all.
Second, if the past is any indication, an internal inquiry with international involvement has not deterred Sri Lanka from violating international standards and legal procedures. In November 2006 a domestic Committee of Inquiry was established to probe 16 serious human rights violations. Its work was to be observed by an international independent group of eminent persons (IIGEP) headed by retired chief justice of India, P. N. Bhagawati. But blatant interference by government officials resulted in the IIGEP resigning in protest.
Coming to the TRC, first of all it cannot function in an environment where oppression is rife. This was amply demonstrated by the way families of the disappeared were treated in the two days of CHOGM – they were beaten and prevented from travelling to a protest until in sheer desperation they felt their only redress would be to throw themselves on vehicles they thought were holding international dignitaries.  What is the point of a TRC when people are treated like terrorists simply for asking where their children are?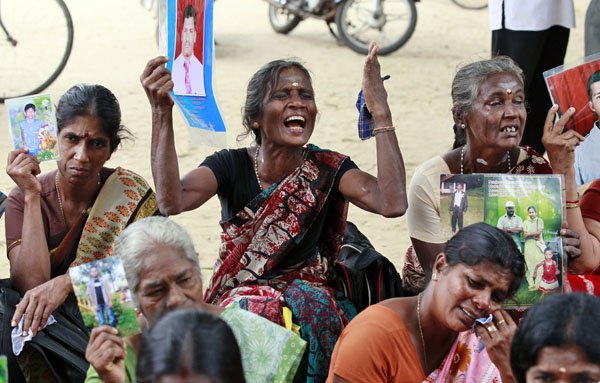 Sri Lankan ethnic Tamil women cry holding portraits of their missing relatives during a protest in Jaffna, Sri Lanka, Friday. Pic: AP.
Second there is the issue of accountability. In its March 2011 report, the Panel of Experts on Accountability on Sri Lanka appointed by the UN Secretary General Ban Ki Moon says, "…accountability necessarily includes the achievement of truth, justice and reparations for victims. Accountability also requires official acknowledgement by the State of its role and responsibility in violating the rights of its citizens."
So, while a TRC might facilitate truth-telling and reparations, what about the other pillar of accountability – acknowledgement by the State?
There is also the issue of dealing with those accused of individual criminal responsibility for mass atrocities during the civil war both from the military and LTTE. If nothing else, the international community is obliged to ensure non-recurrence of such human rights violations. And it is impossible to expect Rajapakse to conduct an independent investigation when he and his brothers are the main accused. Only an international investigation will be adequate to deal with the issues at hand.
An international investigation into Sri Lanka's war crimes is long overdue. It is time for the rest of the Commonwealth and the international community to stop treating Sri Lanka with kid gloves and follow the lead of Mauritius whose prime minister said world leaders must act because Sri Lanka's total lack of accountability was unacceptable. Waiting till March to find out whether a TRC or national inquiry succeeds will be a waste of time. The time for action on an international investigation is now.