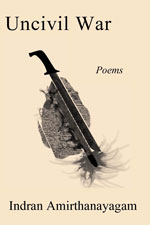 Passionate, committed, and deeply humane, these poems bear witness with unflinching honesty to the horrific violence of the Sri Lankan civil war.
"Indran Amirthanayagam is above all the poet of the bloody Sri Lankan conflict and division. His work honours the sufferings of the living and the injustices dealt the dead, and for any reader, as good poetry always does, it speaks for itself, for humanity in general, and rings with its own universal authenticity and grace."
—Thomas Keneally, author of Schindler's Ark
"This Uncivil War of Indran Amirthanayagam is a personal bloodletting, an exorcism–a blind, brute belief that writing the horror down will keep it under control, corralled, digestible. This is poetry that breaks down barriers of decorum, of art written for mere sensual pleasure. Yet there is a haunting lilt in the lyric voice of this poet. He delves into bitter subjects and finds tunes unbearably beautiful. He has gone into exile, and he says: Let us remember paradise."
—Adam Zameenzad, author of Cyrus, Cyrus
"…This is a Cosmos of a book. Indran Amirthanayagam is the true heir of Neruda in our time."
—Jaime Manrique, author of Our Lives Are The Rivers
"You may never go to Sri Lanka, but if you are a student of the human condition, as all poets must be, then Uncivil War should be required rea
ding. What is a poem to a country torn apart by civil war, by tsunami, by the myriad ways people can bring harm to other people? These poems possess the courage to imagine a different ending, the courage to speak out against brutality; it is the courage of empathy."
—Rachel Rose, author of Song and Spectacle
Indran Amirthanayagam writes poetry and essays in English, Spanish, French and Portuguese. His works include 
The Splintered Face, Ceylon R.I.P., El Infierno de Los Pájaros, El Hombre que Recoge Nidos, Sol Camuflado, La Pelota del Pulpo and The Elephants of Reckoning
, which won the 1994 Paterson Poetry Prize.  His poetry has appeared in numerous magazines and journals throughout the world.  He has also published translations of Mexican poets Manuel Ulacia and Jose Eugenio Sanchez.  He is a diplomat in the United States Foreign Service. He writes a blog on poetry at
http://indranamirthanayagam.blogspot.com
.
ISBN:
978-1-927494-23-3
$24.95
200 pages
Publication Date:
June 2013