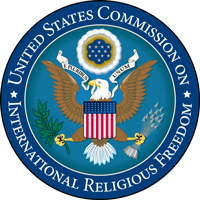 by US Commission on International Religious Freedom, May 1, 2023
USCIRF Annual Report 2023 – Sri Lanka
RECOMMENDATIONS TO THE U.S. GOVERNMENT
■ Include Sri Lanka on the Special Watch List for engaging in or tolerating severe violations of religious freedom pursuant to the
International Religious Freedom Act (IRFA);
■ Direct U.S. Embassy officials to urge the Sri Lankan government to repeal or significantly reform the PTA and other laws
that disproportionately affect religious and ethnic minorities; and
■ Advocate for the full implementation of UNHRC Resolution 51/1 to promote reconciliation, accountability, and religious
freedom and other related human rights in Sri Lanka.
The U.S. Congress should:
■ Hold public hearings highlighting religious freedom conditions in Sri Lanka and U.S. policy toward Sri Lanka
***
Created by the International Religious Freedom Act of 1998, as amended (IRFA), USCIRF is an independent, bipartisan U.S. government advisory body, separate from the State Department, that monitors and reports on religious freedom abroad and makes policy recommendations to the president, secretary of state, and Congress.
USCIRF bases these recommendations on the provisions of its authorizing legislation and the standards in the Universal Declaration of Human Rights, the International Covenant on Civil and Political Rights (ICCPR), and other international documents. USCIRF's mandate and annual reports are different from, and complementary to, the mandate and annual reports of the State Department's Office of International Religious Freedom.