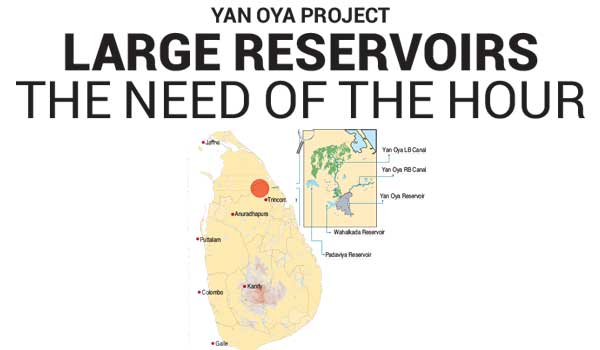 [Not sure why Ariyawansha brings up all the Tamils & Muslims in Trinco, when the real subject is Sinhalese protest at having their land taken without proper compensation. Also interesting is that it is accepted by one senior official that the project was originally started 'to maintain borders' in the 1980s, but now is necessary for the water actually! — Editor]
When commencing a development project the basic task is to pay compensation to people who will lose their ancestral lands and villages and to resettle them elsewhere. It is after this that construction of a project should begin. However, what has happened here is the reverse…Secretary to the Ministry of Western Development and Megapolis, Engineer Nihal Rupasinghe, said that although during the 80s, this project had been only for the purpose of maintaining borders and it did not achieve any major development…
by Niranjala Ariyawansha, 'Ceylon Today,' Colombo, January 14, 2018
Development projects, in a diverse society, should not be only aimed at economic development, but also for developing peace which is being built up between various ethnicities, through commitments carried out by different races on behalf of the others. If not, those projects will not achieve sustainable development for all ethnicities within a diverse society. It became extremely clear, during our recent visit, that the Lower Yan Oya Project, which flows through the North Central and Eastern Provinces via Anuradhapura and Trincomalee Districts, is a perfect model.
This State funded Project, which is being implemented by the Irrigation Department at a cost of Rs 340 million, is one of the largest water management and irrigation projects currently under construction in the country.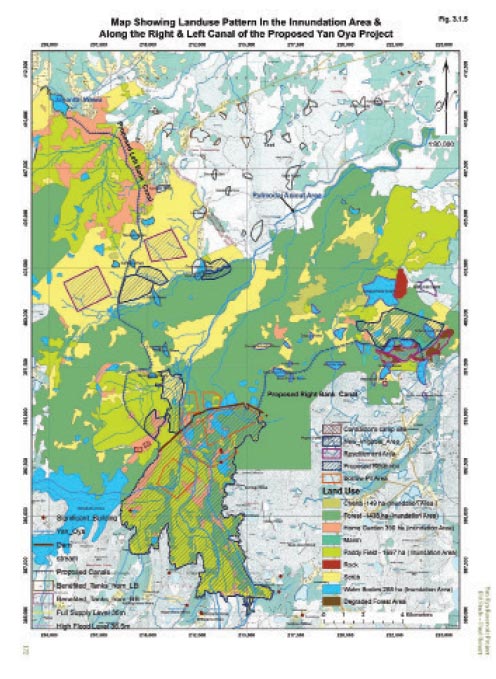 When the Sinhalese people are deprived of their original lands and villages in Anuradhapura and Trincomalee, owing to this Project water will, however, be provided to Tamil and Muslim people in Trincomalee; who are facing a severe drought situation.

Project Director, Engineer Udaya Hemakumara told Ceylon Today "Now, it does not matter. Most of the work on the project has been completed. Resettlement of people, who were displaced due to construction, has also been completed, to a certain extent. If it had become known at the initial stages that the Sinhala people would be deprived of their lands in order to provide water to Tamils and Muslims, errant politicians would have used the issue and created a problem and the Project would have had to be halted. If that had happened, these people would have had to continue suffering without water as they have done for the past three decades and a number of other complicated issues too could have arisen."

Master Plan 1958

Yan Oya is the fifth longest river in Sri Lanka. This river, the source of which is the Ritigala Mountain Range in Anuradhapura flows a distance of 142 kilometres and falls into the sea at Pulmodai, Trincomalee. The Project was included in the Water Resources Development Master Plan which was designed under irrigation and water management projects on behalf of future requirements in the country from as far back as 1958. When ancient tanks were renovated and the dry zone of the North Central Province was developed, previously, the Padaviya Tank was constructed across the Yan Oya further up the river, and water was supplied to about 14,000 acres. However, much of the water from the lower part of the river flowed into the sea unutilized while the farming lands in Kebithigollewa, Horowpothana and Padaviya in Anuradhapura and Gomarankadawala, Sreepura, and Kuchchaveli in Trincomalee were parched owing to severe drought.

On the other hand, Gomarankadawala, Kuchchaveli and Horowpothana were caught up in the three-decade war and these Divisional Secretariats consisted of a number of isolated border villages. During that time the people in these villages lived in fear of losing their lives, but nonetheless, they refused to leave their ancestral homes and lands. Due to the war, development was a distant dream which remained only a fantasy for these villagers. The result of this was that these three divisions became isolated from all sides.

"We have to show our gratitude to these people even now. They engaged in a massive struggle while suffering from all sides, in order to survive. If they are to come out now, from the jungles and cultivate paddy land during the Yala and Maha seasons, and have a prosperous life, they need water. That is what is basically expected from the Yan Oya Project," Eng. Hemakumara emphasized.

Accordingly the Project commenced in 2013 with the main objective of raising the living standards of the people who spent three decades amidst the war.

The Reservoir was built in an area called Pagnurugaswewa across Yan Oya, which flowed between the North Central and Eastern Provinces. The capacity of the reservoir is 150,000 acre feet. The main bund of the tank is 2.35 kilometres in length. The 22-kilometre long Left Bank Canal hopes to provide water to 10,353 acres of paddy lands in Anuradhapura. The Right Bank Canal will provide water to 4,477 acres of paddy lands in Trincomalee.

The farmers of Northern, North central, Uva and Eastern provinces cultivate paddy mostly during the Maha season. The reason being more rain is received in these provinces from the Northeast monsoon which begins at the end of November. As a result paddy cultivation during the Yala season is not successful in these areas. By this Project the Irrigation Department expects to provide water for the farmers in these provinces during the Yala season too; enabling them to cultivate paddy Yala too. This will enable the cropping intensity of paddy land in these areas to be increased from 0.84 to 1.86.

Anyhow, water will be provided through the Project to enable cultivation of 1625 acres of new paddy land in both the Anuradhapura and Trincomalee Districts. Similarly the living conditions of 12,000 farming families will be improved.

Out of order

Even though the Project is essential, with many benefits to the people, there are numerous criticisms by engineers, Government officers and the public. When commencing a development project the basic task is to pay compensation to people who will lose their ancestral lands and villages and to resettle them elsewhere. It is after this that construction of a project should begin. However, what has happened here is the reverse.

A total of 257 families who were displaced due to the project have only received highlands to build homes but they are yet to receive agricultural-lands. Residents claim, that, when lands were selected for resettlement there were no discussions were held with them, at all.

A total of 147 families in the Trincomalee District will be displaced due to the project and the Forest Conservation Department (FCD) has provided them 600 acres in an area named Caju-watte, about 25 kilometres away from their original places. Even though clearing of this 600 acres of land has begun and infrastructure facilities are being built, 125 families, have refused to settle down there. Therefore, based on a request made by them, 65 acres of land in Malporuwa which is about four kilometres away from their original places have been provided. As of now about 30 more families have not gone either to Caju-watte or Malporuwa and remain in their original places.

Another group of 110 families have also been removed from Horowpothana in the Anuradhapura district. Although they have been granted 1300 acres of land from an area called Tekkawatte, they too have voiced their dissatisfaction. With their consent the FCD has agreed to provide them with lands in Wahalkada.

However, another problem has risen. The Central Environmental Authority (CEA) has granted approval only for the lands in the originally designed project. If the original project is to be revised and lands are to be allocated from other areas there is a legal requirement that a new Environmental Impact Assessment (EIA) has to be approved. Yet, the project has not prepared a new EIA. Since there are forest reserves and without the EIA the relevant lands cannot be released, a top officer of the FCD told Ceylon Today.

Grievances

On the other hand, the usual grievances that the compensation is insufficient is heard the Yan Oya Project as well. Residents who reject the statistics of authorities say that the number of families being displaced in both districts is approximately 800. They say that there are several subfamilies lived with the main family and those subfamilies have not been counted correctly as displaced families; and only the chief occupants of the house have been paid, while the sub-families have been ignored. However, according to Eng. Hemakumara and the FCD the number of families displaced is only 257. The authorities also point out that many of these families do not have permanent deeds for their lands.

The Government Valuation Department has estimated compensation payment from Rs 200,000 to Rs 3.9 million for each house. However, Eng. Hemakumara insists on a minimum payment of Rs 800,000 for each house owner in order to raise the living standards of the people.

"Minimum compensation of Rs 200,000 would mean that, their living standards will fall, from what it was. They cannot build new houses with two hundred thousand rupees. Therefore we made an effort to pay the maximum compensation possible," he said.

However, when this humanitarian request had been submitted to the Ministry of Lands a top lady official had allegedly said that the social and economic gaps that exist between displaced families should remain as they are.

Eng. Hemakumara also said, "That an official forced us to pay the minimum compensation of Rs 200,000 and not a single cent more. She wanted to maintain the same social class that existed among the poor farmers. However, if the people have to live in the same state of poverty even after such a massive development project is implemented, we cannot accept that, in any way."

As of now, building of the last 200 metres of the tank bund across the Yan Oya has been halted temporarily; as 30 families which have not gone either to Caju-watte or Malporuwa and still remain in the area which will go under. If these 200 metres are completed across the Yan Oya these families will be inundated. Last July enraged residents held the Project Director hostage and engaged in a protest saying that they will not allow the last few metres of the bund to be built until justice is meted out to them.

Demurrage

The gravity of this situation is that the Chinese Company, CAMC which undertook the Project will have to be compensated by the Sri Lankan Government. Eng. Hemakumara said that an attempt is being made to assign a building on either the Left Bank Canal or the Right Bank Canal for the CAMC to minimize demurrage costs.

Another problem is that the farmers have not been able to engage in any cultivation for more than four years. On the other hand the CAMC has drilled paddy lands to a depth of about three feet soil for construction. Therefore, paddy lands that were provided water from the Mahasorowwa, Puliyankulama, Haapetiyawa and Dikwewa Tanks for their cultivations have been completely destroyed.

Consequently, the traditional farming life of the people has collapsed. Nearly 90 per cent of them were engaged in paddy cultivation.

Coordinator Gamage Palitha of the Trincomalee District Gomarankadawala People's Collective for the displaced said that, some of the displaced persons are using the compensation paid for routine expenses.

"Some people have gone to Colombo to work on building sites," he emphasized.

Though there is an effort by Eng. Hemakumara to provide maximum justice, we learnt that the people are trying to take full advantage of the shortcomings in the Project Plan. Some individuals have submitted false deeds and tried to gain compensation.

However, the Project Director said that, a new EIA will be done to facilitate cultivation.

Secretary to the Ministry of Western Development and Megapolis, Engineer Nihal Rupasinghe, said that although during the 80s, this project had been only for the purpose of maintaining borders and it did not achieve any major development, now, with the current world climate changes, that his opinion has changed and that Yan Oya is now an important project.

"During the war, with the military requirements we did have such an opinion. However, now, storing water has become essential. Earlier only the Left Bank Canal had been proposed. Now water can be supplied to Trincomalee through the Right Bank Canal as well. Therefore reservoirs from large projects such as Yan Oya are now required," Engineer Rupasinghe stressed.

The responsibility of completing this massive project, soon, remains with several Government institutions. The Irrigation Department, the FCD as well as the CEA are foremost among those institutions.