by Sachi Sri-Kantha, November 16, 2012
R.K. Radhakrishnan, the resident reporter of the Hindu (Chennai) daily, contributed a short news report with the caption, 'Sri Lankan Army to recruit Tamil women' [Nov.15, 2012]. But, as typical of him, he failed to tell the real story behind his report. This is what happened, as I happened to gather from a Colombo crow.
While on her early morning routine jaunt of street cleaning, this Colombo crow picked up the following memo, casually dumped into a garbage can near the office of Presidential sibling and Defense Secretary Gotabhaya Rajapaksa. This secret memo had the 10 top reasons for hiring Tamil women scribbled in pen on it, in the style of humorist David Letterman. My avian source denied that Gota couldn't have scribbled this. The reason: "top secret". If it was revealed, her (and all her comrades) security clearances in loitering near the office would be cancelled.
The memo revealed by the Colombo crow was titled, 'Why we need to hire 100 Tamil women? In ascending order, the reasons listed are as follows.
No. 10:It is just an eye-wash to the international authorities to show that we are not discriminating against the Tamils.
No. 9: Sinhalese army elites like to taste Tamil culinary items like thosai and vadai. This is the easiest route.
No.8: We are a degree better than the two Sinhalese women leaders (Madam Sirimavo and her daughter Chandrika) who enforced a freeze on hiring Tamils to the armed forces.
No.7: The ghost of Lakshman Rajapaksa (our elder cousin) came in our dreams and admonished us for ignoring the Tamil women into our household. [Note: Lakshman did marry a Jaffna Tamil, Kamalan Rockwood in 1950s.]
No.6: Our Tamil collaborators (Karuna and KP) are suffering from conjugal deprivation, as their spouses are not in Sri Lanka. They need to be humored.
No.5: Remember Mahinda Chintana? We promised this hiring in 2005 manifesto, even when Prabhakaran was living.
No.4: During the civil war with LTTE, many of our men deserted. Now, we see the trend of Sinhalese women deserting, due to harassment. Why not offer the slots to Tamil women?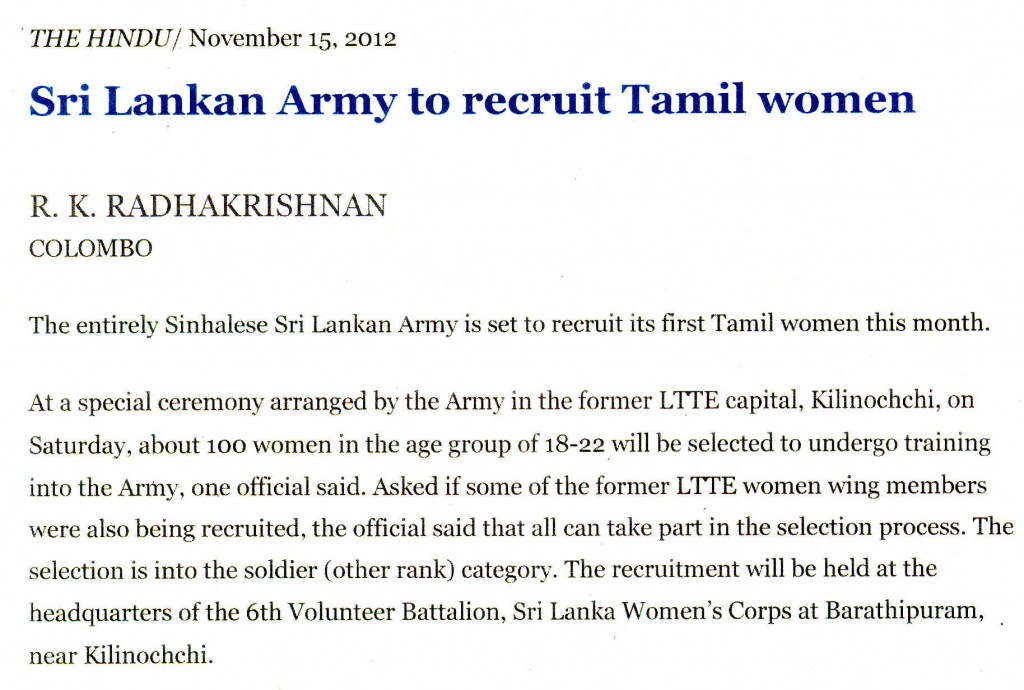 No.3: We are all rooting for a future of Sinhalese-Tamil hybrid children, like multi-talented Richard de Zoysa.
No.2: We just like to admire the beauty of young Tamil women. Do you have any problem with that?
No.1:Ain't this arrangement makes it easier to molest young Tamil girls within army compounds?
I guess that this memo must have been a homework exercise ordered by Gota to his dumb press secretary.