by MSM Ayub, Daily Mirror, Colombo, December 13, 2019
It was India that first sent its External Affairs Minister to Sri Lanka within 24 hours after President Gotabaya Rajapaksa was sworn in as Sri Lanka's President on November 18. It was also India that became the first diplomatic destination for President Rajapaksa.
Indian External Affairs Minister Dr Subramaniam Jaishanker arrived in Sri Lanka with a personal message from Indian Prime Minister Narendra Modi on November 19 and held talks with the new Sri Lankan President and extended an invitation to the President to visit New Delhi.
Accordingly, President Rajapaksa left for Indian Capital for a two-day official visit on November 29 with a small delegation and held talks with Indian Premier who pledged a USD 400 million credit line to improve infrastructure and economy along with another USD 50 million credit line to tackle terrorism in Sri Lanka.
The Sri Lankan new leader, in turn, extended an invitation to Prime Minister Modi to visit Sri Lanka as the first foreign head of government while Indian media had quoted Modi as saying during a joint press conference in New Delhi along with President Rajapaksa that India gave priority to its relationship with Sri Lanka under its "Neighbourhood First" policy.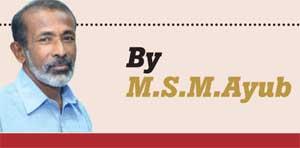 Is India so important to Sri Lanka or for that matter to President Rajapaksa in its foreign relations and vice versa, as the two leaders emphasized by the hurried diplomatic visits and at the joint press briefing? Yes, but not for the reasons they attributed amidst pleasantries during their official meetings and public statements.
There cannot be any other Sri Lankan leader like Gotabaya Rajapaksa who had realized so clearly the significance and the impact of India's proximity to Sri Lanka. In an interview with V.K. Shashikumar of Indian Defence Review in 2010, the then Defence Secretary explaining the rationale behind the exception given to India by the Mahinda Rajapaksa Government during the war had to say this:
"We knew that only India influences us militarily. India is a huge power in our neighbourhood and our proximity to Tamil Nadu with 60 million Tamils sensitive to what's going on in Sri Lanka made the situation extremely complex for us. We knew that while other countries could or would resort to economic sanctions, only India had the power to militarily influence the course of our war operations."
"Indian media reported only one issue that transpired during the discussion between Dr. Jaishanker and President Gotabaya on Nov. 19"
There have been two factors that would impact Sri Lanka's importance to India – Sri Lanka's relationship with other countries such as the US and China with which India vies for the hegemony in the Indian Ocean and the Tamil Nadu leaders' concern over the happenings in Sri Lanka. It was mainly about these two factors the Indian journalists posed questions to President Gotabaya Rajapaksa during the interviews they had with him and at the joint press briefing held in New Delhi on November 29. Rajapaksa used those opportunities to assure that Sri Lanka would not do anything inimical to India's interests.
Interestingly, many Indian media outlets reported only one issue that had transpired during the discussion between Indian External Affairs Minister and President Gotabaya Rajapaksa on November 19. According to India Today, Dr Jaishankar had conveyed to President Rajapaksa "India's expectation that the Sri Lankan government take forward the process of national reconciliation to arrive at a solution that meets the aspirations of the Tamil community for equality, justice, peace and dignity."
During the joint press briefing with the new Sri Lankan leader Modi also echoed the same sentence only replacing the last word dignity with the word respect. However, as if he wanted to stress what he specifically meant, he added that "it also includes the implementation of the 13th Amendment."
He was referring to the 13th Amendment to the Sri Lankan Constitution which was introduced in 1987 under the Indo-Lanka Accord.
The Tamil leaders in Sri Lanka were overjoyed by the Indian leader's remarks on the 13th Amendment, contrary to the fact that they have been looking for a political solution to the ethnic problem other than the same piece of legislation since the day the LTTE reneged its commitment to India and resumed armed struggle for a separate State.
However, President Gotabaya Rajapaksa, though he did not react to the Indian PM's remark on a Sri Lankan law, dismissed it during his very stay in New Delhi. He told during an interview with Suhasini Haider of "The Hindu" and the daughter of Subramanian Swamy "We can discuss political issues, but for 70 odd years, successive leaders have promised one single thing: devolution, devolution, devolution. But ultimately nothing happened. I also believe that you can't do anything against the wishes and feeling of the majority community. Anyone who is promising something against the majority's will is untrue. No Sinhalese will say, don't develop the area, or don't give jobs, but political issues are different."
When he said "for 70 odd years, successive leaders have promised one single thing: devolution, devolution, devolution. But ultimately nothing happened. I also believe that you can't do anything against the wishes and feeling of the majority community" he seemed to be "frank" as he had claimed to be, in that same interview.
He expressed the same sentiments during an interview with Nitin A. Gokhale, the Editor-in-Chief of Bharat Shakti.in and SNI as well, on November 25 in Colombo. He said "I believe development is the answer. For the last so many years, Tamil political leaders and also the Sinhalese leaders were talking about things that were not practical, impossible, only to fool the people. We should focus on what we can do first, you know, give everyone a good opportunity to live as a Sri Lankan in this country, to get an education, live a better life, get a good job and live in dignity."
His position is clear and "frank"– no more devolution, "development is the answer," despite his brother and current Prime Minister Mahinda Rajapaksa having promised on August 5 that his famous 13+ formula would be implemented, during a discussion with some Tamil leaders including Varatharaja Perumal, the first and only Chief Minister of the then merged North-East Provincial Council. No Indian leader reacted to what President Gotabaya Rajapaksa said.
"India is reminding its southern neighbour of its commitments under 13A only in light of the latter's close relationship with Beijing"
India has been using the Sri Lankan Tamil issue at times as a cudgel to control the Sri Lankan leaders and pacify the Tamil Nadu leaders at another. Prime Minister Indira Gandhi's government armed, financed and trained the Sri Lankan Tamil groups fighting for a separate State in Sri Lanka in 1980s when President J.R.Jayawardene sided with the US bloc whereas it was with the now-defunct Soviet bloc. And after Jayawardene succumbed to the Indian pressure to sign the Indo-Lanka Accord, Prime Minister Rajiv Gandhi pressurized the Tamil armed groups to abandon the Tamil Eelam struggle.
Indian leaders were silent when in 2006 the Sri Lankan Supreme Court de-merged the Northern and Eastern Provinces which were merged under the Indo-Lanka Accord. Besides, responding to a request by EPRLF leader Suresh Premachandran in February 2017 to prevail upon the Sri Lankan leaders to remerge the two provinces, Dr Jaishankar as the then Indian Foreign Secretary said: "much water has flowed under the bridge since 1987 and it will be better for all concerned to make use of the various windows of opportunity which have opened up recently with the change of regime in Colombo and secure the rights of the Tamils." He had further argued, "it would not be wise to hold every other matter hostage to one issue – the merger of the North and East."
Thus, it is clear that India is reminding its southern neighbour of its commitments under the 13th Amendment only in the light of the latter's close relationship with Beijing. Tamils have lost two of their bargaining tools – the LTTE and the Indian pressure. Now, they have to adjust their political strategies accordingly, taking the political realities into account and without hanging on to political jargons.