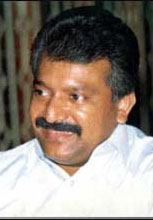 Velupillai Pirabakaran
People familiar with Sri Lanka have found Mr. Velupillai Pirabakaran, the leader of the LTTE, to be most intriguing.
Friend and foe alike are fascinated (awestruck, really) by his performance as the leader of a nation of people threatened with genocide, under conditions most challenging.
Unable to decipher and make sense of this exceptional feat, literally thousands of articles have been written about him, all attempting to understand, but none with any real insight. Most have tried to peg him to the semblance of a known somebody. Foes, of course, have tried to compare him to famous villains, and to the followers, naturally, he is godlike.
None, however, have truly analyzed this extraordinary phenomenon in any great depth as these continuing series of articles.