Tamil Guardian editorial, London, November 18, 2019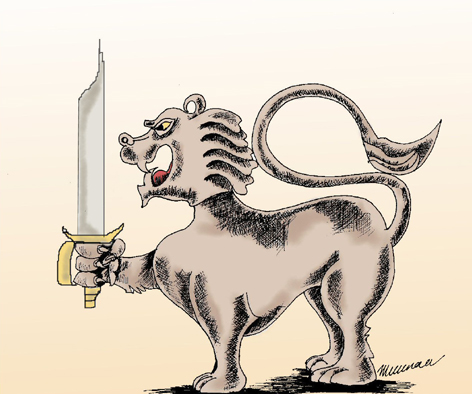 In the wake of Sri Lanka's presidential elections this weekend, fear has gripped the North-East. Gotabaya Rajapaksa, the man who engineered the massacres of tens of thousands of Tamils a decade ago, is back in power. This time, he occupies the highest office in the land. The result, though unsurprising, is terrifying.
Despite decades of disillusionment with Sri Lanka's electoral processes and a clear rejection of Tamil demands by both leading candidates in this election, the spectre of Rajapaksa was enough to drive many Tamils to the ballot box. Tamils and Muslims came out to vote in droves and overwhelmingly voted against a return to a Rajapaksa-led regime. Several districts in the North-East recorded their highest ever voter turnout for a presidential election.
Their efforts were in vain. Indeed, this election illustrates precisely how the political structure of Sri Lanka has enabled a Sinhala ethnocracy since independence. Despite the record Tamil and Muslim turnout, it was not enough to counter Rajapaksa's widespread popularity amongst the Sinhalese. A self-confessed Sinhala chauvinist, his campaign pledges were clear – increased securitisation, shielding the military from prosecutions and no devolution to Tamils. Though his nearest rival Sajith Premadasa also attempted to burnish his own Sinhala nationalist credentials and pledged to match many of Rajapaksa's promises, such as the strengthening of the military and protecting war criminals, it was not enough. In a contest between two Sinhala nationalists who both share a vision of the island as a Sinhala-Buddhist bastion, it was the candidate with the track record for unleashing a brutal means to achieve it, who triumphed.
In the wake of his victory, it is tempting to mince words but it must be made absolutely clear, Gotabaya Rajapaksa is a war criminal. As Sri Lanka's Secretary of Defence in 2009, he was one of the persons most responsible for the genocide at Mullivaikkal – events he said he watched with "a sense of quiet joy". This is a man who said hospitals were legitimate targets to be bombed. A man who reportedly ordered executions of Tamils that surrendered and who, in raging outbursts to international media, vowed never to allow an investigation into rights abuses. He is a man who threatened to hang those who testified against him and currently has a US civil court case pending over the torture of Tamils. Just last week, at a Colombo press conference, a witness testified that those who were abducted by Rajapaksa's white vans were murdered and fed to crocodiles. In many other places around the world, a politician such as Rajapaksa would be on trial. In Sri Lanka, he has been voted to the island's highest office of state with a resounding majority.
The widespread support for the Rajapaksa brand of Sinhala chauvinism is not new. Indeed, the Rajapaksas are just one, particularly brash, manifestation of the Sinhala-Buddhist nationalism that has been the central driver of Sri Lanka's politics since independence. The same chauvinism that drove the decades of discrimination and massacres of Tamils leading up to and throughout the armed conflict, drove Sinhala voters to back Rajapaksa at the polls this weekend. It remained unchecked over the last five years and with this victory, Sinhala nationalism has a new lease of life. As Rajapaksa spokesperson Keheliya Rambukwella told VICE media prior to the election, "[Sri Lanka] is a Sinhala Buddhist country, and I don't think one should be ashamed to say that… accept it."
Within hours of the unofficial election results being declared, Gotabaya, flanked by his brother and former president Mahinda, had already begun laying out their agenda. A statement from the senior Rajapaksa made clear that Tamils and Muslims were firmly in their crosshairs. Worryingly, the North-East has already seen the familiar burst of firecrackers from state-backed paramilitary groups, as they celebrate their own potential return to power. All talk of reconciliation and reform, which had made virtually no progress regardless, has now ceased entirely.
For the North-East, the priority will now be on protecting lives and preventing a worsening of human rights abuses. Those most at risk are the journalists, activists, former cadres, victim communities, and human rights defenders who courageously worked in the little space that opened up over the past 5 years. The future for the island looks deeply troubling and as usual, it will be the Tamils who bear the brunt of it. ​