Tens of thousands missing, families demand answers
by Amnesty International, London, January 23, 2017 Index number: ASA 37/5497/2017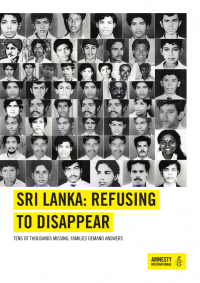 As any family member searching for a missing loved one can tell you, enforced disappearance is a crime without end. Until parents, wives, siblings, and children know the truth about the fate of a missing family member, they can find it almost impossible to seek justice and reparation for crimes they have suffered, and cannot properly mourn their loss.
Enforced Disappearance has touched every community, and within Sri Lanka there has been virtually no accountability for these grievous crimes. With a backlog of between 60,000 and 100,000 alleged enforced disappearances since the late 1980s, there is no shortage of examples of frustrated justice. And yet, family members of the disappeared continue to demand accountability. Their experiences illustrate the impact of these crimes and demonstrate the burden placed on those – particularly women – seeking accountability and the lengths to which some families have gone to get attention to their demands. This includes braving very serious threats of retaliation for their activism. Families of the disappeared know what they want and what they need. It is up to Sri Lanka's decision makers to hear their demands and to implement them. If Sri Lanka is to succeed in pulling away from its violent past, policymakers must prioritize victims so they take their rightful place at the center of the process. It should act on the demands of victims' families to criminalise enforced disappearances under Sri Lankan law, and act decisively to protect those who make complaints.
It will be a long, difficult road, and navigating it will take great courage. But it is not a road Sri Lanka has to travel alone. Amnesty International urges Sri Lanka to seek and accept international assistance where it is needed, so that all Sri Lankans can finally learn the truth.
Full report at https://www.amnesty.org/en/documents/asa37/5497/2017/en/ and Amnesty Refusing to Disappear ASA3754972017
(Download PDF)