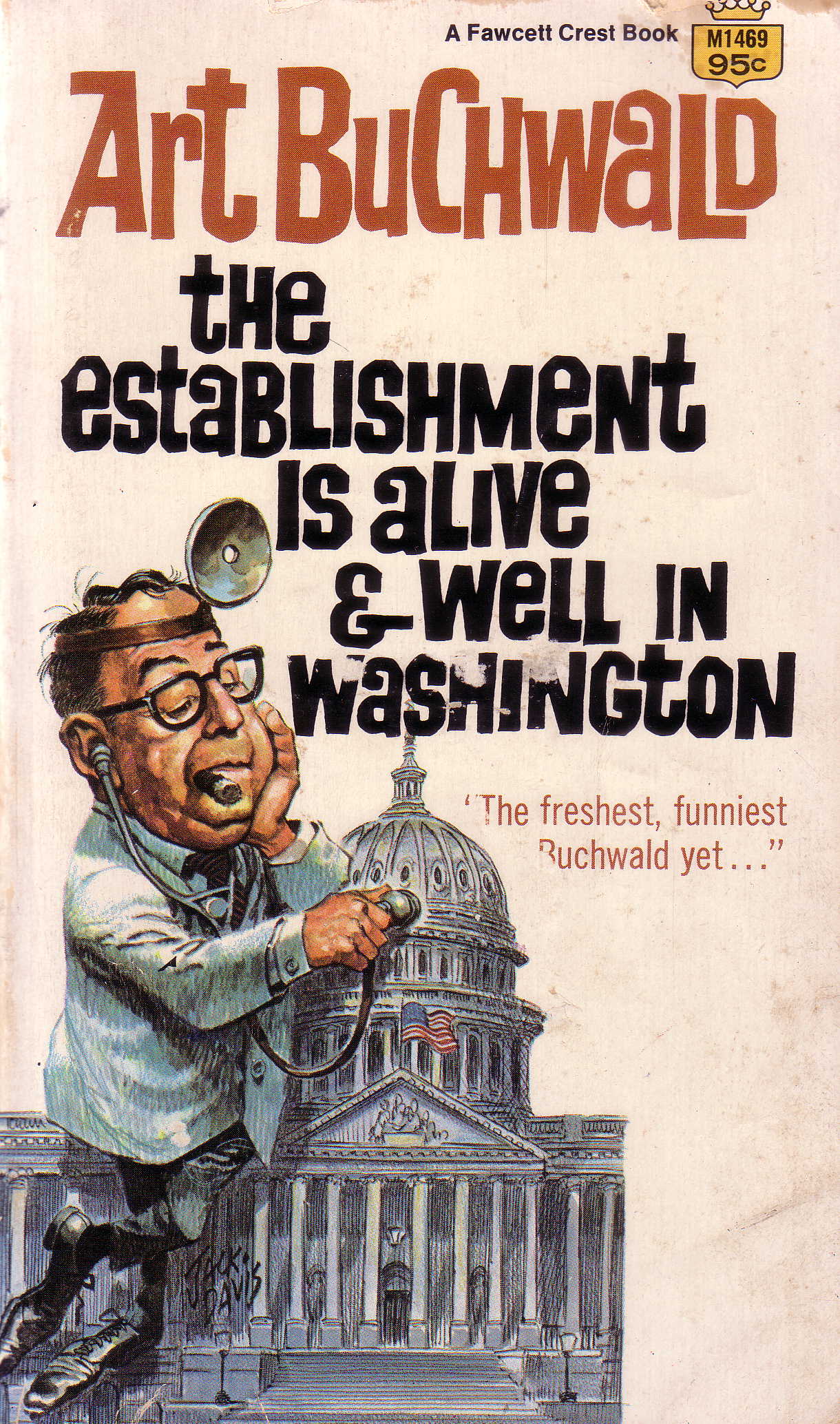 The ninth death anniversary of humorist Art Buchwald (1925-2007) falls on January 17th. And for this occasion, I also release my 7th consecutive list of news-making individuals from South Asia (or of South Asian origin) for 2015.
To repeat the three conditions that I have instituted for selection of the Art Buchwald Humor Awardees, (1) Competition for these awards is tough; (2) Competitors have to convince only a jury of one, who cannot be influenced by cash awards, honorary titles or agents, and (3) Self nominations are strictly forbidden. As is usual, I also add the warning note. Humor-challenged sourpusses are welcome to quit reading now itself. Complaints on the selection will not be entertained.
This year's winners are ex-President Mahinda Rajapaksa, ex-LTTE rebel and actor Anthony Thasan, actor S.Ve. Shekar, journalist K.T. Rajasingham, journalists Lucien Rajakarunanayake, politician Douglas Devananda, Cabinet minister Wijedasa Rajapakshe, ex-LTTEer and politician Karuna aka Vinayagaoorthy Muralitharan, ex-LTTEer and politician Pillaiyan, journalist Shenali D. Waduge, ex-diplomat and commentator Izeth Hussain and academic Rajan Hoole.
To treasure Art Buchwald's memory, I do provide four of my favorite columns of him, which appear in the collection, 'The Establishment is Alive & Well in Washington' (1970) as appendix. Although more than 45 years had passed since its appearance, these columns appear timeless, funny and still serve their humorous bite. Their captions are,
Visiting a Tax Shelter
Sex Ed – The Pros and Cons
Visit to a Rumor Factory
Is Four-Letter Word Obsolete?
First, here are my choices for the 13 Art Buchwald Humor Awards for 2015. This year being the 400th death anniversary of William Shakespeare (1564-1616), to commemorate this anniversary, I have especially chosen the characters created by the bard to anoint this year's Art Buchwald Humor Awards. Thus, I provide both the self –citations of thoughts from the awardee as well as bard's citations of his characters which nearly fits the awardee's deeds.
King Lear Award for confidence, to ex-Sri Lankan President Mahinda Rajapaksa
Self citation: "We will have a resounding victory. That is very clear." [Japan News daily, Jan. 9, 2015]
Bard's citation: "Who loses and who wins, who's in, who's out,
and take upon's the mystery of things
as if we were God's spies; and we'll wear out
in a walled prison packs and sects of great ones."
[King Lear, in King Lear, act 5, scene 3]
Helena Award for cowardice, to Anthony Thasan (former LTTE militant and hero actor in Dheepan movie)
Self citation: "I felt free when I quit LTTE. I felt relaxed. I had moved away from the wrong path…I left alone, escaping to Hong Kong and then making my way to Thailand as a refugee and all the while I plotted my departure to Europe…In 1993, I managed to reach France…" [Hindustan Times daily, June 7, 2015]
Bard's citation: "The wildest hath not such a heart as you.
Run when you will. The story shall be changed:
Apollo flies, and Daphne holds the chase.
The dove pursues the griffin, the mild hind
makes speed to catch the tiger: bootless speed,
when cowardice pursues, and valour flies."
[Helena in A Mid Summer Night's Dream, act 2, scene 1]
Fool's Award for foolhardiness, to Actor S.Ve, Shekar (the regional chairman of Central Board of Film Certification, India)
Self citation: "Basically, the [Cinematograph] Act is very clear: certification of a movie cannot be given if it could strain friendly relations with a neighbouring country. We have only followed the rule book. We cannot give a certification based on our whims and fancies. We can argue about what happened during the [Sri Lankan] civil war, but that doesn't mean that we have to allow a film to be screened. Brutal murders happen in society, but does that mean we can make a film out of it?" [The Hindu daily, May 26, 2015]
Sachi's comment: The specific film which was denied certification was 'Porkalathil Oru Poo', a film based on the life of LTTE's TV journalist Isaipriya, who got killed in captivity by the Sri Lankan armed forces in 2009.
Bard's citation: "Fools had ne'er less grace in a year,
for wise men are grown foppish
and know not how their wits to wear,
their manners are so apish."
[ Fool, in King Lear, Act 1, Scene 4]
Polonius Award for sycophancy, to Asian Tribune editor K.T. Rajasingham.
Self-citation: "Let the country be led by my strong, able and intelligent leader – Mahinda Rajapaksa. Let us all resolve to vote for Mahinda Rajapaksa – the man who brought the 30 years long torturous and torment-full war to an end and brought peace, prosperity, stability and above all – normalcy in the country. Let us support Mahinda Rajapaksa and make out Sri Lanka – a wonder Asia in 2015." [ K.T. Rajasingham wishes Asian Tribune readers a Happy New Year -2015, Jan.1, 2015. Asian Tribune.com]
Bard's citation: "I hold my duty, as I hold my soul,
both to my God and to my gracious King
and I do think – or else this brain of mine
hunts not the trail of policy so sure
as it hath used to do – that I have found
the very cause of Hamlet's lunacy."
[Polonius, in Hamlet, Act 2, Scene 1]
Clown's Award for prediction, to journalist Lucien Rajakarunanayake
Self citation: "The call of continued stability towards progress in peace remains the campaign call of President Rajapaksa. History awaits this landmark decision of 2015." [The writing of history in 2015 by Lucien Rajakarunanayake, www.priu.gov.lk/news_update/Current_Affairs/ Jan.4, 2015]
Bard's citation: "The shepherd seeks the sheep, and not the sheep the shepherd.
But I seek my master, and my master seeks not me.
Therefore I am no sheep."
[Speed, in Two Gentlemen of Verona, Act 1, Scene 1]
Brutus's Political Identity Award to EPDP Minister Douglas Devananda
Self-citation: "Those political parties who are against us are slinging mud at us to tarnish our political identity. These allegations are levelled against the party by our political opponents to stigmatise our image by connecting gang rape and brutal murder to us." ['EPDP not connected to the murder of Vidya' – Douglas Devananda, website http://english.ttnnews.com/2015/05/31. May 31, 2015]
Bard's citation: "Let us bathe our hands in Caesar's blood
up to the elbows, and besmear our swords;
then walk we forth even to the market-place,
and, waving our red weapons o'er our heads,
Let's all cry 'peace, freedom, and liberty'."
[Brutus, in Julius Caesar, Act 3, Scene 1]
Spurious Judgement Award to Wijeyadasa Rajapakshe, the Justice Minister
Self-citation: "Fifty four persons who had been convicted on terrorism charges were serving prison terms; indictments were being prepared against 85 persons; cases were pending against 134 persons; eight given bail and 45 convicts released through courts after rehabilitation." According to a news report, "Minister Rajapakshe insisted that thousands of LTTE cadres as well as those who had been apprehended during the conflict and in the immediate aftermath of the conclusion of the Vanni offensive had either been rehabilitated and set free or released through courts. The previous government held as many as 12,000 men, women and children in May 2009." [Shamindra Ferdinando, 'Only 200 convicted Tigers, suspects in custody – govt. in the wake of TNA, US call for release of remaining political prisoners', The Island, Colombo, June 7, 2015.]
Bard's citation: "What judgement shall I dread, doing no wrong?
You have among you many a purchased slave
Which, like your asses and your dogs and mules,
You use in abject and in slavish parts
Because you bought them."
[ Shylock, in The Merchant of Venice, Act 4, Scene 1]
Belated Conscience Prattling Award to Karuna aka Vinayagamurthy Muralitharan
Self-citation:  "Only after the final battle of Mullivaikkal, I realized how cruel the former president Mahanda Rajapaksa and his brother Gothabhaya Rajapaksa were. Women soldiers who fought for liberation were raped and killed by the army. I had begged to both Mahinda and Gotha not to kill those who surrendered, because they were innocent. But they never listened. I couldn't tolerate to what happened to Prabhakaran's wife and daughter. I also requested not to kill Prabhakaran's younger son. Even then, he was killed…Now they have forgotten me! They have ignored me by not offering an opportunity to contest in the election." ['I realize how cruel these Rajapaksas are' – Karuna, http://athavansrilanka.com/?p=254858, July 18, 2015]
Bard's citation: "As Caesar loved me, I weep for him. As he was fortunate,
I rejoice at it. As he was valiant, I honour him. But as he was
ambitious, I slew him. There is tears for his love, joy for his
fortune, honour for his valour, and death for his ambition."
[Brutus, in Julius Caesar, Act 3, Scene 1]
Community Service Award to Pillaiyan aka Sivanesathurai Chandrakanthan
News citation: "Speaking during an appearance on the Pethikada programme, aired on Sirasa TV on the morning of Wednesday September 23, chief organizer of the Sri Lanka Freedom Party (SLFP) for Batticaloa Arun Thambimuttu alleged that the Eastern Provincial Councillor Sivanesathurai Chandrakanthan, also known as Pillaiyan, is forcible residing at his home. Noting that it has been over five years since his house was given to Pillaiyan by the army, Thambimuttu stated that he has to seek the help of the Supreme Court in order to solve the matter and get his home back. [Pillaiyan is forcibly residing at my home: Arun Tambimuttu, http://newsfirst.lk/english/2015/09/pillaiyan Sept. 23, 2015]
Sachi's comment: This Arun Tambimuttu guy, according to his blog spot, "hails from a decidedly political family; he is the son of former Member of Parliament, Sam Tambimuttu and the grandson of Senator Muttyah Manickam, one of the founders of the Federal Party." Whereas the grandfather was a founder of the Federal Party, and the father was also a pillar of Federal Party and TULF, he is now the chief organizer of the Sri Lanka Freedom Party (SLFP) for Batticaloa! (aruntambimuttu.blogspot.com/), and Pillaiyan was an advisor for ex-President Mahinda Rajapaksa (a pillar of SLFP) on Tamil affairs.
Bard's citation: "He was but a fool
that brought my answer back.
Brutus hath riv'd my heart
A friend should bear his friend's infirmities,
but Brutus makes mine greater than they are."
[ Cassius, in Julius Caesar, Act 4, Scene 3]
'Three-in-One' Witch Award to Sinhalese journalist Shenali D. Waduge
Self-citation: "Close to 12,000 LTTE cadres surrendered. If the Sri Lankan troops had been murderers as claimed would this lot be alive? Would the 594 child soldiers have got a Presidential Pardon? This is not to say that even within the army there are some bad eggs but that cannot and should not bring the entire reputation of the army down or have the war heroes treated as they are currently being done. Moreover, where are the calls for the 5000 military soldiers whose families have officially filed the names of their missing sons/husbands with the Presidential Commission on Missing Persons. While 40,000 do not have names the 5000 military missing do – why is there no concern or calls to demand from the 16 LTTE fronts and their leaders what the LTTE did to these men?" [Shenali D. Waduge'First investigate those who sponsored & supported Sri Lanka's LTTE Terrorists?' www.sinhalanet.net/ , Oct. 22, 2015]
Bard's citation: "A sailor's wife had chestnuts in her lap
and munched, and munched, and munched, 'Give me', quoth I.
'Anoint thee, witch', the rump-fed runnion cries.
Her husband's to Aleppo gone, master o'th' Tiger.
But in a sieve I'll thither sail,
And like a rat without a tail
I'll do, I'll do, and I'll do."
[First Witch, in Macbeth, Act 1, Scene 3]
Touchstone Court Fool Award to ex-diplomat commentator Izeth Hussain
Self-citation: "There is more than one reason why I haven't written on the problem of Muslim racism in Sri Lanka. There is no such problem – that's my first reason. Certainly there will be racist attitudes among some Muslims but their racism does not constitute a national problem meriting articles by me and others…" [Izeth Hussain, 'Sri Lanka: Muslim Racism', http://srilanabrief.org/2015/08/ , Aug. 1, 2015]
Sachi's comment: With this Izeth Hussain, I had crossed swords in the Lanka Guardian journal quarter century ago. Being an English major and a diplomat, he was (is) verbose, verbose to the extent of suffering from logorrhea symptom! Thus, I provide an apt citation from bard's court fool Touchstone below.
Bard's citation: " O sir, we quarrel in print, by the book, as
you have books for good manners. I will name you the
degrees. The first, the Retort Courteous; the second,
the Quip Modest; the third, the Reply Churlish; the
fourth, the Reproof Valiant; the fifth, the Countercheck
Quarrelsome; the sixth, the Lie with Circumstance;
The seventh, the Lie Direct. All those you may avoid but
Lie Direct; and you may avoid that, too, with an
'if'. I knew when seven justices could not take up a
Quarrel, but when the parties were met themselves,
one of them thought but of an 'if', as 'If I you said so,
then I said 'so', and they shook hands and swore
brothers. Your 'if' is the only peacemaker; much virtue
in 'if'."
[Touchstone, in As You Like It, Act 5, Scene 4]
Love Lost Award, jointly to Karuna and Pillaiyan
Self-citation: "To a guy who has direct links in the murders of former parliamentarians Joseph Pararajasingham, Raviraj, Chandranehru and Prof. Ravindranath, they had offered a place in the United People's Freedom Alliance (UPFA) list…I have definitive documents related to this first degree murderer." ['I realize how cruel these Rajapaksas are' – Karuna, http://athavansrilanka.com/?p=254858, July 18, 2015]
Bard's citation:
"Cassius: You love me not.
Brutus: I do not like your faults.
Cassius: A friendly eye could never see such faults.
Brutus: A flatterer's would not, though they do appear
as huge as high Olympus
Cassius: …For Cassius is aweary of the world
Hated by one he loves; brav'd by his brother;
check'd like a bondman; all his faults observ'd
set in a notebook, learn'd, and conn'd by rote,
to cast into my teeth. O, I could weep…"
[ Julius Caesar, Act IV, Scene III]
Perennial rumor-monger Award to academic Rajan Hoole
News citation: "Hoole is a mathematician with a razor sharp intellect and precise manner of speaking. After two decades in hiding, he returned to his post at Jaffna University, but recently retired in disgust with university politics and in institutionalized embrace of what he dismisses as a Tamil victimization identity. The vice-chancellor even tried to prevent him from giving a talk about his book." [Jeff Kingston, 'Sri Lanka's memory wars thwart reconciliation', Japan Times on Sunday, June 28, 2015],
Sachi's comment: Rajan Hoole had written a book entitled, 'Palmyra Fallen: From Rajani to War's End', published last year. According to the above cited report, "Hoole thinks the LTTE was a criminal organization guilty of widespread atrocities and that it is responsible for countless Tamil deaths and has much to answer for regarding the final slaughter….He argues, the state's sins are well known and widely reported while the LTTE's grisly record has not received the attention it deserves, especially now that many Tamils are glorifying the Tamil Tigers…"]
Bard's citation: "Open your ears; for which of you will stop
the vent of hearing when loud Rumour speaks?
I from the orient to the drooping west,
making the wind my post-horse, still unfold
the acts commenced on this ball of earth.
Upon my tongues continual slanders ride,
the which in every language I pronounce,
stuffing the ears of men with false reports.
I speak of peace, while covert enmity
under the smile of safety wounds the world."
[Rumour, in Henry IV, part 2, Act 1, Scene 1]
******
Appendix: Art Buchwald Columns
Visiting a Tax Shelter
You hear so much about tax shelters that I thought it was about time I went out and looked one over. I heard there was a beautiful one a few miles outside Houston, Texas, so, on a recent trip, I decided to make a detour and visit it.
It was on the property of a man named Ralston Loophole. When I arrived at his ranch, I was surprised to find nothing but a rickety old farmhouse. I rang the bell, and a grizzled old cowhand answered the door.
" I'm looking for Mr. Ralston Loophole," I said.
"He's out back yonder in his tax shelter," the cowhand said. "But you'd better be careful – he's got the place mined."
"Could yu call him on the phone and tell him I'd like to see him? Say I'm doing a piece on the most beautiful tax shelters in America for Better Homes and Gardens."
The cowhand came back in a few minutes. "OK, he'll see you. Mr. Loophole has to be careful. There's a lot of tax reform nuts hanging around lately."
He led me to the tax shelter, which was hidden among shrubbery, with only the door aboveground. The door was unlocked, and I climbed down. It was the most fantastic room I had ever been in. There were solid gold tables, crystal chandeliers, Gobelin tapestries on the wall, and a marble floor with a design in the center of a large loophole, which I assume was the family crest.
Mr. Loophole put out his hand. "Glad to meet ya," he said. "There's been a lot of criticism of tax shelters lately, and if I can do anything to change it, I'll be mighty happy to."
"Thank you, sir. This is a beautiful tax shelter," I said as he handed me a glass of champagne.
"It's right pretty, but it's just one of many I got."
"You mean you have more than one tax shelter?"
"Of course, boy. This is my oil-depletion tax shelter. I keep all my money here that I make from oil. The government can never find this place. Say, you aren't from the Feds, are you?"
"No, sir," I said. "Someday I hope to have a tax shelter of my own."
"Good for you, son. You've spoken like a true American. You know, there's lots of people in this country who are trying to do away with these oil-depletion tax shelters. They say we're not paying our full share of taxes. Well, let me tell you this. When we take oil out of the ground, there's no way of replacing it. That oil's gone forever. And if we have to pay full taxes, they'd be hurting the oil – not us.
"They want to take our oil shelters away from us, but, son, we aren't going to let them do it. Our sweat and our blood went into building these shelters."
"I'll be praying it never happens," I said as I put some caviar on toast. "What other tax shelters do you have?"
"I have one for cattle over in Oklahoma. Catle depreciate – don't let anyone tell you otherwise. They get old, and they get tired, and if we had to pay taxes on them, those cattle would be miserable."
"No one should have to pay taxes on cattle," I said, helping myself to foie gras.
"Up in Chicago I have my real estate tax shelter. A man has to get a return on real estate, and that's what I keep the shelter there for. I also buy freight cars and airplanes, and I lease them back to the people I bought them from. That helps pay for the upkeep of the Chicago shelter. I forgot to mention my foundation in California. That's beautiful shelter."
"How much money did yu make last year with all these things?"
"Somewhere in the neighborhood of one hundred million dollars."
"How much federal tax did you pay?"
"Eight hundred dollars. But I can't figure how it happened. I thought I had all the loopholes covered."
******
Sex Ed – The Pros and Cons
There is a big flap going on in the United States right now over the question of teaching sex education in our schools. The educators are mostly for it and the ultraconservatives, including the John Birchers and the DAR, are mostly against it. I usually like to stay out of controversial matters since I hate to answer my mail, but in this case I have to come out for teaching sex education in the schools.
This is a very personal matter with me. I had no formal sex education when I was a student, and everyone knows the mess I'm in. If there had been a Head Start program in sex education when I was going to public school, I might have been a different man today.
When I was going to Public School 35 in Hollis, New York, we got all our sex education at the local candy store after three o'clock. The information was dispensed by thirteen-year-olds who seemed to know everything there was to know on the subject, and we eleven- and twelve-year-olds believed every word they told us.
Some of it, I discovered later on, did not necessarily happen to be true. For example, I was told as an absolute fact that if a girl necked with you in the rumble seat of a car, she would romantically have a baby.
This kept me out of the rumble seat of an automobile until I was twenty-three years old.
There were some other canards of the day, including one that the method of kissing a girl on the mouth decided whether she would become pregnant or not. Every time I kissed a girl after that, I sweated for the next nine months.
The sex experts at Sam's Candy Store had an answer for every problem that was raised at the soda fountain. These included warnings that if you did certain things, you would go insane. Most of us were prepared to be taken off to the booby hatch at any moment.
There was obviously no talk about birds, bees, flowers, or animals. We couldn7t care less what happened when they were doing it. Our only concern was what happened to human beings, and from what our thirteen-year-old instructors could tell us, it was all bad.
Those of us who escaped insanity and shotgun weddings were told we would probably wind up with a horrendous disease that would be passed on to our children and their children for generations to come. There were twenty-five ways of catching this disease, including shaking hands with someone who knew someone who had it.
You can imagine the nightmares these tales produced. There seemed to be no escape. You were doomed if you did, and you were doomed if you didn't. After one of these sessions at the candy store, I seriously contemplated suicide. There didn't seem to be any other way out.
Now the worst part of my sex indoctrination was that when I turned thirteen, I became an instructor myself and passed on my knowledge to eleven- and twelve-year-olds at the same candy store. They listened in awe as I repeated word for word what I had been told by my "teachers", and I was amazed with how much authority I was able to pass on the "facts" of sex education as I knew them.
Upon becoming thirteen, they in turn taught the younger students. Heaven knows how many generations of Public School 35 alumni went on through life believing everything they had learned about sex at Sam's Candy Store.
The fact is that while sex education at Sam's served a purpose, we were all emotional wrecks before we got to high school.
So, on the basis of my own experience, I don't think we have much choice in this country when it comes to sex education. In order to avoid the agony and pain my fellow classmates and I went through, we either have to teach sex in the schools or close down every soda fountain in the United States.
******
Visit to a Rumor Factory
While many businesses suffered during the disturbances in our American cities, there was one that thrived – and that was rumor-making. The rumor factories in Washington were going full steam during the crisis, and still they couldn't keep up with the demand.
I visited a rumor factory in the nation's capital recently and was given a tour by the foreman, a jolly, round-faced man named Clarence, who has been manufacturing rumors for thirty years.
"We've been going twenty-four hours a day for the last two weeks, and we've yet to fill all our orders," Clarence said as we walked around the large air-conditioned building.
"I know this is a silly question," I said, "but how do you make a rumor?"
"It's not hard once you get the formula," Clarence told me. "Over here we have the raw facts. Now you mix them with gossip and fantasy, put them through this machine, and they come out a solid rumor. The process doesn't take long, a matter of minutes, but in order for a rumor to have any substance, it has to be kept hot. That's what those burners over there are for. They can heat up a rumor in seconds."
"Where do you get your raw materials?" I asked him.
"Mostly from bars and hairdressers. We have a staff that does nothing but collect bits and pieces of rumor material which they bring in at the end of the day. The ones we don't use right away, we bale and store in a warehouse for later use.
"For example, right now, because of public demand, we've been working on racial rumors, so we've been storing the political tidbits for later on, just before the conventions. Before we switched to racial rumors, we had a big run on Vietnam rumors, but that's died down for the moment."
"How do you distribute your rumors?"
"Distribution is no problem. A lot of them are distributed through taxi drivers, others are dropped off at the press club, some are left on street corners, and, of course, there's always the telephone. During a racial crisis our rumors hardly get out the door before they're grabbed up and spread all over town."
We walked into another room, where several women were inspecting the rumors as they came off the line.
"This is our quality control division. Every rumor that leaves our factory is carefully inspected for holes in it."
"Then you do reject rumors?" I asked.
"We certainly do. A rumor has to withstand tremendous pressure in order to work. If it doesn't hold up, it's not going to be circulated, and pretty soon people will be going to other places to buy their rumors. We've even called in rumors because of a flaw we've discovered in them after they've left the factory."
We walked to another part of the factory, and the foreman said, "This is our research and development division. We're constantly trying to find new methods of making rumors. We had a big breakthrough not long ago. We found out a way of taking old rumors and using them again.
"One of our lab assistants discovered that by taking a rumor circulated in Chicago and doctoring it slightly and fixing it up, it would look like a brand-new rumor for Washington. We're franchising the process for other cities. They'll buy our old racial rumors, and in exchange we'll buy their old rumors. This source of supply will go on forever."
"What happens when you put out a rumor and it turns out to be true?"
"When we let a rumor go, it's a genuine rumor. And there is no truth to it. We have no control over people who will misuse it for their own benefit. As with gun manufacturers, our responsibility stops when our product leaves the factory doors. We can't help it when a hot rumor hits the cold air and becomes a fact."
******
Is the Four-Letter word Obsolete?
The four-letter word, which in the past could only be seen on the walls of men's washrooms and heard only in GI barracks, is now popping up all over the place. This is causing a great deal of concern among philologists who feel that the word is becoming so common that it will soon lose its impact.
Professor Weymouth Langue, who has made a lifetime study of four-letter words at the University of Kussin, told me that unless the trend is reversed, the four-letter word would soon become as obsolete as the five-letter word 'Edsel'.
'There are only two four-letter words that I am concerned with,' said Professor Langue. 'While you still can't print them in your newspaper, I'm sure you know which ones I mean. In the past these words had the most powerful effect on the English language. The reason for it is that they were used sparingly and only under very great provocation.
'But, alas, in the last ten years, the words are written into every stage play, and they are included in every best seller. Underground newspapers feature them in headlines, national magazines vie to print them in feature stories on Normal Mailer, and the latest place they've appeared is on the foreheads of students at the antiwar demonstrations in Chicago. There doesn't seem to be any place where one can't hear or read a four-letter word these days.'
'And this bothers you?' I asked.
'Only because the words are losing their value. I have always believed that once you had proliferation in the use of these two four-letter words, they would have very little retaliatory effect. For years, they have given tremendous release to people under pressure. I doubt if our GI's could have got through any of their wars without them. But now, through overuse, there is great deal of apathy when you hear a four-letter word, and it has as much effect on you as the word 'rain' or 'book' '
'But according to Mayor Daley, one of the reasons the police might have overacted in Chicago was because of the four-letter words used against them by the mobs. They must have some emotional impact if they made the police do what they did.'
'Yes, this is possibly true, but most riot training these days specifically instructs trainees to ignore obscenity from the crowds. The Chicago police broke their discipline, but we still don't know whether it was the four-letter words or what preceded or came after them that caused the police to get as rough as they did. My opinion is that the words themselves were not responsible, particularly since the police used them also. One four-letter word will always cancel out another unless it is used in a sentence.'
'If these two words go out of fashion because of overuse, what other words will replace them?'
'They've already been replaced. You can get a much more emotional response out of someone by saying 'cops' or 'Vietnam' or 'honky' or 'nigger' than you can get out of 'blank' and 'blank'.
'People even get mad when you say 'students' ' I said.
'Right. Obscenity can no longer be counted on as a trigger word, and I think this is blanking up the whole English language.'
'What can you do about it?'
'Those of us who are interested in the problem are starting a campaign to preserve our four-letter words. We think they should be declared a national heritage and be used as a last resort only in anger and when people can no longer reason together.'
******