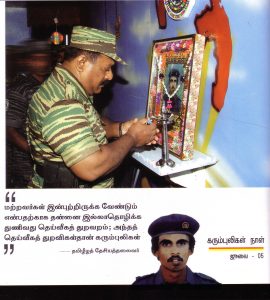 The Prime Reason for the Origin of LTTE's Black Tigers
by Sachi Sri Kantha, July 22, 2020
July 5th marked Black Tiger Day for Eelam Tamils. It was on July 5, 1987 that Capt. Miller (birth name Vallipuram Vasanthan, born on January 1, 1966 in Karaveddi) created history in the annals of Sri Lankan warfare, in Asian territory, following the traditions set by Japan's kamikaze pilots during the 2nd World War. A  2005 memorial poem in Tamil, to celebrate the heroism of Black Tigers, who followed Capt. Miller's foot steps is presented below.
In the past twenty years, the achievements of Black Tigers have penetrated the portals of academia. Quite a number of professors, graduate students and professional 'pundits' have self-promoted themselves as 'experts' on suicide bombers, to earn their paychecks. Nine Sinhalese army commanders (preceding Sarath Fonseka) who pitted against Prabhakaran and his able lieutenants for two decades, contributed nothing to the textbooks of 20th century military warfare, like that of Prabhakaran, for introducing 'suiciding bombing' as a battlefield strategy in asymmetric warfare.
In my readings on LTTE's Black Tigers that have appeared in academic journals, book chapters and books, what I found missing, is the prime reason for the origin of LTTE's Black Tigers. Here, I provide two pieces of documentary evidences.
The first is a report from The Economist of July 7, 1990 (pp. 37-38). The final two paragraphs, contributed by the anonymous Sri Lanka correspondent (most probably by Mervyn de Silva), read as follows:
"The army has dislodged the Tigers from much of the north and east, but they still control Jaffna. The army garrison in the old Dutch fort there has been under siege from the Tigers for several weeks. On July 3rd some clever manoeuvring by helicopters brought in supplies and got the wounded out. The Tigers' claim that napalm has been used against them is discounted by independent observers, although it seems that incendiary devices made of tar and petrol are being dropped by the air force.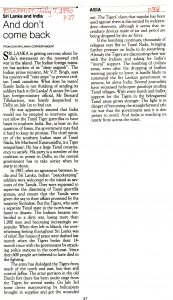 "If the bombing continues, thousands of refugees may flee to Tamil Nadu, bringing further pressure on India to do something. Already the Tigers are discounting their war with the Indians and asking for India's 'moral' support. The bombing of civilian areas, even after the dropping of leaflets warning people to leave, is hardly likely to commend the Sri Lankan government to anyone, let alone India. Several journalists have witnessed helicopter gunships strafing Tamil villages. With every bomb and bullet, support for the Tigers in the beleaguered Tamil areas grows stronger. The fight is in danger of becoming the straightforward ethnic war that the government says it is desperate to avoid. And India is watching intently from across the water."
Though the then Sri Lankan correspondent had written about 'India's watch', nothing happened at all. India's politicians and bureaucrats at New Delhi were engaged in their routine game of back stabbing and pulling each other's legs. Vishwanath Pratap Singh (1931-2008) had been the prime minister for 7 months, and his position was precarious. Rajiv Gandhi was the Leader of the Opposition. Though M. Karunanidhi was the Chief Minister of Tamil Nadu, unlike his predecessor MGR (1917-1987), he showed least interest in helping LTTE, and entrenched himself in enjoying the plums of the office from which had been ousted by Indira Gandhi in 1976.

The second documentary evidence is the Associated Press report from Colombo, dated August 22, 1990, which appeared in the New York Times of Aug.23, 1990, p. A10. Its caption was 'Sri Lankan Planes hit Tamil Targets'.
Next to Capt. Miller's first suicide bomb attack at the Nelliady military camp on July 5, 1987, Black Tiger martyrs No.2, No.3 and No.4 gifted their lives on July 10, 1990. They were, Major Kantharupan (Yogarajah Koneswaran, born October 9, 1971), Capt. Vinoth (Velupillai Thilararajah, born August 19, 1970) and Capt. Collins (Fernando Sylvester, born December 5, 1969).  While Major Kantharupan and Capt. Vinoth died in Valvettiturai, Capt. Collins died in Mannar.
As a counter strategy to protect innocent Tamil lives from aerial strafing of Sri Lankan military, Prabhakaran used Black Tigers to demoralize his adversaries. The individual who held the position of state minister of defence in 1990 was hawkish Ranjan Wijeratne (1931-1991). But, aerial attack on Tamil civilians of Jaffna peninsula was promoted actively by his predecessor – Deputy Minister of Defence Lalith Athulathmudali (1936-1993).