GAZA CITY — Militant rockets can be seen launching from crowded neighborhoods, near apartment buildings, schools and hotels. Hamas fighters have set traps for Israeli soldiers in civilian homes and stored weapons in mosques and schools. Tunnels have been dug beneath private property.
With international condemnation rising over the death toll in Gaza exceeding 650 in the war's 16th day, Israel points to its adversaries' practice of embedding forces throughout the crowded, impoverished coastal enclave of 1.7 million people.
"Hamas uses schools, residential buildings, mosques and hospitals to fire rockets at Israeli civilians," Prime Minister Benjamin Netanyahu told his Canadian counterpart in a call over the weekend, according to a statement from Mr. Netanyahu's office. "Hamas uses innocent civilians as a human shield for terrorist activity."
Nothing is ever so clear in the complex and often brutal calculus of urban warfare. There is no evidence that Hamas and other militants force civilians to stay in areas that are under attack — the legal definition of a human shield under international law. But it is indisputable that Gaza militants operate in civilian areas, draw return fire to civilian structures, and on some level benefit in the diplomatic arena from the rising casualties. They also have at times encouraged residents not to flee their homes when alerted by Israel to a pending strike and, having prepared extensively for war, did not build civilian bomb shelters.

Israel, for its part, says it takes precautions to avoid killing civilians, but has also accepted as inevitable that there will be large numbers of civilian casualties when it strikes at certain targets, like Hamas members in their houses, or offices, or mosques.
"It's a bit of a fluid concept," said Bill Van Esveld, a lawyer and senior researcher in the Middle East division of Human Rights Watch. "If you have any choice in the matter, you should not be fighting from an apartment building full of civilians."
Some of Hamas's tactics mirror those of other insurgent groups, like the Irish Republican Army and Nicaraguan contras.
"Hamas knows that it works to its advantage, politically and diplomatically, as the civilian death toll mounts, there is increasing pressure to end the war immediately, and what that typically entails, if past is precedent, is making some concessions to Hamas," said Nathan Thrall, co-author of a recent International Crisis Group report on Gaza. "Hamas deliberately buries the weapons in populated civilian areas hoping that will reduce the chance that those weapons will be taken out from the air — that's a pretty clear-cut case."
Experts in international law say that even as Hamas is legally obligated to minimize its operations near civilians — and is committing a war crime by firing rockets indiscriminately — so, too, is Israel obligated to identify specific military targets and keep the risk to civilians proportionate to the threats the targets pose.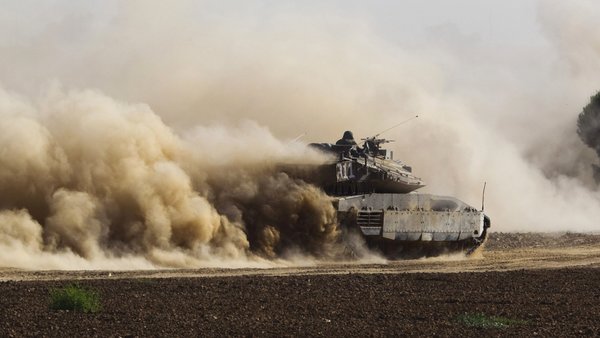 Mr. Van Esveld said that while urban warfare was not itself illegal under international law, the law "does give you an obligation to do everything you can to minimize potential harm to civilians."
Mr. Thrall said that for Hamas, as for insurgent groups throughout history, one of the few ways to "even attempt to level the playing field is to try and protect some of its weapons and fighters in civilian areas."
But there is a question, Mr. Thrall added, of whether they do it deliberately, hoping for "diplomatic-political advantage" from the deaths of civilians, or "out of desperation."
To underscore its message, Israeli leaders and their supporters point to rockets that the United Nations reported finding in two of its schools in Gaza in recent days. The Israeli military on Wednesday also sent a map to reporters that had red, highlighted areas that it said were "Hamas military compounds with rocket caches and openings to terror tunnels" next to blue-shaded civilian houses, a mosque, and Jabaliya Indonesian Hospital. Another showed what the military said were "rocket-launch sites" in a field adjacent to a complex of five Gaza City schools.
On Tuesday, the military said that a paratrooper had been killed and that several soldiers had been wounded by an antitank guided missile fired from within a Khan Younis mosque. On Wednesday, a news release said the military had struck Al-Wafa Hospital in the Shejaiya neighborhood of Gaza City after militants fired on troops from within its grounds, which it said had been "repeatedly used" by Hamas and Islamic Jihad as a command center, rocket-launching site and firing position.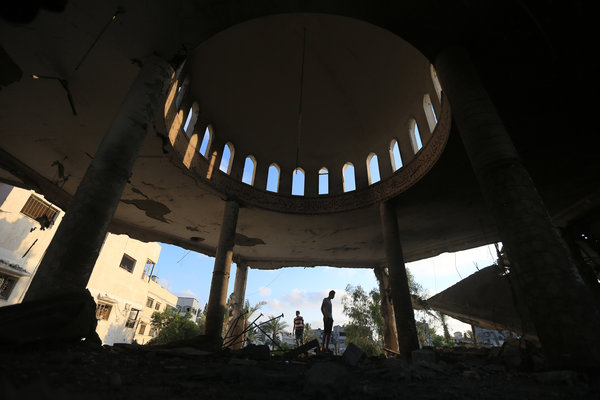 Lt. Col. Peter Lerner, a military spokesman, said militants were "intentionally abusing the hospital and other international protected symbols to indiscriminately attack Israel." The release said the military had raised concerns about the hospital on "numerous occasions" with international organizations, the hospital administration, and other Palestinian officials.
At the root of the dueling allegations are the two sides' very different views. Many Palestinians see the militants as a legitimate resistance force, the closest thing they have to a national army, operating within its community and using what advantages it can against a far more powerful enemy. Israeli officials see the militants as terrorists guilty of what Mr. Netanyahu called a "double war crime," launching indiscriminate attacks and cynically exploiting the deaths caused by the response to garner sympathy.
Neither side's claims could immediately be verified as many of the relevant sites are now under Israeli shelling. Many Hamas militants, wary of interviews in normal times, are now virtually impossible to meet, either in hiding or on front lines. Those who launch rockets quickly disappear from the scene. Members of the political wing, like Bassem Naim, a former health minister, deny knowledge of military details.
Mr. Naim said that no civilian would be forced to take part in militant activities, and that the tunnels Hamas has dug — Israel's stated target as it pushed into the neighborhood of Shejaiya, unleashing heavy shelling — are so deep that residents whose properties they might go under would not know they were there. He would not address whether that was unfairly endangering those residents.
But Hamas is also feeling the heat as the death toll is rising. Well into the conflict the Hamas radio station was telling civilians — already reluctant to leave homes given their history of displacement — not to heed Israeli warnings to flee, calling the warnings "psychological warfare." That message has shifted in recent days as the station, perhaps with Hamas feeling pressure over the mounting death toll here, warned people to avoid "hot areas" and advised them to stay inside after 11 p.m.
Many say their relatives' houses are full, and are reluctant to move in with strangers, or to strange neighborhoods, since they will not know if they are inadvertently moving closer to a Hamas member's house or other potential target. And there is no certain safety.
Sami Abu Zuhri, a Hamas spokesman, denied that the earlier announcements were meant to endanger civilians, and said the message changed later because Hamas at first did not expect so many civilian houses to take direct hits.