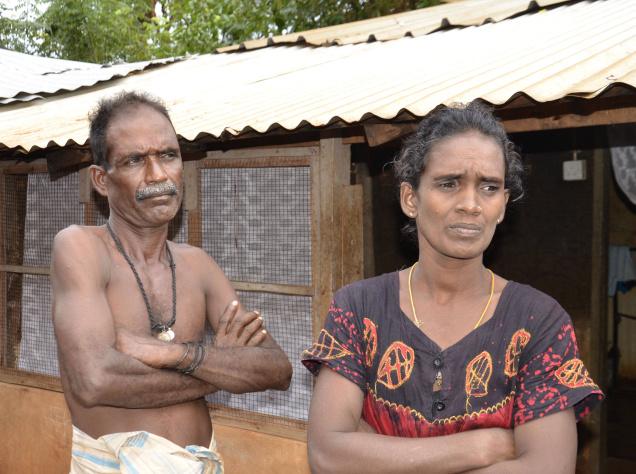 Resettled Tamils like Selvi and Gunaratnam (Jaffna) are unhappy in government-sponsored dwellings.
The country's 30-year ethnic conflict may have ended four years ago, but for Gunaratnam Selvi — who remained displaced for considerable part of the war — the daily battle for food is far from over.
"I pawned my earrings a few days ago because we had no money for food," said Ms. Selvi, who has been residing in a thatched-roof home in an Internally Displaced Persons (IDP) camp in Konappulam, Jaffna, since her family's return in 2002.
"We tried going to our land to see who lives there. We could not go very close, but there was a name board with something written in Sinhala," she said.
TRAUMATIC PHASE
After a traumatic phase, families like that of Ms. Selvi were hopeful of being able to return home someday. But when they actually did, a new problem stared at them — their homes were not theirs anymore.
While locals alleged that the army took over land belonging to them for its "high security zone", Jaffna Security Forces Commander Major General Mahinda Hathurasinghe denied any such takeover. "The Sri Lankan army, navy and air force require land to accommodate their troops, but only government land is used for the purpose. In cases where private land is needed, as in Palali, we compensate the owner as per the market value of their land," he said.
Observing that there was a "proportionate increase" in army presence in Jaffna peninsula due to the overall growth of the army, Major General Hathurasinghe said the number of army personnel had come down to 13,200 now from 26,400 in December 2009, when he took over as commander.
LEGAL BATTLE
However, as many as 5,000 families are about to begin a legal battle for their land rights, said S. Sugirthan, chairman of the Valli North Pradeshiya Sabha — the local body — in Kankesanthurai, Jaffna.
According to family members, the government has allotted the families alternative sites for homes — such as the ones at the IDP camp — but they find them wanting in basic infrastructure and livelihood opportunities.
Prior to being displaced in the early 1990s to the Vanni, Ms. Selvi's family lived in a small home they owned on a 0.25-acre plot by the sea in Jaffna. Her husband Gunaratnam would venture into the sea and bring back basketloads of fish that ensured a steady income. "Now we are not close to the sea and cannot go fishing. We are forced to take up other jobs for a small daily wage that is hardly sufficient," said Mr. Gunarathnam.
There are space constraints as well. Inbaraja, who lives with his wife and three children, said: "The IDP camp homes are rather tiny. Look, this is all we have for the five of us [He lives with his wife and three children]," he said, pointing to his room that seemed not more than 7X4 feet in area.
There is a kitchen that is smaller, and some space in front of the house. The homes do not have toilets, and there are only common toilets in the settlement. Even a brief shower leaves the zone inundated, residents said.
"We are just asking the government to let us live in our homes, that is where we belong. We do not want anything else," said Mr. Inbaraja.
OTHER NORTHERN AREAS
According to official sources, as many as 83, 618 persons from 23,351 families in Jaffna were displaced in 1990. Most of them are in IDP camps, while a few stay with host families. A few others have migrated abroad and some are in Rameswaram.
The problem faced by those who return is not specific to Jaffna. It is also prevalent in other parts of the Northern Province that still bears imprints of the war.
Sankari (name changed), who returned from Menik Farm — the largest refugee camp for persons displaced by war, located near Vavuniya — had to part with her land in Keppapulavu, Mullaitivu, for the near-500 acre high security zone that the army has set up. "Close to home is one thing, but home is another. The army is building some houses for us nearby, but nothing like our own place, on our plot of land," she said.
Saraswati's case is not very different. Her family is one of the few residing in Mullivaikal — Mullaitivu district that was among the worst-hit during the last phase of the war. Her home now — made largely of tin sheets and wooden planks — is right next to the rubble of her once concrete home.
RELIC OF THE WAR
A few yards away from her home, by the shore, stands Jordanian merchant vessel Farah 03 as disturbing relic of the war. The damage to the giant ship, said to be used as firing pad by the LTTE, presents a telling image of post-war Sri Lanka. It even serves as a tourist spot for many from the south of the country, or from outside.
The road leading to this point too has metal scrap of vehicles damaged in the war.
"Many homes here were damaged very badly. While it is good that the war is over, living in such an environment brings back memories of those days," Saraswati said.
(*name changed on request)