NEW DELHI, (AlertNet) – The Sri Lankan government must find and prosecute those responsible for the massacre of 17 aid workers during the country's 25-year civil war, French charity Action Contre La Faim (ACF) has said.
The killing of the aid workers, who were shot at point-blank range outside their office in northeast Sri Lanka in 2006, was the worst attack on humanitarians since the 2003 bombing of the United Nations compound in Baghdad.
"It's important that those responsible be held accountable. If we want real peace and reconciliation and justice in Sri Lanka, any investigations conducted must be transparent which they have not been so far," Pauline Chetcuti, ACF's Humanitarian Advocacy Advisor told AlertNet by phone from Paris.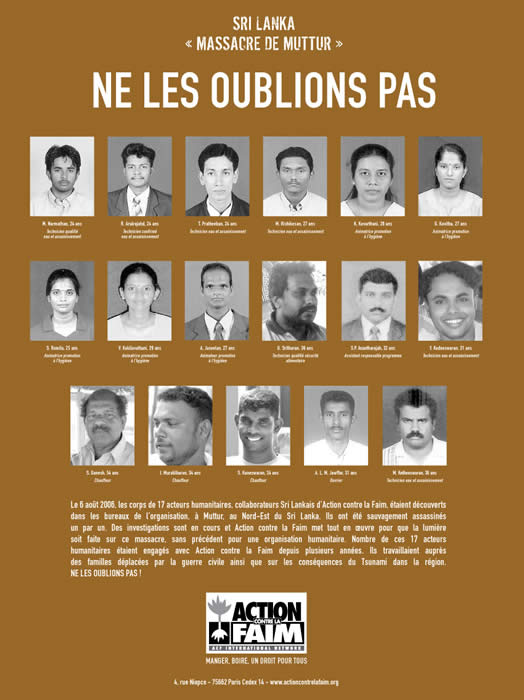 The "Mutur Massacre", named after the town where the killings took place, occurred on August 4, 2006, during the civil war between separatist Tamil Tiger rebels and government forces that began in 1983.
The mostly ethnic Tamil aid workers were providing water and sanitation to survivors of the 2004 tsunami when Tamil Tiger fighters launched an offensive against government troops to take control of Mutur.
Trapped in their office, the aid workers lost radio contact with their head office.
Two days later, the bodies of 15 of them, men and women, were discovered lying face down in the ACF compound with bullet wounds to the head and neck. The bodies of two others were found in a vehicle nearby, possibly killed while trying to escape.
The war ended in May 2009, but no one has been held accountable for the killings, let alone arrested and charged, says ACF, which now runs a campaign called "Justice for Mutur." <www.justiceformuttur.org/>
WEAK U.N. RESOLUTION
Tens of thousands of civilians were killed in the final months of the war as government troops advanced on the last stronghold of the Tamil Tiger rebels fighting for an independent homeland, a United Nations panel has said.
In a resolution passed by the U.N. Human Rights Council last month, the organisation urged Sri Lankan President Mahinda Rajapaksa to carry out credible investigations into the killings and disappearances during the war, especially in the final stages.
It also voiced concern at reports of continuing violations including killings, torture, curbs on the right to freedom of expression, and reprisals against activists and journalists.
Resolutions such as that brought by the United States are not binding, but the scrutiny by the U.N. Human Rights Council maintains pressure on the government to prosecute war crimes.
ACF said it welcomed the resolution, but noted that the resolution did not demand an independent inquiry into the deaths of ACF staff and other war victims, but called on Colombo to undertake its own investigation.
"It's great that the international community got together to pass this resolution, but it's really not enough because the terms of the resolution are not strong enough and it doesn't force Sri Lanka to do something concrete," said Chetcuti.
"What we are calling for is an international, credible investigation into war crimes. Asking Sri Lanka to do its own inquiry is ironic as its own army is accused of being behind some of these human rights violations."
ACF says it has closely followed three Sri Lankan judicial proceedings on the Mutur massacre, but says the proceedings, which spanned two years of investigations, were subject to continuous delays and riddled with errors and political interference.
An international group of observers withdrew due to a lack of transparency, and as a result, ACF also pulled out from the country in protest and to press for the guilty parties to held accountable.
A 2008 report by a local rights group, The University Teachers for Human Rights, blamed Sri Lankan security forces for the massacre and accused the government of a cover-up.
The Sri Lankan government has denied responsibility and has blamed the killings on Tamil Tiger fighters.
IMPORTANT: Your comment will not appear immediately as we vet all messages before publication. We don't publish comments that are racist or otherwise offensive. Nor do we publish comments that advertise products or services. Please keep your comment concise and do not write in capitals.
(AlertNet is the world's humanitarian news site run by the Thomson Reuters Foundation. For more AlertNet stories, visit www.trust.org/alertnet)
https://www.youtube.com/watch?feature=player_embedded&v=NuyLCU0VHMQ
Uploaded on Jun 23, 2007
Massacre of The french Ngo ACF(Action contre la faim) Tamil Aid Workers by Sri Lanka Army:
1. G. Kavitha (Female, Age 27, Hygiene Promotion Officer)
2. S. Ganesh (Male, Age 54, Driver )- Kavitha's father
3. K.Kovarthani (Female, Age 28, Hygiene Promotion Officer)
4. S.Romila (Female, Age 25, Hygiene Promotion Officer)
5. V.Kokilavathani (Female, Age 29, Hygiene Promotion Officer)
6. G. Sreethraran (Male, Age 36, Advanced Field-Officer)
7.Primus Anandarajah (Male, Assistant Promotion Manager)
8. Matahavarasa Ketheeswaran (Male, Age 36, Supervisor)
9. M. Narmathan (Male, Age 24, Field officer)
10. R. Arulraj (Male, Age 24, Field officer)
11. P.Pratheeban (Male, Age 27, Field officer)
12. M. Rishikeshan (Male, Age 28, Field officer)
13. Kodeeswaran Y. Kodeeswaran (Male, Age 31, Field officer)
14. Muraleetharan (Male, Age 35, Driver I.)
15. K. Koneshwaran (Male, Age 24, Driver )
16. Abdul Latif Mohamed Jauffer (Male, Age 31)
17. A. Jaseelan (Male)