Kothamangalam Subbu's Poem on Jaffna Tamils
by Sachi Sri Kantha, July 17, 2019
Polymath Poet Kothamangalam Subbu (1910-1974) has a reputation which many cannot easily match. Apart from being a poet, he was also a movie actor – director, lyricist, script writer, novelist, short story writer, folk lore expert and an exponent in Villu Paatu, a traditional Tamil folk art form. Suppu was associated with two of the top ranked and popular Tamil movies produced in Chennai so far; Avvaiyar (1953; the director, co- script writer and an actor in a supporting role) and Thillana Mohanambal (1968; original novel was penned by him). For my previous description on the Avvaiyar movie in this series, please check Chapter 7 (https://sangam.org/from-sachis-files-chapter-7/).
One of my favorite poems of Subbu was the one he wrote after his visit to Jaffna. The beauty of this poem – six quatrains in lilting rhythm with simple Tamil words, extol the life style of commoners in Jaffna, circa 60 years ago. Unfortunately, I cannot exactly date this poem when it was originally published. I remember scribbling it in my notebook from a book that I borrowed from the Colombo Public Library in 1970s. I will be pleased, if any of the elder readers can let me know, when Kothamangalam Subbu visited Jaffna.
In 1995, I brought this poem from oblivion by publishing a short piece in the now defunct 'Sarvadesa Tamilar' Tamil magazine, edited by N. S. Pirabu (aka, N. Shanmugapirabu), from Norway. He was a student associate of me, while I was a junior academic at the University of Peradeniya in 1978-81. I provide a scan of this item near by.
To enhance its visibility further, I now provide an English translation of Subbu's poem on Jaffna Tamils.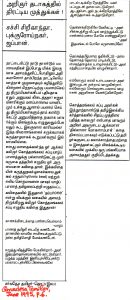 The tradition that cannot be seen – among
Jaffna Tamils, I did see.
Praying to God beyond shame
Speaking good Tamil, I did see
Conversing like how it's written – They
Expose hearts in their deeds
The sweet smile is that of ripe fruit
But not a shred of fake smile.
When songs are recited – they
Tilt their heads with pleasure
When songs and dance are performed
With joy, they do dance.
Building the fences with dried coconut leaves – They
Do live in small type houses
Thoughts do expand to mountains – Their
Hearts filled with ocean-vast kindness
By reciting the holy Tamil hymns
By singing the honeyed Thevarams
By working to promote Saivism – They
Live along the path of truth
All being blessed with literacy – They
Live in a grade of happiness
All should be blessed with wealth
Is my prayer to the God.
Though to some ears, this travel poem may sound jingoistic propaganda, in extolling the virtues of Jaffna's Hindu Tamils and promoting regional chauvinism among Eelam Tamils at large, one cannot fault Suppu for it. Indeed it was a periodic travel poem from the vantage angle of a super poet and those who hosted him. The Jaffna society which Suppu depicted in his six quatrains seems to have passed into history.