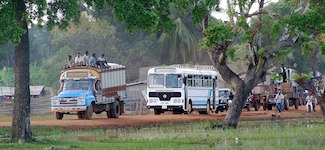 by Christine Grillo, Human Rights Data Analysis Group, December 12, 2018
Today, in collaboration with the International Truth and Justice Project, HRDAG has published a report about the 500 Tamils who disappeared while in Army custody in Sri Lanka in 2009. The report is titled "How many people disappeared on 17-19 May 2009 in Sri Lanka?" and Patrick Ball, director of research at HRDAG, is the lead author.
Ending the 26-year civil war, the Tamils surrendered to Sri Lanka in May 2009. According to the report, Sri Lanka has a very large number of disappeared people, and even in the context of the high frequency and great magnitude of disappearances in Sri Lanka, the three days of 17-19 May,which occurred at the end of the war, were extraordinary. "They represent the largest number of disappearances in one place and time in the country's history," according to the report. (Read more about HRDAG's research on Sri Lanka here.)
From the ITJP press release: "For years the ITJP has been collecting names of those who disappeared at the war end from survivors and now has more than 300 names and photos displayed in a bilingual website. This and other lists collected by activists and family members inside Sri Lanka were analysed by the Human Rights Data Analysis Group (HRDAG) to produce a statistical analysis of what the total number might look like – the names already collected and the ones not yet enumerated."
Yasmin Sooka, executive director of ITJP, says: "In 2011 the first report cited 20 disappearances, then we found 103 names in 2014-2015, earlier this year it rose to 280, and now our colleagues at HRDAG believe it's as many as 500 people. This shows the importance of continuing to gather information and the need to do this both inside Sri Lanka and outside where many of the key witnesses from the war period have fled."
Image:
ITJP Disappearance website
#wherertheynow?