Malay Touch to Jaffna Food
by 'New Straits Times,' Kuala Lumpur, January 6, 2013
Zuhaila Sedek-De Booij learns about the similarities between Malay and Jaffna food
SRI Lanka has the longest documented history in the world. The food in Jaffna, which is in the Northern Province of Sri Lanka, is surprisingly more Malay than Indian.
Any misconception I had about Sri Lankan food is immediately abandoned as soon as I step into Aliyaa Island Restaurant and Bar in Medan Setia 2, Plaza Damansara, Kuala Lumpur.
Operation manager S. Sangeeth, who is from Jaffna, explains about the food.
"Many Malaysians think Sri Lankan food is similar to only Indian food. The fact is it is close to Malay food too."
THE PAST
To know the present state of Jaffna's food, one must understand the past.
Born and bred in Sri Lanka, Sangeeth says the name Jaffna comes from the original Tamil name Yazhppanam. Yazh means lute while Yazhppadi or Yazhppanan can be defined as "one whose occupation is to play the lute". Thus, Yazhppanam means "the land of the lutist".
Food similarities between Sri Lanka and Malaysia could be a result of colonisation.
According to www.jaffnaroyalfamily.org, in 1621, the Kingdom of Jaffna was invaded by the Portuguese who had conquered Malacca about 100 years earlier. Portuguese food can be found in both Malaysia and Sri Lanka to this day. An example is the famous Portuguese devil chicken and lumprais (oven baked rice wrapped in banana leaf).
In 1656, the Dutch came to Ceylon (as Sri Lanka was formerly known) and established their settlements.
In the 19th Century, the British made their mark on Sri Lanka. A paper by Sujit Sivasundaram titled Tales of the Land: British Geography and Kandyan Resistance in Sri Lanka from 1803-1850 states that workers from Ceylon were brought to Malaya by the British government to work on the Malayan Railway (now known as Keretapi Tanah Melayu) in Brickfields, Kuala Lumpur.
Trading, too, could be a catalyst of the cultural likeness between Sri Lankan food and local food.
A paper by R.P Anand in 1981 had proven this. In the paper, it reads that Tanah Melayu was a shipping centre connecting traders from India and Ceylon. Among the items traded were spices.
MALAY INFLUENCE
Malay influence on Jaffna food is evident in a dish such as sambol, known as sambal in Bahasa Malaysia.
Sangeeth says in Jaffna one has to go to a Tamil friend's house to taste the local food because there are hardly any restaurants. Because of this, every family has their own signature style of cooking (as reported in www.yarlcuisine.com).
"The dishes offered in Aliyaa are similar to what the mothers in Jaffna are cooking every day. Examples include appam and string hopper kothu," he says.
The core ingredients in Jaffna food are chilli and coconut milk. Chillies and onions from Jaffna are well-liked but are expensive. The spices and ingredients help bring out the uniqueness of Jaffna food.
The Jaffna curry at Aliyaa reminded me of the curry my grandmother used to cook. Unlike Indian curries which are orangy-thick and use plenty of curry powder, Jaffna curry is more subtle and is more yellowish.
"We only use one basic curry powder in Jaffna," says Sangeeth.
Asked if Jaffna food is similar to those in other parts of Sri Lanka, Sangeeth replies: "No, Sinhalese (an ethnic group in Sri Lanka) cook their food using a different style. They use more black pepper and less coconut milk. Sinhalese curry is almost dark brown. This is because the curry powder is roasted."
He adds that during the civil war (which ended in 2009), the people of Jaffna had to spend more money to buy ingredients as the armed forces used most of the land for agriculture. "But things are better now," he says.
SIMILARITIES AND DIFFERENCES
One of the main dishes available in Jaffna is string hoppers or putumayam. While Malaysians enjoy the dish with brown sugar and grated coconut, Sri Lankans eat it with sothi (gravy made of coconut milk, lemongrass, garlic, shallots and curry leaves) and sambol.
Sambol in Jaffna is very important. There are a variety of sambols and I get to indulge in four types at Aliyaa — katta, seeni, pol and karupillay. Katta is similar to our sambal belacan but is prepared using spicy Maldavian fish while seeni is made of sweetened onions. My favourite is pol. Made with coconut, it has the right amount of spiciness and sourness. Karupillay, which is made with curry leaves, is moderately nice albeit a bit bitter.
The appam in Jaffna is just as wonderful. Growing up, appam to me were colourful fluffy and spongy kuih. Although the appam from Jaffna looks different than the local ones, it is just as sweet. White and crispy, it is served with sweet coconut milk or egg.
Another popular dish in Jaffna that is equally popular here is caramel pudding. In Jaffna the dessert is called Malay Caramel Pudding.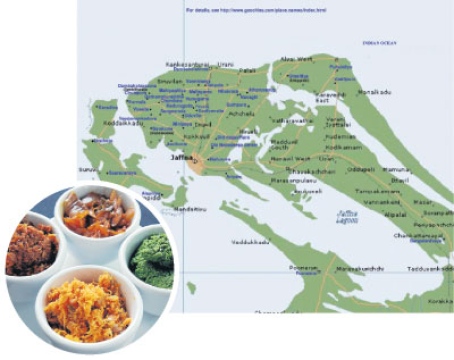 The word sambol reflects the relationship between local and Sri Lankan food.
———————————————————————
Sri Lankan Dishes Answer Call for Inspiration
by David Tanis, 'The New York Times,' January 4, 2013
THE other day, as I was thumbing through cookbooks looking for inspiration, I came upon a recipe for chicken with cashews, and not the bland Chinese-American version that was so popular for a while. Madhur Jaffrey, the prolific authority on Indian cooking, had a Sri Lankan version in her fascinating book, "From Curries to Kebabs," published in 2003. In it, she describes the path beginning in India that took curries to the far reaches of the globe; to Indonesia, Africa and beyond. Her recipe, which I adapted and modified a fair bit, contained both cashews and coconut, along with a mixture of spices in a pungent creamy sauce. It sounded wonderful and made me want to travel.
I have not visited Sri Lanka, and probably won't anytime soon, but it's my new fantasy. For now, research and experimentation must suffice, but one day I'll get there. In the meantime, here are some things I discovered.
Evidently, fresh coconut is used there in great quantity. Nearly all Sri Lankan curries are made with coconut milk. The most common condiment is sambol, made from grated coconut, dried fish, hot pepper and lime juice. Another popular dish is mallum, or chopped cooked greens, seasoned with ginger and a sprinkling of coconut. And there are hoppers, which are not insects, but a kind of crisp rice flour pancake (there's coconut milk in the batter), and griddled flatbreads called pol roti stuffed with coconut and onion.
Sri Lankan cuisine is similar in some ways to that of southern India, its close neighbor. For the most part, food in Sri Lanka is quite highly spiced and hot peppers are featured in many dishes. But there have been lots of other culinary influences throughout the island's long history. Early Dutch and Portuguese occupation left an imprint, which is seen in certain rice dishes. It is doubtful that the British colonization had much impact on the food; though the English were responsible for establishing the tea plantations that make Sri Lanka, then called Ceylon, a leading exporter today. It is still called Ceylon tea.
Main courses in Sri Lanka are usually rice with curries, which come in every imaginable combination from fish and shellfish to vegetables meat and fowl. Cashews are often added, and one especially popular curry is made entirely of cashews. (Another factoid: the Portuguese first brought cashews to the region from Brazil, where they are a native plant.)
But back to our chicken curry. It goes together fairly quickly despite the long list of ingredients. I used skinless boneless thigh meat, because it always stays moist and can absorb a lot of flavor from a short marinade in ginger, garlic and spices. To intensify the taste, the cashews and coconut are used two ways. First, a handful of each is ground to a powder and added to the sauce. Then after simmering for 30 minutes or so, the curry is finished with a generous cup of thick coconut milk and garnished with toasted cashews.
I also added, because I like it and thought it would harmonize nicely, a totally nontropical vegetable, parsnip — optional, but delicious.