Book Review by Joe Glenton, ForcesWatch.net, January 29, 2020
---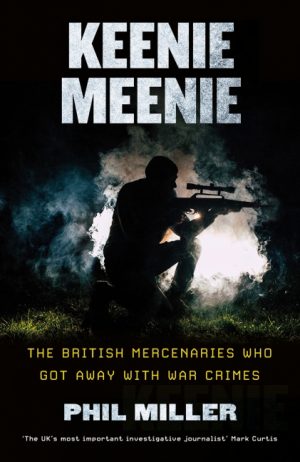 That Britain outsources aspects of her habitually violent foreign policy is no revelation. The wars in Afghanistan and Libya, but perhaps most especially Iraq, saw a veritable mercenary gold rush as the unregulated hard men of disaster capitalism, mostly ex-soldiers, flooded into the lawless zones created by Western intervention to make a quick buck as contractors providing security for oil firms, media crews, diplomatic missions, NGOs and more besides.
Before all of this there was Keenie Meenie Services (KMS): a shadowy private military firm set up in the 1970s by hardened SAS men and hidden away in the posh end of London. It discreetly carried out the dirty work of the British establishment, into which it was deeply embedded as this book shows – for the right price, naturally. That dirty work saw Keenie Meenie employees at the centre of repressive actions as far afield as Latin America and Sri Lanka and in support of autocrats across the Middle East. Whether it was training, advice, armed men or technical expertise, KMS provided it. No client too mad or bad, as long as it furthered British aims.
The pace and narrative are Le Carre-esque, but made even more compelling by the fact that the events are true.
The book's author, Phil Miller, who has recently joined the staff of new investigative website Declassified UK, has been covering security and defence issues for a number of years, becoming one of the best critical defence journalists in the business. The book continues his established pattern of deep research, excellent writing and an uncanny ability to get people who have every reason to avoid talking openly to tell him things about their involvement in dark deeds.
Keenie Meenie, a name still uttered in hushed tones in military circles, is exposed not simply as a historical organisation, a thing which has ceased to be, but as a model for subsequent UK mercenary activity. The links between KMS and the British establishment are laid bare to the full extent allowed by Britain's entrenched system of official secrecy, up to and including a solid body of evidence of collusion in human rights abuses, over an extended period of time, in the service of British interests.
The pace and narrative are Le Carre-esque, but made even more compelling by the fact that the events are true. That a journalist who has never had the resources afforded by a major news organisation has achieved the work is doubly impressive, although it's unlikely that a mainstream organisation would even pursue this kind of story to the extent evident here. With this book, and having finally found the journalistic platform he deserves, Miller looks set to take the national security patch by storm. Something which, having worked on defence and security myself, is sorely overdue.
Keenie Meenie: The British Mercenaries Who Got Away with War Crimes by Phil Miller is available now, published by Pluto Press.
Disclosure: the reviewer is an adviser to Declassified UK.