He rules out direct intervention. "What we do should not be thrown back at us in future"
India will take the best possible decision on the resolution against human rights violations in Sri Lanka at the United Nations Human Rights Council meeting in Geneva. It wants an "independent and acceptable" inquiry into the issue.
This was stated by External Affairs Minister Salman Khurshid in the Lok Sabha on Thursday in reply to a short-duration discussion on the plight of Tamils in Sri Lanka.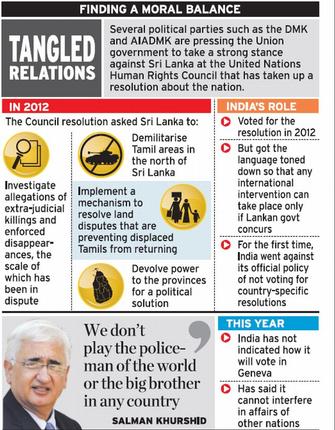 However, failing to get a "clear-cut" response from the government on why India should not move a resolution on its own or how it would vote on the proposed U.S.-sponsored motion at the UNHRC, members of the All India Anna Dravida Munnetra Kazhagam (AIADMK), the Bharatiya Janata Party, the Janata Dal (United) and the United Progressive Alliance constituent Dravida Munnetra Kazhagam (DMK) staged a walkout in protest.
Mr. Khurshid ruled out any direct intervention in Sri Lanka. The government needed to be careful as whatever it did "should not be thrown back at us in the future as everybody is not our friend," he said.
"We don't play the policeman of the world or the big brother in any country," he said, when MPs, especially those from Tamil Nadu, alleged that the Centre was "ignoring" the plight of Tamils and the "genocide" by the Sri Lankan Army.
Earlier, MPs, cutting across party lines, sought to know what action the government was planning to take in Geneva.
"When the resolution comes, we will take into account what all members said. What we do should be effective. What we do must be fair. How we do it and what to do must be left to the government," the Minister said. India would press for an "independent and acceptable inquiry into human rights violations so that there is closure to the 27-year-old problem."
The government's stand at the U.N. would factor in the sentiments and concerns expressed by the MPs during the debate on the plight of Tamils, he said.
Senior BJP leader Yashwant Sinha said India should caution other neighbours against interfering in Sri Lankan affairs or India-Sri Lankan relations. "Foreign policy is not conducted out of fear, but with confidence and elan." India had a lot of clout but it seemed that had lost momentum, he noted.
Demanding an impartial inquiry into the "genocide" in Sri Lanka, the former External Affairs Minister said there should also be a clear commitment from Colombo that the guilty would be punished.