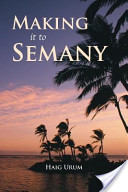 There are very few books written in English so far about what happened in the Tamil areas of Sri Lanka during and after the war years.  We are still waiting for 'The Thin Red Line,' 'Slaughterhouse Five' or 'Bridge Over the River Kwai' to be written about this time. In the meantime, the novels are beginning to emerge, each one a bit more well-written and engaging than the last, so eventually a classic will burst forth.  A new entry into the field is a novel written from the perspective of an American looking for a Tamil who has returned back to his birthplace without explanation and the American goes to try to search him out.  The mystery propels the story forward.
ISBN 1483401049, 9781483401041, 268 pages
Available thru Amazon for US$17 and US$36.
"Ben Lawsky, a Vietnam veteran turned private detective, is in desperate need of a client. His bank account is dwindling, and he must find a way to pay for his hobby, riding his Harley. When Liza walks through his office door, he's willing to do almost anything to get the job, even if it involves traveling to Sri Lanka-although he doesn't know at first where the country is. Liza is worried about her close friend Sanger, whom she has known for twenty years. Three months ago, after living in the United States for thirty-five years, Sanger suddenly decided to return to his home country of Sri Lanka. Liza hasn't heard from him since his departure. Lawsky takes the case, and it sends him on journey to the island nation, where he uncovers the intricate details of the tiger movement, the government and its corrupt ways, and its use of politics that had entered a once-pure Buddhist Sangha."