by Sachi Sri Kantha, January 31, 2013
Mentors who shaped MGR's character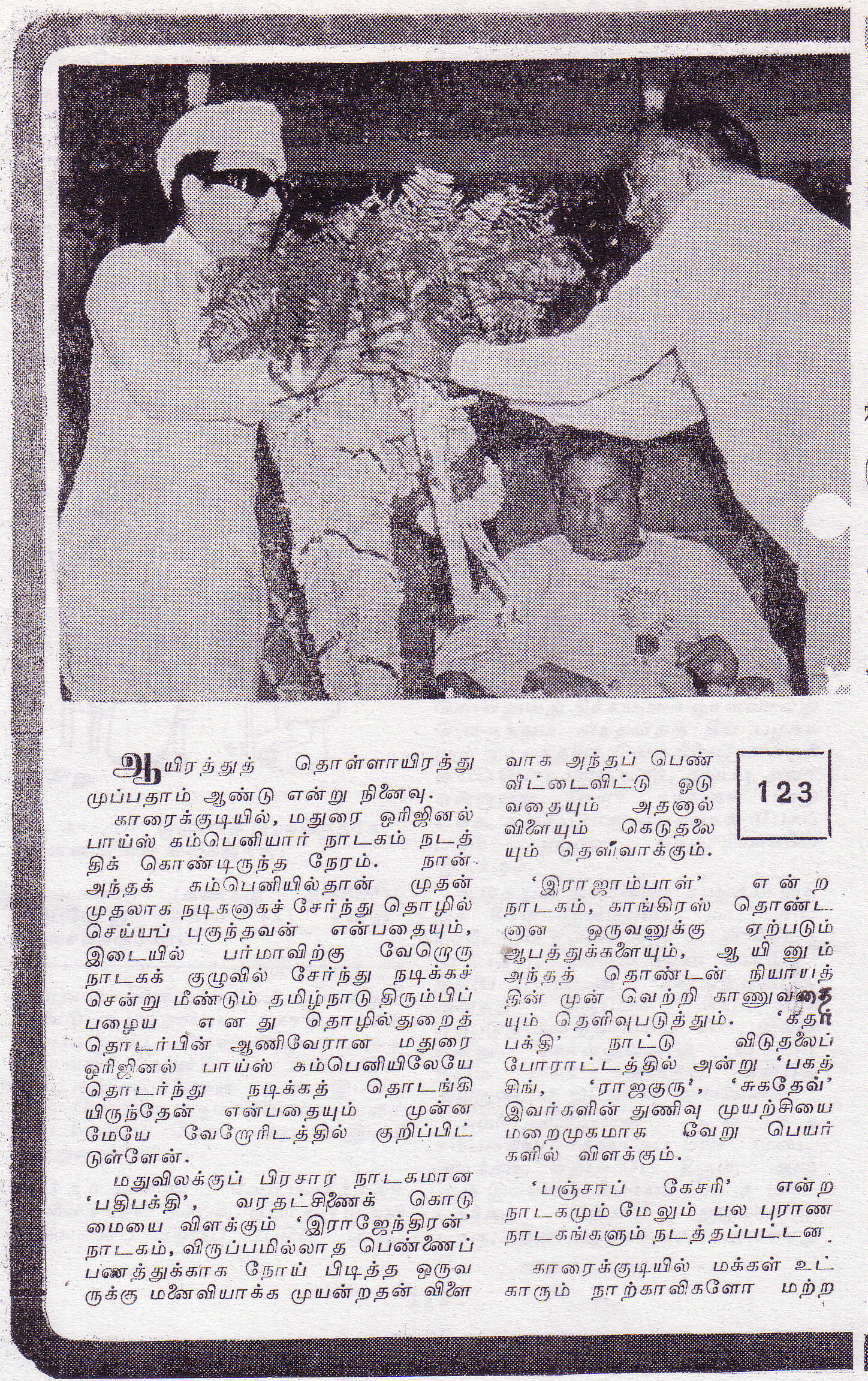 In this part, I provide materials on MGR's mentors, as he had described in his autobiography. Foremost among the real mentors was his mother Sathyabama, about whom I presented some details in part 3. I provide translations of his autobiographical chapters (parts 123, 124 and 126). In colloquial spoken Tamil, the word Annan/Anne is used frequently. Literally it means 'elder brother'. It is a courtesy or endearing address form which can be used to anyone to whom one feels as older than himself. Rather than translating this Anne into the cumbersome two-word 'elder brother', I opt to use 'elder'.
January 31st being the 65th death anniversary of Mahatma Gandhi (18969-1948), MGR  had titled chapter 123 as 'Mahatma who woke up National Spirit'. It is not an exaggeration to state that Mahatma Gandhi did serve as a vicarious mentor for MGR; not in promoting violence in drama and movie forms, which MGR perfected, or in promoting vegetarianism. But, Gandhi did serve as a vicarious mentor for MGR, in some personal habits such as non-preference for alcohol, non-violence against women, promoting women's welfare in the society and banishing illiteracy.
In chapter 123, MGR includes few details about his two mentors of the stage drama period (K.P. Kesavan, and Kali N. Ratnam). These two pioneers of Tamil stage drama, did appear in early Tamil talkies (films) during 1930s and 1940s, but failed to leave their strong imprints. Kesavan acted in movies which were originally his drama plots such as Pathi Bakthi (1936) and Punjab Kesari (1938). After the 1939 movie Bombay Mail, Kesavan lost his hero opportunities gradually and did appear ten years later in subsidiary roles in movies like Ratnakumar (1949) and Viduthalai (1954). Kali N. Ratnam, who was a martial arts trainer for MGR in his drama troupe during early 1930s, later switched to comedian role in the Tamil movies and his movie career lasted until 1950.
Mentors who shaped MGR's stage drama period
Here is the complete translation of chapter 123 of MGR's autobiography. In this, MGR mentions about the character and cultural traits of 'nagarathar' community, who are the chettiars (mercantile bankers) in Tamil Nadu.
"I remember it as around 1930. It was when the Madurai Original Boys Company was staging a drama in Karaikudi. That I joined that company for the first time as an actor, and then traveled to Burma under the sponsorship of another company; subsequently, rejoined the Madurai Original Boys company as it was my professional root-base. had mentioned in a previous occasion.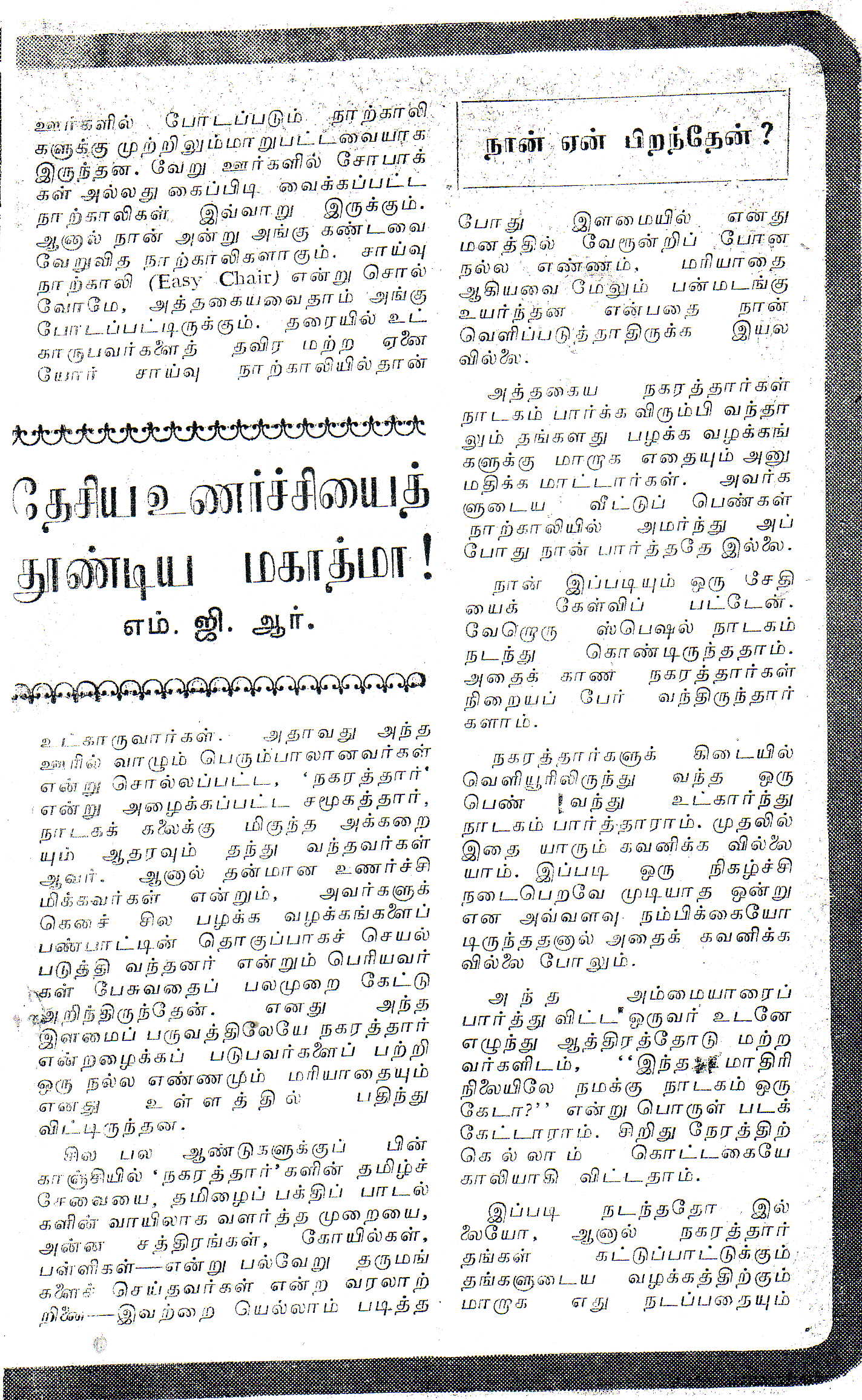 'Pathi Bakthi' – the propaganda drama for alcohol prohibition, 'Rajendran' – the drama describing the trauma of dowry system, where a woman was forced to marry a diseased man and as a result was forced to run away from home.
'Rajambal' – the drama about the accidents suffered by a devotee of Congress [independence] movement and who ultimately prevails against the logic. 'Kadar Bhakti' – the drama which tells the nation's independence struggle and the heroic efforts of Bagat Singh, Rajaguru and Sugadev. And also 'Punjab Kesari', as well as other religious dramas were staged.
The chairs placed for customers' convenience at Karaikudi were completely different from other drama sites. Other towns had sofas and armed chairs. But, what I saw then was a different type.  What we call as 'easy chair' was the type (used in Karaikudi). Other than those who sat in the ground, the rest were seated in 'easy chairs'. The majority who lived in that town were the 'Nagarathar' community. They were good patrons of drama art form. But, I have heard from elders so many times that they (this community) had self-pride and entertained special cultural traits.
After few years when I learned the Tamil service offered by 'Nagarathar' in Kanjipuram, how they propagated Tamil via devotional songs, 'soup kitchens', temples and primary schools and served as patrons for other welfare activities, I cannot express that the good sentiments and respect which were firmly held in my young mind multiplied many folds. Those 'Nagarathar', even when they attend drama with wish, will not permit any trait that was against their belief. In those days, I had never seen their women seated in a chair. I also heard this story A 'special' drama was staged somewhere. To watch it, quite many 'Nagarathar' folks had gathered. Among those, there was a 'foreign' woman who was seated. [Note by Sachi: MGR had used the word 'VeLLiyur'; it may mean a foreigner or an outsider to the community, though an Indian.] At first, none noticed this. It could not happen was the prevalent belief then.
After noticing that woman, one guest stood up in anger and queried, 'In this sort of insult, why do we need a drama?' Within few minutes, the entire audience had vanished. Whether this really happened or not, it ascertained that the message 'Nagarathar' never permitted something to happen that was against their tradition and control was true!
In case, if there were any characters in the drama that insulted the 'Nagarathar' beliefs, when such a drama was staged at Karaikudi town, caution was taken to self-sensor such dialogue. In the 'Kovalan' [Note by Sachi: In the Silappadikaram epic composed by poet Ilango Adigal dated around 2nd-3rd century AD,  hero Kovalan belonged to the 'Nagarathar' community.] drama, there occurs the scenario of the dance accompanist (nadduvanar character) who was with courtesan Madhavi making fun of hero Kovalan, and Kovalan himself returning the volley. Similarly, Madhavi's words about the character of 'Nagarathar' community shrewdly earning money with double-entendres are included as well. In turn, if Kovalan sings and deliver dialogue insulting the courtesan's traits and duplicity and insults them, he would be delivered with gold rings, gold chains, medals etc.
These 'Nagarathar' folks gave priority to self-respect. They did patronize our 'Punjab Kesari' drama. In that drama, Mr. K.P. Kesavan played the hero role of Ranjit Singh. In it, there were scenes having sharp blade fight [note by Sachi: As I mentioned earlier, K.P. Kesavan was a mentor in martial arts for MGR. the Tamil word is 'katthi sandai', with 'katthi' meaning knife. I prefer to translate it as sharp blade fight rather than knife fight. MGR was an exponent in this type of ancient Tamil martial art, in addition to sword fight and silambam art – bamboo staff.], bomb throwing and gun fight. Mr. K.P. Kesavan learnt sharp blade fight from tutor Mr. Kandasamy Appa of Chennai. When he raises one leg and slides the other leg while at the same time twirling the sword, the drama tent will shake!
Mr. K.P. Perumal played the role of rival. There wasn't anyone as a good guy like him in the drama stages. He was without any bad habits; he wouldn't even use betel for chewing. In case, if he used it occasionally, we would say, it would be a 'world surprise'. He wouldn't even let his dress hang below the knee. He wouldn't even ask money from anyone; at the same time, he wouldn't even lend to anyone. His firm belief was that, rather than giving money first to someone and then haggle over it later and suffer from heartaches, it's better to say 'No' at first. At the company, those who earn a little, occasionally do suffer from cash flow problems. Even then, no one will ask money from him. 'He won't give; why unnecessarily go and bother him?' was the prevailing sentiment. None would entertain any ill feeling about him, merely because he won't give. He was scared to act in fight scenes. He don't like anyone forcefully landing on him or anyone pressing him. As much as possible, he would opt to avoid scenes in which he had to fall. However, occasionally he does suffer from hits.
In the drama 'Pathi Bakthi', [Perumal] acted as a villain. In the last scene, he had to fight spy Govindan (Late Mr. Kali N. Ratnam played this role). Mr. Kali N. Ratnam is an exponent of boxing, silambam and wrestling to an extent. He was the company's tutor in such martial arts, and he would act daringly. As such, the situation of Perumal looked pathetic. One day, such a scene was done with. I was undressing the costume in the 'powder place' (In those days, we used to call make-up room like that.) Mr. K.K. Perumal called me with a depressing tone. He was seated in a box, and asked me to check his leg. 'What's the matter Elder?' I asked with concern. He showed me his leg. There was a depression with a red line in his shinbone or tibia below knee joint. He cried and said, 'Look. Bone had bent!' I couldn't stop laughing. I laughed. He was upset: 'I'm crying, and laughing' he repeated with tears. I had to soothe him. 'Elder! Bone will break, but not bend!' I told. He repeated: 'For you, it won't bend.. Look here, what's this? It shows the bend.'
I re-stated the fact, 'That depression was caused by the rope tied to keep the leg guard in place, and not because of the bent bone.' First, he didn't believe my words. Later, he realized his error. He was a scared actor, who was forced to take the role of villain. How could he withstand sharp blade fight? If he said, 'he can't', that's it! There were many who were waiting in line to take the villain role, and like an eagle they would pick the role from him. Therefore, he could not  say 'No'. He did fight scenes with a scary mind. As they say, 'the chaser will be happy, if he sees the other guy running away from him'. The scare of Mr. K.K. Perumal makes Mr. K.P. Kesavan delightful.  As I mentioned earlier, he [Kesavan] would fight with his 'signature' sliding leg in the stage.
One day, while this scene was staged, one boot from Mr. K.P. Kesavan did come lose and landed on the patron's section. We got scared. If any 'Nagarathar' was insulted like this, then we couldn't even stage a drama in their town. This was our concern. As we anticipated, that boot had hit a Chettiar. But, that guy took the boot and threw it towards Mr. K.K. Perumal and shouted loudly, 'Kesava, beat him with that boot as well.' The sentiments were, 'Those who were working against nation's independence deserve beating'. Mr. Kesavan had beaten Mr. Perumal with the boot, while fighting with sharp blade. It had mistimed. [That patron] sincerely believed that what he did was what Mr. Kesavan was intended to do…
Like this, it was Mahatma who instilled the freedom spirit among the natives and led the freedom struggle and was able to witness the day of independence. Mahatma incorporated discipline with truth. How that philosophy is surviving now? I'd say it had suffered badly with times. Gandhian principles exist in words, but in deeds it do not exist. Even those who study his words can be counted in fingers. Even those who are studying that do so in depressed mood to straighten their thoughts, but not to inspire others lives.
Mahatma was the first one in this civilized world to bind politics, mind control, truth and nonviolence. Because the poor cannot afford to dress, he himself adopted 'lesser dress' style as his life principle. Now, let's see. Now his friends are using the name of Mahatma for gains but not to share the helplessness and the bad luck of others. If there are none, why it is so? If they exist, where are they?"
From time immemorial, 'nagarathar' (chettiars) community was the promoters of Tamil Hindu culture in the South and Southeast Asian countries. A relevant point mentioned by MGR about the lowly status of women folks among the chettiar community 80 years ago, induces me to comment on the onomastics of Sinhalese surnames. Among the Sinhalese, we note surnames such as Hettiarachchy and Hettige. Their paternal ancestors belonged to Tamil-speaking Chetty (being corrupted into Hetti in Sinhalese) community. As these chetties crossed the sea within the last 500 years, without their women counterparts (as there was a taboo among women crossing the sea in boats), for matrimonial comfort they took Sinhalese women as their wives.
M.R. Radha as a mentor in stage drama
Apart from K.P. Kesavan and Kali N. Ratnam, MGR also considered M.R. Radha (1907-1979) as one of his mentor in Tamil stage drama. This MGR mentions in the subsequent chapter 124 of his autobiography. Later, in 1950s and 1960s, M.R. Radha did share the billing in numerous MGR movies as a character actor and a villain. Then, he gained notoriety on January 12, 1967, by shooting MGR at latter's house and attempting to commit suicide. I provide translation excerpts from chapter 124 below. Note that the Sri Murugan movie was released in 1946, a year before MGR's debut as a hero.
"While acting in the movie 'Sri Murugan', I played the Lord Siva role. Though I did train in dancing at young age during my drama company days, I couldn't learn dancing properly due to lack of opportunities. Thus, while playing the Lord Siva role, from our 'tutor' (dance teacher Mr. K. R. Kumar) I received dance training daily. If there was no shooting after 5 pm, we had dance training in the evening as well. In those days, shooting time (that is, what is called 'call sheet' now) was between 10:00 am and 5:00 pm. While learning dance, I also learnt the technique of Gandhi's spinning wheel method by hands from tutor Mr. Kumar.
That spinning wheel experience did teach me so many principles, explanations and lessons. In the acting profession which I had accepted willingly, so many 'defeats' or 'losses' were circling me then. What they call 'musical chairs'? My job prospects were like that then. When the music stops, those who were circling immediately grab a chair near them to be seated, isn't it? Like this, there were so many who competed with me who had brimming art talent.
Though they were speedy and were more talented than me, occasionally they do slip. Or in excess thirst for opportunities, they leave the nearest chair for another chair. Occasionally, it turns out like the 'rabbit and tortoise' story.
While the Madurai Original Boys Company was staging 'Kadar Bhakthi' and 'Pathi Bakthi' dramas for more than two years or so. It was a routine event when one actor from one company moving to another company. But, if the fate of one company depends on the efforts of a particular actor, that actor shifting to another company is not so easy. If the boys are young, they can be threatened and stopped. But what can one do, if the actors have matured? Furthermore who can do anything to an actor who is courageous, independence spirit, acting talent and self-respect?
When I was acting with Madurai Original Boys Company, it was talked among boys that such a well-known actor who had earned name in another company, will join ours. Our mentor/trainer Late Mr. Kali N. Ratnam was well known for his spy role in the drama Pathi Bakthi.  Suppose if another actor who had covered such a role in another company entered ours, who will play that particular role?
Even if a drama company is playing so many miles far, the status of such companies, their drama plots, entire list of actors who feature in such dramas will become available to us. The spies who are in the government will lose out to the spies (scouts) kept by such companies. Like this, the fame of this particular actor who will join our company had become popularized. 'He acts so naturally in fighting scenes. He could handle any character. He is not scared of anyone. He will not comply with any disciplinary methods.  He also moves effortlessly with all..' Like this we have heard so many stories. Eventually, he arrived; a head full of hair, muffler in neck, coat, veshti and slipper (as dress). fast walker and loud talker. He would laugh loud and talk without any inhibition. Within few days, he had changed the mood of company house. Yes, he was the incomparable Mr. M.R. Radha elder."
Unfortunately, I don't have the subsequent part 125 of MGR's autobiography in my collection. But, in part 126, MGR continues the working style of his real mentors K.P. Kesavan, Kali N. Ratnam and M.R. Radha. In addition, he also describes his passion for the stunts of vicarious mentor Master Vithal (? – 1969), a silent movie star from North India. Master Vithal's year of birth is unknown.
Master Vithal, the vicarious mentor
"I believe that I was 10 years old. In those days, among the silent movies I had seen, my hero was Mr. Master Vithal. All others come only after him. We don't know whether he was married or not. But, even after many years, he was promoted as Master Vithal. Even we used to say, 'There's this Master Vithal film. Shall we go to see it?'
Many had acted in sharp blade fight scenes. In Hindi movies, they use the curved (like the Rajput sword) blade for fight scenes…The manner in which Master Vithal swings and swirls the sharp blade with his hands was a beauty. By watching his footsteps, we can imagine how his arms swirl with the blade. Though I learnt these techniques later, around that time, his cavalier sword play, his round face with sharp nose and the head scarf did fascinate me a lot….
Like this, my vicarious mentor for fight scenes was one and only Master Vithal. After watching his sharp blade fight movies, I gained an interest and inspiration in sharp blade fighting. However, I never got an opportunity to learn the skill directly from him. And I also didn't make an effort for such. Maybe, if I might have attempted and failed is not a surprise at all. Wherever there were short sticks like the size of a cane, they found a spot near my pillow. That night itself, I used imaginary practice with that short stick as a sharp blade, and pretended like Mr. Master Vithal. For many days, I lost!
It was a beauty to see Mr. Master Vithal carrying a shield in one hand and a sharp blade in the other hand. Those who haven't learnt fighting techniques with sword or silambam properly, we unfortunately see them hanging the shield down and use sharp blade for defense. I cannot blame them. Even their tutors (Masters) make the same errors adequately."
The Encyclopedia of Indian Cinema describes Master Vithal as the best Marathi and Hindi stunt star. He had first starred in silent movies since 1924, and later starred in India's first talkie, Alam Ara that was released on March 14, 1931 in Bombay. Master Vithal did continue to act well into 1960s, playing minor roles in Marathi films, before his death in 1969. Raheja and Kothari had recorded that among the three silent movie stars who starred in maximum silent films produced in Bombay during 1920s "the athletic Master Vitthal could put up dazzling displays of swordplay in swashbucklers and was the stunt king of Sharda studios. He was paid the princely salary of 1,500 rupees a month." One of the three silent movie stars of 1920s, was P.K. Raja Sandow (1894-1943) – a Tamilian from Putu Koddai, Tamil Nadu, who made waves in Bombay! His given name was P.K. Nagalingam.
As the Encyclopedia of Indian Cinema in its pen sketch on MGR (extending over one page) casually dismisses the actor's pre-hero days in one sentence ["Screen debut for Ellis R.Dungan (1936); first major starring role in A,S,A.Sami's Rajakumari (1947)"], I opted to cover this period of his life in more detail based on his recorded impressions. (to be continued)
Sources Consulted:
Dinesh Raheja and Jitendra Kothari: Indian Cinema – The Bollywood Saga, Aurum Press, London, 2004.
Ashish Rajadhyaksha and Paul Willemen: Encyclopedia of Indian Cinema, Oxford University Press, New Delhi, 1999 revised edition, pp 236-237 and 187-189.
M. Saravanan: AVM 60- Cinema, Rajarajan Pathipagam, Chennai, 2005.