by Sachi Sri Kantha, July 17, 2014
One merit in writing to the electronic medium is the availability of immediate opportunity to amend and revise previous errors. In Part 17, when I reviewed MGR's two autobiography volumes, I had stated that Kalaignar M. Karunanidhi (a pal turned political foe) had published 4 volumes of his autobiography. Now, I acknowledge this is a factual error. Karunanidhi had added two more volumes to his autobiography, and volumes 5 and 6 were published last year. As such, this part deals with Karunanidhi's version of history. Last June 3rd, he celebrated his 90th birthday; thus, outliving MGR by 20 years, and his mentor Annadurai by 30 years.
Volume 5 of Karunanidhi's autobiography, published in June 2013 (to felicitate his 89th birthday) is a tome of 1,037 pages. It covers the period from 1996 to 1999. He was re-elected to Tamil Nadu Chief Minister position for the 4th time in 1996. Volume 6 of Karunanidhi's autobiography, published in October 2013 contains 551 pages, and ends in May 2003. Karunanidhi delights himself by noting that cumulatively he had written 4,168 pages which covers his life until 2003.
Karunanidhi's autobiographical volumes 5 and 6
Though I don't intend to review both volumes, I can only write, that Karunanidhi's autobiography plot is abysmally simple. In all six volumes, the hero was Karunanidhi. The heroine was 'Chief Minister position' of Tamil Nadu. Only the villains change. Then, there are supporting casts for hero, and villain. Into this supporting cast, falls all the other lead players of Tamil Nadu politics (his elders, Periyar E.V. Ramasamy Naicker, Rajaji, Anna, Kamaraj, MGR and Nedunchezhiyan) and Eelam politics (Prabhakaran). As MGR had died in 1987, the villain in Parts 4, 5 and 6 was Jayalalitha, the leader of MGR's AIADMK party. Here is a summary of Karunanidhi's autobiographical volumes, who played the villain role for him, since he entered the public life in 1938.
Part 1 (period 1924-69), 755 pages. Hero: Karunanidhi. Villain: Congress Party members of Central Government and Madras State Government.
Part 2 (period 1969-76), 586 pages. Hero: Karunanidhi. Villains: Indira Gandhi and MGR.
Part 3 (period 1976-88), 612 pages. Hero: Karunanidhi. Villain: MGR.
Part 4 (period 1989-95), 633 pages. Hero: Karunanidhi. Villain: Jayalalitha.
Part 5 (period 1996-99), 1,037 pages. Hero: Karunanidhi. Villain: Jayalalitha.
Part 6 (period 2000-03), 551 pages. Hero: Karunanidhi. Villain: Jayalalitha.
In Karunanidhi's story-telling, there are three fascinating aspects. First, friends do turn into foes (like MGR), if they dis-promote his relationship with heroine (aka, the Tamil Nadu chief minister position). Secondly, foes do turn into friends (like Indira Gandhi) for mutually agreeable political dance steps. Thirdly, political foes, after their deaths, do become friends if they 'own' a sizeable vote-bank in Tamil Nadu (such as MGR, Kamaraj or even actor Sivaji Ganesan). As such, Parts 5 and 6 of Karunanidhi's autobiographies do contain complimentary comments about MGR, as opposed to how MGR was portrayed in Parts 2 and 3.
There is indeed a necessity to write the history of DMK party and its offshoot such as All India Anna DMK (AIADMK), the party established by MGR. But, Karunanidhi's account is full of bias for selective inclusion of events, cartoons and media reports. One notable example in vol. 5 was the omission of Ponniah Ramar Pillai incident of the discovery of herbal gasoline (aka 'herbal fuel') in 1996. At that time, Karunanidhi was the Chief Minister and he was shown in a TV news clip, watching Ramar Pillai demonstrating his 'miraculous' discovery to the media. Instantly, Karunanidhi pledged financial assistance for research and building a factory! But, Ramar Pillai's so-called discovery was immediately discredited. Thus, Karunanidhi had conveniently omitted telling this pledge from his autobiography. It is a pity that such willing omissions smear the quality of Karunanidhi's autobiography.
In his preface to Part 5, Karunanidhi writes as follows: "Though this is called my autobiography, one cannot separate my life, and DMK's life from each other. As such, both have been mixed and the previous four parts had been written in such inter-related terms. One gets the feeling that in this mixing process, Karunanidhi had completely forgotten to tell his personal life. Though he is supposed to entertain a live-in relationship with his third wife Rajathi Ammal in 1967 (who gave birth to his daughter Kanimozhi in January 1968), both women do not merit an entry in his autobiography until the end of four parts! Only in page 97 of Part Five, his 'companion' (the Tamil word used is, 'thunaivi') Rajathi and daughter Kanimozhi appears in an event which happened in 2001 June 29, when he was attacked by the police personnel who came to his house to arrest him. This is in distinct contrast to how MGR had treated his relationship with his future third wife V.N. Janaki since 1947, when he wrote his autobiography during 1970-72. Furthermore, MGR was more forthcoming in describing the relationship between his 2nd wife (Sadhanandavathi) and 3rd wife (Janaki). But, Karunanidhi had not written a single sentence, in his six volumes, about the relationship between his 2nd wife (Dayalu) and 3rd wife (Rajathi).
Politics of MGR
Despite their biases, faults, errors in omission, and oversimplifications, Karunanidhi's autobiographical volumes do provide relevant information on MGR's political career. As such, they cannot be ignored outrightly. For example, in part 2 of his autobiography, Karunanidhi had reproduced a speech MGR made in October 8, 1972 at Chennai, on the felicitation ceremony for him on receiving the 'Bharat' award. Here is its translation:
"I had a policy. Earlier, I was with Congress [Party]. Then, for four years I was not affiliated with any party and was a loner. I found my ideas were represented in each party. Finally, after reading Anna's book, 'Pana Thottam' [Money Garden, 1947], I realized that the economic principles described in it was agreeable to me. I wished to follow Anna's path entered his party. Poet Kannadasan says, Karunanidhi brought me into this party. Pitiable! It was D.V.Narayasamy who introduced me to Anna. Karunanidhi and I debated (frequently). I would have talked about Congress [Party] and also about discrimination. One time, I was a militant after accepting Communist policies. When trains were derailed, I might have known about it. I guess so. But, when Communists found fault with Netaji [Subhas Chandra Bose], on the commands from Russia, I had dismantled my links [with them]. I realized the policy that the politics of Indian subcontinent should be decided in the Indian subcontinent. Like this, I learnt one by one, and finally entered the DMK realizing that Anna's policy would bring new life for masses."
Pana Thottam was a short, compact tract authored by Annadurai, but it was not so prominent as the author's other influential tracts such as Ariya Mayai [The Ariya Illusion] or Kamba Rasam [The Taste of Kambar, the epic poet]. Subsequently, MGR did title one of his movies with the same name Pana Thottam (1963), produced by G.N. Velumani. About influence of meeting D.V. Narayanasamy (born 1921) for the first time, MGR had written as follows in chapter 93: "I cannot remember now the place and time when we met first. However, he was one of the many individuals who helped me in entering the light path of my journey, from the dark path. There were many who helped me to walk in the light path, but Mr. D.V. N. was the one who took me to the 'Sun' [Arignar Anna]…."
In his autobiography, MGR does not mention much about the books that influenced his life. But, he does mention that when he met Anna for the first time, Anna had asked, 'Have you read Khandekar's books?' Without waiting for his answer, Anna had offered him a Khandekar book, the title of which in English translation appears to be 'Burnt Blossom', and advised him, 'Study this. You may get good ideas.' V.S. Khandekar (1898-1976) was an eminent Marathi author.
MGR was modest enough to acknowledge that his schooling years were minimal and had to enter the Original Boys Drama Company in Madurai to earn a living for his stomach and family. Nevertheless, during his adult years, he had enlarged the range of his interests by perseverance. K. Ravindar, one of MGR's assistants, had recorded in his memoir a few episodes he was familiar with MGR's reading habits. Here are some. In 1958, when MGR was held in detention at Mylapore Police station, with fellow DMK activist and actor S.S. Rajendran, somehow Ravindar was able to enter the room where both actors were seated. After soliciting food to fill the stomach, MGR had demanded that 'It's boring to be here. Will you bring any book?' And the police official had to grudgingly permit it.
After Karunanidhi became the chief minister of Tamil Nadu, around 1969, there was an announcement that MGR would act in a movie produced by G.N. Velumani. The plot was based on Jesus Christ story, and the movie's title was 'Parama Pitha' [Holy Father]. The opening day shooting was held, with MGR in make up as Jesus, and Karunanidhi himself participating in the function. Ravindar describes that MGR wanted to learn more about the practiced laws and lives of Christian priests and instructed him to learn more about such details from Father Samineni Arulappa (1924-2005), who was then serving the Archdiocese of Madras-Mylapore. After meeting Ravindar, Fr. Arulappa offered positive appreciation for MGR taking that specific role, and handed a book to be given to MGR. Ravindar had failed to provide additional details about that book. Somehow, on after thoughts, MGR had abandoned playing the Jesus role, with the quip, "After reading the steps to become a priest and the associated mental refinements needed, I cannot consider them as mere priests, but as great heroes. Alexander, Napoleon, and Emperor Asoka were military heroes. But, these souls fight and win against mental conflicts. I don't wish to project them as suffering from mental deficit." Thus, ended the movie based on Jesus story. However, other sources had indicated that there was a political sub plot on why MGR abandoned this project. The conflict between Karunanidhi and MGR was brewing, when the former promoted the movie debut of his eldest son Muthu (born 1948), as a rival to MGR was one reason. In another plane, Karunanidhi was also interested in fishing the Christian vote in Tamil Nadu's southern constituencies to DMK party, by using MGR's movie as a political vehicle. Having got wind of this dual ploy of DMK's master tactician, MGR delivered the final blow that he wouldn't be a part of this 'Jesus' act.
According to Ravindar, prior to assuming the Tamil Nadu chief minister position in 1977, MGR had asked for a Tamil translation of Bertrand Russell's 'Power: A New Social Analysis' (1938). As the text was rich in law and politics, he had solicited the translation specifically from R. Mohanarangam, one of his party MPs. Ravindar also includes the information that MGR's elder brother Chakrapani had a Tamil translation of Jean Jacques Rousseau's masterpiece Du Contrat Social (Social Contract, 1762). And MGR prepared his mind by reading that version as well.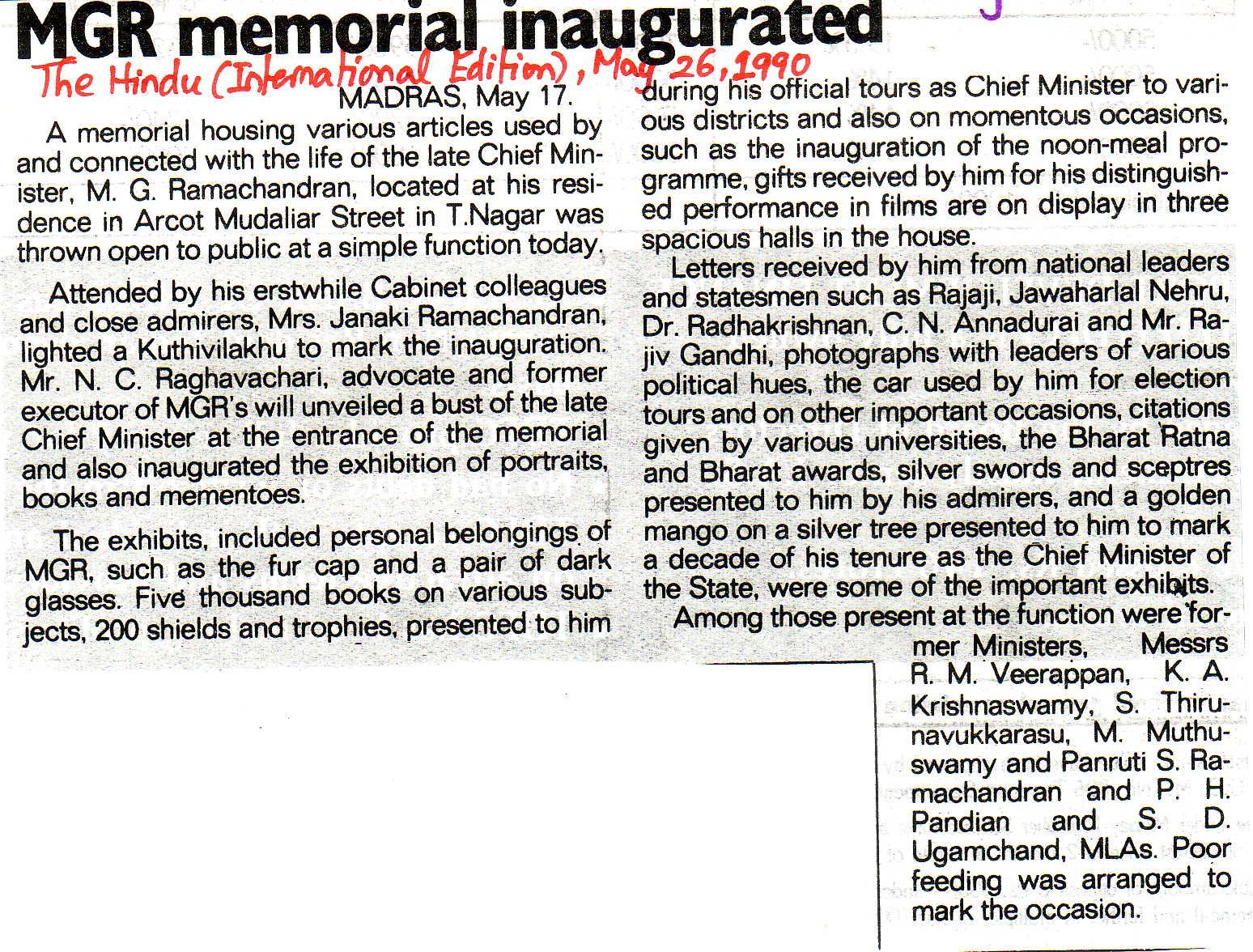 It was a surprise for me that when I read Ravindar's published thoughts on MGR in 2010 (the book appeared in 2009), that Bertrand Russell's 'Power' was a decisive choice by MGR in learning how to exert power over other folks. As an aside, I present here what I wrote to the Nobel Foundation website's 'Readers Comments' section on this particular book, in 2003. "Bertrand Russell's book 'Power; A new social analysis' is my favorite. It is a small book of ~200 pages. It was published in 1938. In the Introduction, Russell places his hypothesis; that is, 'power' is for social sciences what 'energy' is for natural sciences. I found this comparison fascinating. He says, like energy – power also has various components which are transferable from one form to another. Unless one understands this concept, limited focus on one form of power will be incomplete and erroneous. In this book, Russell provides from every possible angle – historical, religious, anthropological, social, military and political – the use and abuse of power by humans since the beginning of civilization. I see this book as a bottle of concentrated honey. Every chapter has to be tasted sip by sip at frequent intervals – at least that's what I have been doing since 1988 when I bought that book in the year my elder daughter was born. Even at the personal level, it is a fulfilling book on child rearing. How to balance power and love for one's own children? It was not a 'great' book by reviewer's scale or popularity scale. But unless one has the ability to at least try to think at the level of Russell (not an easy task for sure!), mediocre minds of reviewers or readers cannot grasp the serious message dealt in that book." The popular website of the Nobel Foundation, Stockholm [http://www.nobelprize.org/educational/literature/books/comments.php?print=1&id=621&nextid=640&name=RussellEarl] still retains this comment.
As of now, I never had the opportunity to visit the MGR Memorial House in Chennai, which was inaugurated in 1990. A short news item that appeared in the Hindu daily [International Edition, May 26, 1990] informed the readers that exhibit included 5,000 books on various subjects. It is difficult guess what proportion of these books were purchased by MGR for reading, and what proportion were gifts from his fans, well- wishers and guests.
Cited Sources
M. Karunanidhi: Nenchukku Neethi, vol. 5, Thirumagal Nilayam, Chennai, 2013. 1,037 pp. (Tamil).
M. Karunanidhi: Nenchukku Neethi, vol. 6, Thirumagal Nilayam, Chennai, 2013, 551pp. (Tamil).
McGirk T: Drivers step on the herbs. The Independent (London), Oct.21, 1996.
K. Ravindar: Pon Mana Chemmal MGR, Vijaya Publications, Chennai, 2009, 208 pp (Tamil).
Russell, B: Power: A new social analysis, Routledge Classics, London, 1996 (first published in 1938), 258 pp.
Special Correspondent: Ramar Pillai arrested. The Hindu (Chennai), Mar 12, 2000.