by Sachi Sri-Kantha, December 30, 2012
Inspiration from a book review
I got the inspiration to write MGR's biography three years after his death in 1987. A book review by Sunil K. Pandya of India's leading nephrologist M.K.Mani's autobiography, which appeared in the British Medical Journal of March 24, 1990, carried a two sentence quip as follows:
"Those seeking a similar account on the late chief minister of Tamil Nadu, M.G.Ramachandran, will be disappointed. Neither he nor his heirs have authorized Dr Mani to narrate that tale, marred as it is by several sordid aspects over which Dr Mani had no control."
I wrote to the reviewer soliciting information about where I could purchase a copy of this Dr. Mani's autobiography. He did reply and I could purchase a copy only in 2007, via an internet book vendor. When I scanned the 278 pages of this autobiography, I realized that the reviewer for the British Medical Journal had 'embellished' bits and pieces (such as "several sordid aspects over which Dr Mani had no control") that were not in the book itself. Dr. Mani (the chief nephrologist at the Apollo Hospital, Madras, when MGR was admitted in October 1984) had only stated the following: "The reader expecting the story of the VIP patients I treated at Apollo will be disappointed. I have not been authorized to speak about them." (p.266) Dr Mani had not included one or many of the 'sordid aspects' (which the reviewer had implied) relating to MGR's kidney troubles in his book. Few pages earlier, Dr. Mani had presented a positive example for MGR's philanthropic instinct, as follows: "When the Chief Minister of Tamil Nadu had a renal transplant, azathioprine, an expensive drug needed to prevent rejection of the kidney, was made available free at Government Hospitals. Thus does the common man benefit from the misfortunes of the great." (p. 252)
Dr. Mani's snobbish view on MGR's films
Dr. Mani, belonging to the elite and educated class among the Tamil Nadu residents, did in fact wrote his snobbish view on MGR's films in his autobiography. To quote,
"I had never seen an MGR movie before, and I was astounded at the audience reaction. There was a burst of applause when his name appeared in the titles, and then, whenever he appeared on the screen, applause, whistles, cheers, brought the house down. He always appeared in the nick of time to save the damsel in distress, he never hesitated to sacrifice his all for the poor. I wonder whether he had his eye on a future in politics even then, for he never accepted the often more challenging role of a bad or weak person. Our simple audience felt he was not acting, but was living a part of his real life, on the screen, and what he displayed was his own true character." (p.113)
About his snobbish pedigree, Dr. Mani did write in the early pages of his autobiography, as follows: "My unexpected ally was the one administrator in the family, my father, T.M.S. Mani. He had a brilliant academic career, collecting prizes and medals all the way, and his father determined to see him in the I.C.S. Admittedly, the I.C.S. in the late 1920s and early 1930s was a ruling elite. The power wielded by a Collector or a Secretary was almost that of a king, the salary seemed excellent in those days of no inflation and low taxes, and entry was so difficult that only the brightest would think of it…" (p.3)
Why I provide these details is that, Dr. Mani was not an exception among literate Tamils, either in Tamil Nadu or in Eelam, to look down on the mentality of illiterate day laborers and cart pushers who viewed MGR as their idol and god. For the educated snobs, MGR craze exhibited by the Tamil illiterates was childish and silly.
MGR's Life Phases and his Autobiography
MGR's life can be conveniently separated into four phases. These are as follows: (1) Poverty-tinged Pre-Hero Years (1917-1947), (2) Film Hero Years (1947-1967), (3) Double-Role Years (Film Hero and Politician Apprentice, 1967-1977), (4) Political Hero Years (1977-1987). In his 70 year life span, he spent 30, 20, 10 and 10 years in each of these four phases.
Most of the published writings by his friends, friends turned rivals, close acquaintances, journalists, few academic critics and fans focus only the last 40 years of MGR's activities. Not much is known or written about his first 30 years. One of the reliable works in this respect was the four volume autobiography of M.Karunanidhi (MGR's friend-turned-political rival), who was a predecessor and successor to MGR in the chief minister stakes in Tamil Nadu. MGR makes his entrance in Karunanidhi's autobiography only around 1946 (chapter 19 of volume 1, 1975), when Karunanidhi assisted in script writing for Rajakumari (Princess), MGR's first movie as a hero. How, Karunanidhi had described his early acquaintance with MGR:
"As there was no hindrance for my party work, I accepted script writing for the Rajakumari movie and with the permission of Mr. A.S. A. Samy, I began writing the script. That was the movie, Puratchi Nadigar [Revolutionary Actor] MGR played the hero role for the first time. Our acquaintance began around that time. He wore kadhi dress with a thulasi bead necklace and was a fan of Gandhi. I used to give the books authored by Anna. He used to give me books by Gandhi. We used to have debates occasionally. The result was that, he later joined the Kazhagam (party) clique."
Thus, for the poverty-tinged pre-hero period of MGR's life, one has to rely strongly on MGR's reminiscences and interviews. Fortunately, MGR did contribute an autobiography series entitled, 'Naan Yen Piranthaen' [Why I was Born?] to the popular Ananda Vikatan weekly between 1970 and 1972. As per this writing, some questions arise. Was it ghost-written? Or was it dictated into a tape, and transcribed by one of his trusted writers? Considering the fact that he was a busy film star, it is a no brainer that he would have taken the trouble to write this series for two years on a weekly basis.
Controversy on the Copyright ownership of MGR's Autobiography
A compilation of this MGR autobiography into two parts which was published in 2003 had created problems and law suits between MGR's family members of the next generation. The prime issue was who holds the copyright for MGR's autobiography after his death. I provide a recap of this nasty fight, as it played out in Chennai courts.
P.C.Vinoj Kumar, contributing a review of the case in Feb.1, 2004, to www.mid-day com/ wrote as follows:
"A dispute over the exclusive ownership of the copyright of former Chief Minister late M.G. Ramachandran's autobiography Naan Yen Piranthen (Why I was Born?) resulted in the seizure of 92 copies of the book last week. An advocate commissioner seized the books following an order passed by the Madras High Court. The Madras High Court also restrained Sudha Vijayakumar, a close relative of MGR's wife V.N. Janaki, and the publishers, from printing, publishing or selling copies of the book, until further orders. The advocate commissioner P.Nallathai informed the Court that out of the 1,000 books printed, 50 copies were sold to the public, 18 copies given to the media, and 17 copies were sold at the book fair at Salem. Another hundred books were given to Sudha Vijayakumar as royalty and the balance of 723 copies was in the process of binding.
Claiming exclusive ownership of the copyright of MGR's autobiography is V.N. Janaki's son J. Surendran, born to her through her first husband…"
Vinoj Kumar did interview J. Surendran. The answers offered by Surendran had factual errors relating to dates. I correct them, in this reproduction, noting the corrections at appropriate locations. According to Surendran,
"MGR's autobiography was published as a series of articles in the famous Tamil weekly magazine Anandha Vikaran in 1970-71 [sic, 1970-72]. MGR retained the exclusive copyright of the articles. He has not given it to anyone. He left behind a registered will dated January 18, 1987. The will did not cover the copyright. Hence, the copyright was vested in his wife Janaki, who was his sole legal heir. Janaki died in 1995 [sic, 1996] and she left behind a will. Her will too did not cover the copyright. The copyright belongs to me because I am her sole legal heir. I am the one and only son of Janaki. Nobody can publish MGR's autobiography without my permission. Sudha Vijayakumar (Janaki's niece) has published the book without getting my permission. When I learned that they were planning to publish the book, I tried to dissuade them. But they did not listen to me. That's why I approached the court."
This Surendran was 65 then. Now, he should be around 73! On July 4, 2012, the Hindu newspaper carried a story with the caption, "Janaki's son alone has copyright to MGR's autobiography: court". I provide the first half of this unsigned report.
"The Madras High Court has declared that J. Surendran, son of V.N. Janaki, is the absolute and exclusive owner of the entire copyright of M.G. Ramachandran's autobiography, 'Naan Yaen Piranthaen' (Why I was born). In the judgment allowing a civil suit by Mr. Surendran, the court said since he was admittedly the son of Janaki, his claim to have succeeded to her property was bound to be sustained unless it had been made as a subject matter of bequest by her.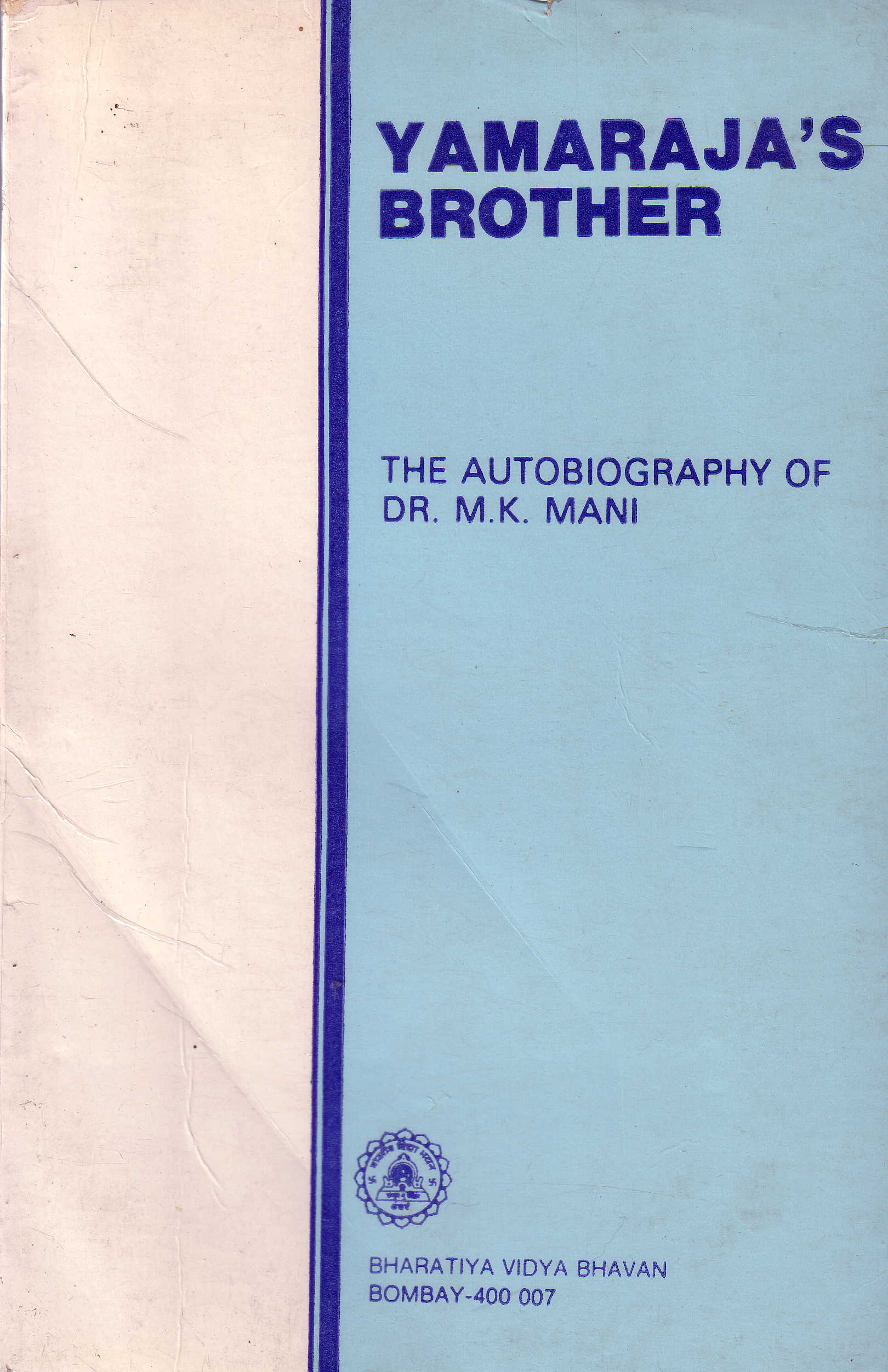 The suit sought a decree that Mr. Surendran was the absolute and exclusive owner of the entire copyright in the work and a permanent injunction restraining Sudha Vijayakumar and Rajaraja Pathipagam, T. Nagar here, and their men, from in any way infringing his copyright either by printing, publishing or trading and to render a true and proper account of the sale proceeds of the book to him. The book had been published in two volumes each costing Rs 350. Mr. Surendran said he was the son of V.N. Janaki, wife of MGR, who was the absolute owner of the copyright. After his demise, the copyright was vested with MGR's wife, Janaki. Mr. Surendran was born through Ganapathi Bhat, her former husband.
Both MGR and Janaki left behind two wills each; but they had no mention about the book's copyright. While so, Ms. Sudha Vijayakumar, claiming ownership of the book, printed and published it in 2003. Hence, the present suit was filed in 2004. The defendant claimed that though Janaki became owner of the copyright, on her death, its ownership would revert to the relatives of MGR and not to Mr. Surendran…"
My common sense interpretation of this case is as follows: As it transpired, (1) MGR was in sound mental health, when he wrote his will. He did not specifically indicate who will hold the copyright, after his death in his will. It is rather difficult to believe that MGR, a stickler for details in every aspect of his life, failed to indicate the copyright holder of his 'writing (that too, his autobiography)' after him. This by itself provides indirect proof that MGR did not 'write' his autobiography, unlike his fellow contemporaries poet Kannadasan and Karunanidhi. After all, MGR gained his fame as a stage and movie actor. In all probabilities, he would have dictated his story to a confidant or to a 'ghost-writer' assigned by the Ananda Vikatan magazine. It is more appropriate to believe that MGR might have felt this 'dictation' was a sort-of public speech delivered to a public audience. Thus, there was no necessity to include this autobiography material, as one of his belongings (personal property including houses and land, personal items and finance) his will. (2) Surendran (Janaki's son by her first husband Ganapathi Bhat) was an adult, when MGR wrote his will in 1987, before his death. If MGR had intended that the copyright of his autobiography should pass to Surendran, he would have made clear indications for it in his will. This being not the case, Surendran's claim to "absolute and exclusive" ownership of MGR's autobiography after MGR's death via her mother's link to MGR is rather tenuous.
Mr. Surendran's arrogance and real intention in blocking the publication of MGR's autobiography also deserves serious condemnation. To a question by Vinoj Kumar in 2004, ['If it is legally established that you are the owner of the copyright of MGR's autobiography, will you publish the book?'] had answered as follows:
"I don't intend to publish the book, for the time being at least. I have to go through the contents of the book carefully first. MGR has written about so many things. It was a totally different situation prevailing at the time when he wrote the book. So many years have passed now. I need to ensure that the contents of his book do not hurt any person. I will publish the book once I am personally satisfied about the contents. If I need to remove some part (from the book), I will not hesitate to do it."
What is Mr. Surendran's intention here? Whose derriere he is trying to cover up? After all, this autobiography had already been published during 1970-72, and those who were living then and felt offended, never raised their objections to MGR in public or filed any lawsuits against MGR or its publisher Ananda Vikatan. So, why this peculiar concern by Mr. Surendran to those offended folks? And who was he to edit the text of MGR's autobiography? Did MGR give permission to him for serving as his 'unsolicited' special editor?
12 segments from MGR's Autobiography
In 1973, when I was a sophomore at the University of Colombo, the Colombo Public Library held a public auction of old Tamil magazines it had in its stock. I was an eager participant of this auction, and I purchased quite a variety of Tamil magazines in lots that were imported from Tamil Nadu. These included, Ananda Vikatan, Kalaimagal, Kalaikathir, Manjari, Senthamil Selvi and Theepam for bargain prices. As these were randomly arranged, there was no chronological continuity between issues of the same magazine.
Luckily for me, the Ananda Vikatan issues of the second half of 1972 that I purchased contained twelve of MGR's autobiography segments [between July 1972 and October 1972], numbering from 120 to 135. As the numbers indicate, by July 1972, his autobiography had appeared for more than two years since 1970, and the last item (no. 135) was a short note to the readers, dated Oct. 27, 1972, that he intends to continue this series. October 1972 was the month, when MGR was expelled from the DMK party. Though he did express this sentiment, I'm not sure that he did continue this autobiography series, as he was pretty busy and tied up in establishing his new party (the Anna DMK) in addition to continuing his career in films.
The 12 segments that I have saved have the following captions [translated from Tamil to English].
No. 120: Representatives of Truth and Relationship
No. 123: Mahatma who woke up the National Spirit
No. 124: Khadi (yarn spinning wheel) Experience and Explanation
No. 126: Gurantee for the Future
No. 127: Mother's Love, Compassion and Advice
No. 128: Thangamani's Spirit
No. 129: Beliefs of Various Types
No. 130: Political Talent
No. 131: A Small Block for a Wish
No. 133: Fire Test
No. 134: If Mothers enter the War for Justice?
No. 135: The Political Path I had Walked
From these 12 segments, I offer excerpts on MGR's poverty-tinged pre-hero years, as he himself had described, in chronological sequence. The caption of No. 128 refers to Thangamani, who was MGR's first wife and who died young.
Excerpts from No.120: Representatives of Truth and Relationship
"I realized that a case has been filed that I had abducted a married woman and kept her under my care; as such to arrest me and file a case. Furthermore, to prevent the shooting of 'Marutha Naatu Ilavarasi'. I didn't have the strength of money, recommendation of elite officials and also the protection of fame. How could I carry this burden?
If there are any well-healed friends, like these days, even then it remained the same. I didn't have any influential close friends then. My pals were only those who trusted their work and knowledge who did earn some, but failed to save what they earned. Only a few of those who had interest and courage in initiating new jobs were my friends. Even this number became my acquaintances only recently.
Therefore, I was like a 'lonely tree' to protect myself then. For the job I had in my hand, I earned only a little. I couldn't even say when I'll get a contract for a new movie. If I went to ask for work, it won't be respectable; and it pricked my self-respect. Also, the pay would be lower. I did act as a hero in one movie, but I couldn't create the impression on film producers that 'I am wanted'. I couldn't ask; and they themselves couldn't invite me…Yes, I was not elevated." [dots and bold letters, are as in the original.]
Actors and singers, however they have talent and skill receive their respect only when people accept them… Then only, they gain fame. After that, the thoughts of such artists in general sometimes become the standard, isn't it! Fundamental to this issue was that, people should first accept their talent. Therefore, any artists have to be raised by the people.
In the belief that God created this world and the living beings, I wish to ask a few questions. There could be only one God in this world. None can contradict this. Only because of the human abilities, there exist variant names and varied formats in praying habits.
In those days, when the big fly-over bridge was not built at Kodambakkam, the railway crossing was frequently closed due to train traffic. Those who cannot cross to the other side had to wait for few hours due to this closure. To escape from this delay, we created a separate route. In two or three furlong distance, there was another gate. Once the train passes, that gate was opened quickly. One need not wait for long. For that route, we named it 'Small Gate'.
If we move along that route, one could reach the Panagal Park in Thiyagaraja Nagar and  the nearby Ramakrishna School. On that road, there was a god statue, without any surrounding buildings. In the evening, there wasn't much traffic except for one or two. When we passed that statue, we used to talk, "So, pitiable! No one seems to care this poor God!" A quip by a joker friend answered: "He hasn't reached the 'star value'! If a benefactor took care and provide publicity and made him a 'star', then he'd be a rich God.' Whether he quipped humorously or playfully, after a few years when I passed that route, I noted that a small enclosure had been built around that statue. On top of it, the sounds of nagaswaram and tavil nearby offered pleasing sentiments. Few more years later, I was so surprised. Hundreds of men and women were enjoying the kathakalakshepam (Hindu musical discourse). By watching their silk dresses and ornaments, and listening to their mixture of English and Tamil language, I learnt one truth. That these patrons were of elite class and educated in English.
How could this God receive popularity, who few years ago lied uncared in that surrounding? Even for a God who created humans, only when the latter shows respect, His standing receives elevation. That the same God who was untouched earlier and who we ridiculed as a 'poor God' turned himself as a 'rich God with all the powers' I saw with my two eyes. The same view I heard from my friends." (to be continued).
Sources consulted
Mani, M.K.: Yamaraja's Brother: The autobiography of Dr.M.K.Mani, Bharatiya Vidya Bhavan, Bombay, 1989.
Pandya, S.K: The autobiography of an unusual Indian (Letter from Bombay). British Medical Journal, 1990 March 24; 300: 801-802.
Special Correspondent: Janaki's son alone has copyright to MGR's autobiography: court. The Hindu (Chennai), July 4, 2012.
Vinoj Kumar, P.C: MGR book kicks up a row. www.mid-day.com/news/nation/ 2004/February/75357.htm ; Feb.1, 2004. (accessed Nov.25, 2004)