Formation of a Political Love Triangle
by Sachi Sri Kantha, June 21, 2020
[Front Note: Due to lack of resources available at hand now, comprehending the undercurrents of MGR expulsion from the DMK in October 1972, this had been the most difficult chapter for me to write.]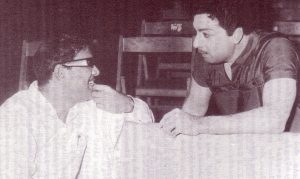 Three autobiographies deserve notice. Though MGR and Karunanidhi had written their autobiographies, MGR stopped his story in October 1972. For more than one reason, he had tactfully omitted the conflicts he had with Karunanidhi in his autobiography. Karunanidhi's version remains a valuable source, but suffers from selective omissions in presented details; he portrays himself as a victim of a political plot by the Center [read as the then Prime Minister Indira Gandhi] in which MGR was used as a weapon against him. Karunanidhi also had shrewdly omitted the 'games' he played in denigrating the stature of his long term pal. As a counter weight, poet Kannadasan's autobiography (though briefly in two chapters) provides some relief, in exposing Karunanidhi's mean habits.
When 'Ulagam Suttrum Vaaliban' movie was released in May 1973, Karunanidhi led government increased the wall poster tax by five fold, on the false assumption that MGR's cine glamor and charisma depended on wall posters of his released movies. MGR made a counter decision, stating 'We protest against this. Therefore, do not print posters. Those which had been printed, let's save them. If the movie runs without wall posters,that will be a revolution.'
According to Ravindar (MGR's assistant), film distributors were worried, because in those days, the box office collections of the movie in other areas was first evaluated on how it runs at Chennai. MGR offered a solution to the film distributors: 'Those who watch a movie on first day first show, bring good collection subsequently. If they didn't like the movie, by word of mouth, they prevent others who come to the theaters. They say, flowers shop don't need advertisement. Let's see how this movie turns out. If you lose money, I'm ready to pay for it. No! I'll adjust it accordingly in my next movie. If on other hand, this movie becomes a success, I don't bother you at all."
As MGR expected, box office success of 'Ulagam Suttrum Vaaliban' made his fans and film distributors exulted. But that sentiments couldn't have been shared by Karunanidhi then. As one would expect, nothing is mentioned by Karunanidhi, about the strategies he employed to make this MGR movie unappreciated by the Tamil public.
Entry of Indira Gandhi
From 1969 to 1984, Tamil Nadu witnessed a political love triangle, composed of Karunanidhi, MGR and Indira Gandhi. For 24 years (1945-1969), MGR and Karunanidhi were pals. With the entry of Indira, first Karunanidhi bonded with Indira (1969-1971), drifting away from MGR. Then, MGR-Indira bonding evolved (1971-1978). For political convenience, Karunanidhi – Indira bonding was re-ignited (1978-1981). After that, Indira kept both Karunanidhi and MGR at equidistance, until her assassination in October 1984.
After the death of Anna on February 3rd 1969 and ascension of Karunanidhi as the head of DMK, the friendly relationship MGR had with Karunanidhi entered the friction course. This was further catalyzed by the entry of Indira Gandhi into the Tamil Nadu political arena. What precipitated Indira's entry into Tamil Nadu, was her conflict with aging party bosses (known as Syndicate) – Nijalingappa of Karnataka state and Kamaraj from Tamil Nadu.
Following the death of President Zakir Hussain on May 3, 1969, there developed a power struggle between the Syndicate leaders and Indira. While the Syndicate leaders wanted to nominate Neelam Sanjiva Reddy (the then Speaker of the parliament), Indira was against it, and sneakily supported the candidacy of then Vice President V.V. Giri. On August 20th, the presidential election results were announced, and Indira's candidate Giri won it by a whisker. This victory of Giri was due to votes of DMK's MLAs and MPs (in the state assembly, and the parliament). Thus, the first dance of Karunanidhi and Indira began with such a 'political hug'.
One chapter in Karunanidhi's autobiography, entitled 'Preventing the Fall' provides the detail. Excerpts are translated below:
"On July 26, I announced the decision of DMK to support the candidacy of V.V. Giri, after consulting with other parties – Communist Party of India, Communist Party of India (Marxist), Socialist Party, Muslim League, Akali Dal….Though prime minister Indira Gandhi had originally proposed the candidacy of Sanjeeva Reddy, she had inferred that a victory for Reddy would affect her political future. Suppose if the votes were unfavorable to V.V. Giri, senior leaders of the Congress Party would dictate terms on her, and she had to quit her prime minister position. Because of this, Indira had to take a contradictory stance.
Candidate V.V. Giri visited Chennai and in my house we discussed the strategy for his victory for long time…..
At a Congress Party conference held on August 11th, Kamaraj spoke as follows: '….Sanjeeva Reddy is contesting as the Congress Party candidate in the presidential election. It is the duty of all Congress folks to work for his victory. Those who say that they cannot openly canvass for Sanjeeva Reddy – are they from Congress Party? They should leave the Congress Party.'
After this speech of Kamaraj, we could say that a 'Kurushetra war' had begun. [Note by Sachi: 'Kurushetra war' is a Tamil idiom. Kurushetra refers to the place where the great war in Maha Bharata epic took place.]
On August 12th, Nijalingappa wrote to the prime minister mentioning, 'Do not trust the rumors spread by a few that we are planning to dispose you. If we have difference of opinion, let's solve it by talks. I'm ready to meet you at any time for discussion…' In reply to this, prime minister wrote to Nijalingappa on August 13th, requesting permission for Congress MPs and Congress MLAs to vote according to their conscience.'… Following this, Nijalingappa sent a 'show cause' notice to Indira…. With all these war-like pronouncements, the election for the president was held on August 16th, and the votes were counted on August 20th….
Results were as follows: V.V. Giri received 420,077 votes. Sanjeeva Reddy received 405,427 votes. Deshmukh received 112,768 votes. V.V. Giri was able to win with only a margin of 14,500 votes.
The vote value of Tamil Nadu MPs and MLAs equaled to 35,448. Among these, V.V. Giri had received 20,448 votes from Tamil Nadu MLAs, and 15,000 votes from Tamil Nadu MPs. Suppose we deduct these votes from V.V. Giri's received tally, it becomes evident that Sanjeeva Reddy would have won the election, if DMK hadn't supported his candidacy…
Suppose DMK had taken an alternate stance, it would have caused V.V. Giri's defeat as well as prime minister Indira's big fall!"
Thus, the first dance of Karunanidhi – Indira came to be beneficial to Indira's future political future. She had trounced her senior tormentor Kamaraj in the battle, using Karunanidhi's hand.
Beginning of Political Love Triangle
We don't know, when MGR met Indira for the first time. It could have been at the condolence meeting held for Anna, at Chennai beach on February 8, 1969, presided by the governor Sardar Ujjal Singh. Karunanidhi had listed the elite speakers of this condolence meeting as follows:
'Prime Minister Indira Gandhi, Thanthai Periyar [E.V. R], Rajaji, Ma.Po. Si, Quaid-e- Millat Ismail sahib, Andra Pradesh chief minister Brahmananda Reddy, Dr. A. Lakshmanasamy Mudaliar, Rajah Muttiah Chettiar, A.S.K. Iyenkar, P. Ramamurthi, Chennai Mayor Vellore Narayanan, Mookiah Thevar, Trade Minister Dinesh Singh, C. Subramaniam, sheriff Sundarlal Nahata, MGR, myself, Nedunchezhiyan and Mathiazhagan.'
Even if one assumes that MGR had an opportunity to greet Indira face to face on February 8th, due to the sad occasion that would have been merely a courtesy greeting. But, before the end of 1969, the cold war between Karunanidhi and MGR had started. There is passing evidence in Karunanidhi's autobiography of an event, in which he had unnecessarily needled MGR's status as an 'alien' to Tamil Nadu.
Earlier, July 26th was mentioned as the day in which DMK announced its support for the candidacy of V.V. Giri. This is what Karunanidhi had described.
"A cultural event held in July in Chennai need mention here. Funds were collected to provide relief for the folks affected by the big flood in Andhra Pradesh. Under the leadership of actor N.T. Rama Rao, many Tamil and Telugu actors held cultural events to collect funds, and on July 26th a meeting was held at Thenampettai Congress pavilion where I was requested to hand over the funds to the Andra Pradesh chief minister Brahmananda Reddy. MGR also participated in that festival. In a drama, N.T. Rama Rao acted as Lord Rama and Krishna. When I spoke, I mentioned – When I see that in this stage, I represent Tamil Nadu, Brahmananda Reddy is from Andhra Pradesh, Labor minister Rajasekahara Moorthy is from Karnataka, and MGR from Kerala, it appears that the Dravida Nadu is represented. The 'Dravida Nadu' I mention is not about 'separating'; but the 'Dravida Nadu' which demands that every one should 'love' each other."
As was his wont, though Karunanidhi had indulged in word-play on 'piriya' (separation) or piriyam (love), he had launched the first volley on MGR, as an 'alien' to Tamil Nadu, by his designed needling of his pal. This 'insult' was not lost to MGR. It was akin to kicking the ladder, after climbing to the roof. Who in his good senses would needle a pal with whom one had worked collegially in cinema and politics since 1945? And this ingratitude (knowing well that MGR had lived in Tamil Nadu since childhood, and though he could speak Malayalam, it was not of authentic variety had been recognized by Kerala movie producers) of Karunanidhi would come to haunt him later. Tamil Nadu voters would punish him consecutively for this ingratitude.
Waning of Indira-Karunanidhi relationship
Selected dates and events from 1970 to mid- 1971 (noted by Karunanidhi in his autobiography) are presented below.
Feb.22, 1970: DMK party conference held in Tiruchi, the first one to be held in the absence of Anna. It was opened by MGR. After making his opening speech, he left for an out-door shooting that morning itself. Five big resolutions made at that conference were,
We work in the path shown by Anna.
We work to establish a society based on non-repression.
We oppose forced introduction of Hindi language.
We'll win against poverty without extremism.
We demand regional autonomy at the state level, and new Federal set up at the Center.
July 1, 1970: Karunanidhi left for Europe; visiting Rome, audience with Pope Paul VI; 3 days in Switzerland; and moved to France.
July 15, 1970: He inaugurated the 3rd International Tamil Research Conference in Paris.
July 21, 1970: Returned to Chennai. In the evening a felicitation meeting was held for Karunanidhi at Chennai Kalaivanar auditorium. MGR made a speech praising Karunanidhi's executional merits.
Aug.15, 1970: Land reclaiming agitation held by the Communist Party. More than 1000 were arrested in Tamil Nadu. Majority were in the Tanjavur district.
Sept.9, 1970: Cabinet re-shuffle was made by Karunanidhi, as there were complaints on a few ministers.. Ministers Mathiazhagan, Muthusami and Vezhaventhan were relieved from their positions
Dec. 28, 1970: Parliament (Lok Sabha) was dissolved by Indira, for a snap election.
Dec.31, 1970: On the request of Prime Minister Indira, Karunanidhi went to New Delhi and had a conference with her for more than an hour.
Jan.5, 1971: Tamil Nadu legislative assembly was dissolved by the governor, on the recommendation of Karunanidhi, to hold the assembly election simultaneously with the nationwide parliamentary polls.
Jan 24, 1971: The list of DMK candidates for the March 1971 elections were released in Chennai. MGR raised the DMK's flag. DMK would offer 9 Lok Sabha seats to Indira Congress for alliance, but nothing for Legislative Assembly seats. Indira Congress would accept this lopsided deal.
Mar 1 – 10, 1971: General election to the parliament. Indira Gandhi's Congress won convincingly in 352 constituencies, routing the Congress (Syndicate) winning only 16 seats. DMK's winning tally was 23.
Mar 1, 4 and 7, 1971: Tamil Nadu Legislative Assembly election. DMK emerged victorious with 184 seats, in a total of 234. Congress (Syndicate) won only in 15 seats.
Mar 14, 1971: MGR called from New Delhi and requested him to be appointed as 'medical minister' in the new Cabinet. What MGR meant was Health portfolio.
Mar 15, 1971: Karunanidhi's 2nd Cabinet took oaths. [MGR's request was ignored, due to opposition especially from Nedunchezhian and Mathavan.] Karunanidhi had written, 'I told him, I don't have any objection in giving you a Cabinet position, but you need to stop acting in movies. But, he was not in listening mood. He had repressed and hidden his anger and had given up the demand.
Indira's Eyes on MGR
For the second time, at the 1971 Legislative Assembly election, MGR won convincingly the Saint Thomas Mount (constituency #16), beating his Congress (Syndicate) rival T.L. Raghupathy, with a vote margin of 24,632. Among the 110,067 votes polled, MGR (DMK) received 65,405 votes, and Raghupathy obtained 40,773 votes. Compared to the 1967 election, which MGR contested while recuperating from gun shot wounds at the hospital, a marginal decrease in the vote margin against the same opponent was seen. In 1967, MGR's vote margin was 27, 674. The marginal decrease in 1971 in MGR's votes could be due to (1) sympathy factor, and (2) MGR spent more time in other constituencies canvassing for other DMK candidates. The second factor had been acknowledged by Karunanidhi himself and Kannadasan.
One could infer that Indira's eyes on MGR fell after the March 1971 elections. In Tamil, there is an idiom 'Oru kallil, Irandu Mangai adipathu' [to bring down two mangoes in one stone strike]. She wished to score like this; (1) against her nemesis Kamaraj, and (2) flatten the 'noises' raised by Karunanidhi on 'State autonomy' cry, by pulling MGR towards her. State level intelligence fed her the news the deepening rift between Karunanidhi and MGR. She also learnt from the experience of bargaining for share in Tamil Nadu legislative assembly elections that Karunanidhi was a tough and shrewd bargainer, that left her with 'zero status' for her fledgling Congress party in Tamil Nadu. Due to Kamaraj, popular support for the Congress (Syndicate) was stronger in Tamil Nadu, compared to her Congress (Indira) faction. On Kamaraj's side, there was the other super star of Tamil drama and movies, Sivaji Ganesan. But, Congress (Indira) had no recognized names in movie world, barring poet Kannadasan. Other Congress (Indira) political leaders like C. Subramaniam (1910-2000) and Mohan Kumaramangalam (1916-1973) were relatively light weights lacking charisma.
About Sivaji Ganesan's contributions to the Congress Party's (Kamaraj faction) politics in Tamil Nadu, Robert Hardgrave reported as follows:
"Shivaji claims three thousand fan clubs in Tamilnadu, and among their various functions, political activity for the Congress looms high. Some of the clubs are directly associated, even coterminous, with Congress organizations…During the elections, the clubs organize public meetings, often with Shivaji's presence, and make personal contacts to secure votes for Congress. The activities of the manrams (fan clubs) form an important part of the Congress electoral effort in Tamilnadu, and the fans have been dedicated political workers. In 1970, a massive all-India Shivaji Manram conference was held in Madras. With Kamaraj in attendance, Shivaji made an emotional pledge to live and die for Kamaraj."
But according to Kannadasan, Congress Party (Indira faction) was devoid of such dedicated fans. Kannadasan had presented this situation vividly, in his memoirs 'The Politics I had Seen' (1978). Excerpts:
"The situation arose [in 1969] with Indira on one side; Kamaraj and Nijalingappa on other side. My position became uncomfortable. I felt that the decisions and actions made by Kamaraj was wrong. His support for Nijalingappa and Morari Desai was wrong also. He himself told me once, 'The actions of Morarji Desai were wrong.' Then, how could he support him? He asked me many unreasonable questions. I felt that Indira's side had logic.
I wondered, how can I leave Kamaraj on whom I had invested much love, to an unintroduced woman leader? In addition, I also felt that those who supported Indira in Tamil Nadu never bothered about Congress or the state. There aren't anyone to join me, I did worry. While I thought of resigning myself, they came to get my signature, as a member of All India Congress Member. As a member of the AICC, I did place my signature. After this, Kamaraj sent me T.S. Arunachalam on his behalf; then, Sampath also visited me. I did meet Kamaraj. None of his explanations were acceptable to me. I was silent. He asked me, '[Your] silence means what?' I responded, 'No. I'm not supporting your actions.' He said, 'OK, think carefully. The route taken by that Lady is not good. If we keep our party properly in our State, she may come down.'…
Those who joined Indira Congress then, were no good at all. C. Subramaniam was a good leader. Other than that, there were four – Thanjai Ramamurthy, Jegaveera Pandian, S.R. Balasubramaniam, and me. The rest were folks who were chased away.
I joined Indira Congress, on a policy. Though I joined that party, attending it's meeting in Tamil Nadu was nauseating to me. Reason being, for those meetings, folks may come to see me. But no one will come to see the guy who preside the meeting or other committee members. Not only that, Indira Congress folks were scared to hold a meeting at Tamil Nadu. Because, it was difficult to return home, after attending the meeting…
Once C.S.[Subramaniam] forced me to attend the Tamil Nadu meetings. I went for one or two. In those meetings, there were not more than 100 or 200 persons. Not only that. They were not even seated in the front. I was shocked to see such empty space. To see me, at least 1,000 would gather. Even those, failed to turn up.
This situation reflected the situation that the leaders of Indira Congress here [i.e., Tamil Nadu] were not popular at all. I felt so uncomfortable…"
These details would have reached Indira Gandhi, via the intelligence service. Kannadasan also adds further to the details, on why MGR was tuned in by Indira. See the Mathan's cartoon nearby, which appeared in the Ananda Vikatan issue of June 4, 1972, the message of which Kannadasan alludes to. Excerpts:
"…After (19)71, Karunanidhi's actions took a bad turn. He had come to realize that whatever he did in Tamil Nadu, none could question him. Picking on the 'regional autonomy' slogan, previously raised by Ma. Po. Si., he raised it to the level of 'separate state' slogan. His fans began to compare him with (Sheikh) Mujibur Rahman and other freedom fighters.
If you ask, to what extreme this situation progressed, [I say] There was an exhibition here. In that exhibition, there was a poetry gathering. In that session, one from DMK party, thinking that he was criticizing Hindi language, had word play with the phrase 'Indi Rani – Thasi' [Hindi Queen – Prostitute], and twisted it to 'Indira – Nee Thasi' [Indira You – Prostitute]. Such a low grade development.
Indira Gandhi had to suppress their feelings. Same with the Congress folks here. Nevertheless, those like Mohan Kumaramangalam were really angry. Such stories reached Indira Gandi's ears – (in) 1971, 1972, 1973."
Indira and MGR – Affinities
I present few affinities between Indira and MGR. First, both were born in the same year 1917. Secondly, both earned their charisma, from opposite reaches of life. While, Indira was a privileged single child from a wealthy family, MGR raised his status from poverty stricken childhood. Thirdly, both were blessed with self-confidence and superiority complex. Their adversaries may say, 'strong headed'. Fourthly, both were expelled from the parties, they belonged to. Indira in 1969 and MGR in 1972.
When Indira – Karunanidhi relationship reached a breaking point in 1972, Indira – MGR link began to ascend, step by step. Indira had felt uncomfortable by the 1971 election deal for the Tamil Nadu legislative assembly. She badly needed a state level crowd-pulling leader to her party. MGR came in handy, but had his own plans. While in the previous 1961 split of DMK party, E.V.K Sampath and his associates (Kannadasan included) founded a fledgling Tamil National Party, only to dissolve it into the Indian National Congress. Indira expected a similar fate would fall for MGR. But, MGR never warmed up to that route.
MGR's decision irked not only Indira, but also Kamaraj, who was aiming to topple Karunanidhi's DMK. Luckily for him, the Grim Reaper called him on October 2, 1975, after he reached 72. Indira would have felt some political relief. Nevertheless, what she expected from MGR, even after the death of Kamaraj, never materialized. This becomes, one of the probable reasons why Indira dismissed MGR's first tenure of chief ministership, later in February 17, 1980, after 962 days.
Cited Sources
Duncan Forrester: Factions and Filmstars: Tamil Nadu politics since 1971. Asian Survey, Mar 1976; 16(3): 283-296.
Robert L. Hardgrave Jr.: Politics and the film in Tamilnadu: The stars and the DMK. Asian Survey, Mar 1973; 13(3): 288-305.
Kannadasan: Manavaasam [Living in Mind] autobiography – vol.2, ch.28 and 30, Vanathi Pathipagam, Chennai, 5th ed., 1988. (original edition, 1988), pp. 192-198, 204-210.
Kannadasan: Naan Paartha Arasiyal [The Politics I had Seen], Kannadasan Pathipagam, Chennai, 13th ed. 2012 (orig. published 1978).
Karunanidhi: Nenjukku Neethi [Justice for the Heart] autobiography – vol. 2, Thirumagal Nilayam, Chennai, 1987.
Inder Malhotra: Indira Gandhi – a personal and political biography, Hodder and Stoughton Paperbacks, Sevenoaks, Kent, 1989.
Ravindar [aka Kaja Muhaideen]: Pon Mana Chemmal MGR, Vijaya Publications, Chennai, 2009.