by Sachi Sri Kantha, January 20, 2013
The derisive pet name given by mother Sathyabama to her youngest son Ramachandran was 'Mudi Kala'. The word mudi (in verb form) means 'empty'. The word kalan has multiple meanings, like timer (kalam=time), demon (Lord of Hades) or even the Grim Reaper. Thus, the phrase Mudi Kala can be translated into emptying demon. The reason for this derisive pet name was self-evident. Before MGR's birth on January 17, 1917, Gopala Menon's family then living in the environs of Kandy did enjoy relative affluence for a migrant family. However, after his arrival, in quick succession the family lost its chief breadwinner and one girl child, born in between elder Chakrapani (born in 1911) and the younger Ramachandran. Whatever wealth that remained for mother Sathyabama summed up to only her two sons. Thus, around 1919-1920, poverty-stricken Sathyabama opted to leave Ceylon and settle in Kumbakonam (Tamil Nadu) where she had close kin.
MGR's Tamil ancestry
In general reference works, MGR had been continuously cited as of Kerala-origin (as a Malayalee). This pattern was reinstated by his friends –turned political rivals (especially poet Kannadasan and DMK leader M.Karunanidhi) and partisan journalists in 1977 for political gains, when MGR contested under his new party label and aimed for the Chief Minister post. But once the Tamil Nadu elected him as their leader, this 'Tamil Nadu for Tamilian' call vanished in thin air during the 1980 and 1984 state assembly elections.
Written evidence for whether MGR was a Tamilian or a Keralite did appear in the memoir of script writer Arurdhas's book 'Naan Mugam Paartha Cinema Kannadigal' [The Cinema Mirrors that I looked at] in 2002. During 1950s, 1960s and 1970s, the Tamil movie world (producers, directors, heroines, villains, comedians, script writers and lyricists) was split into two basic camps; MGR camp and Sivaji (Ganesan) camp. It was an unscripted pattern that those belonging to one camp hardly moved to the other. However, due to occasional rifts in personal relationships, and for gains in financial fortunes a few did cross over. Most of the crossovers occurred from Sivaji camp to MGR camp in producer, director ranks (such as B.R. Banthulu, A.P. Nagarajan and C.V.Sridhar).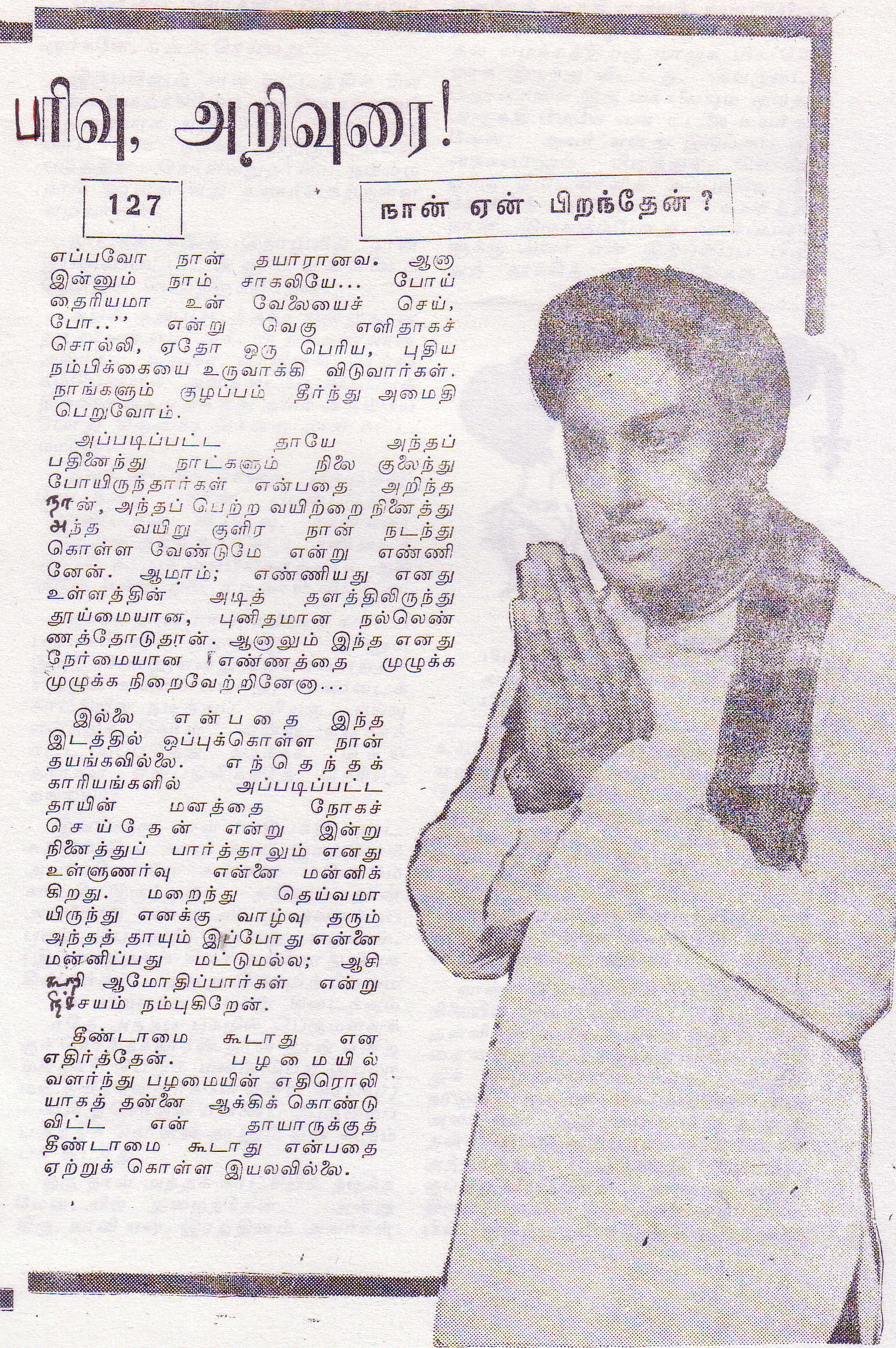 Some tactful artistes (among whom scriptwriter Arurdhas was one) maintained neutrality and did work for both MGR and Sivaji Ganesan. I provide below what Arurdhas had recorded from MGR's mouth.
"One day in the make-up room when we were alone, MGR told the following. 'Everyone believes that I'm a true Malayalee. I'm telling this to you. That's wrong! There isn't anything inferior in identifying oneself as a Malayalee. But, as for me, it is not true. My ancestors belonged to Kongu Nadu region and were from Mandradiar group. Their ancestral town was Pollachi. During the period of Haider Ali who ruled Mysore, he passed an edict that Hindus should convert themselves to Muslims. Scared by this edict, many Hindu families turned into Muslims. Those who were not willing to turn into Muslims, left their ancestral town Pollachi and passed Koimbatore and via Palakkadu valley, settled in the villages around that region. Among those who settled like this, my father's ancestors was one.'
'Those who were called Mandradiar in Pollachi, were called 'Mannadiar' (in corrupted form) in Palakkadu region. Even now, those Brahmins who live around Palakkadu were originally from Thanjavur and Tirunelvely regions. Majority of those who were addressed as 'Menon', 'Nayar' and 'Mannadiar' were those who settled from Kongu Nadu region! It's because of this , when someone calls me as a Malayalee, I become angry. These details were told by my mother when I was young'.
Then, Arurdhas continued.  To prove this fact, an incident happed on 1962 Dec 7th. During the Congress Party rule, Devar Annan [Sandow M.M. Sinappa Devar, who was one of the chief producers of MGR movies] facilitated electricity supply to Coimbatore Maruthamalai Murugan temple from the base region. Nalla Senapathi Sarkarai Manradiar, the then Minister for Cooperatives, presided this function. MGR willingly requested that the switch to initiate the electricity supply to be given to him. He was offered that opportunity. While speaking on that occasion, he did mention that he too belonged to Kongu Nadu Mandradiar community. This speech was recorded in tape, and the minister did accept MGR's confession."
Haider Ali (1720-1782) was a remarkable Indian leader in the 18th century who opposed the rule of British East India Company's expansion. This is what Jawaharlal Nehru had recorded about Haider Ali, in his The Discovery of India (1946).
"Haider Ali was a remarkable man and one of the notable figures in Indian history. He had some kind of a national ideal and possessed the qualities of a leader with vision. Continually suffering from a painful disease, his self-discipline and capacity for hard work were astonishing. He realized, long before others did so, the importance of sea power and the growing menace of the British based on naval strength. He tried to organize a joint effort to drive them out and, for this purpose, sent envoys to the Maratha, the Nizam, and Shuja-ud-Dowla of Oudh. But nothing came of this. He started building his own navy and, capturing the Maldive Islands, made them his headquarters for shipbuilding and naval activities. He died by the way side as he was marching with his army. His son Tipu also sent messages to Napoleon and to the Sultan in Constantinople."
But, Nehru had omitted the negative traits of Haider Ali in forcing conversions of Hindu families to Muslims, during his rule. Even MGR himself was fascinated by the career of Haider Ali. One never knows whether it was because of the dislocation his ancestors had to face from Pollachi in Tamil Nadu to Kerala region. MGR did announce producing a movie on Haider Ali, after the success of his first venture Nadodi Mannan in late 1950s. Somehow, this venture did not succeed for unannounced reasons.
MGR on his mother Sathyabhama
I provide below, excerpts from MGR's reminiscences of his mother as they appear in his autobiography (chapter 127) which appeared in the Ananda Vikatan in 1972.
 "When I was two or three, mother brushed my teeth. It was beautiful memory. But, somewhat bitter too…Before she completes brushing my teeth, I would receive one or two hits from her daily (Even though it was tinged with love, it did hurt). I had received hits from her because I had bitten her fingers or because I have gulped the water given to gargle."
The previous chapter (chapter 126: Gurantee for the the Future) ended with an anecdote when the young MGR (aged ~10) was infected with cholera while their drama troupe was at Vellor. As such, in the following chapter 127, MGR reminisced about his mother's love, compassion and advice. I provide some segments in translation.
"I recovered after 15 days or so. They said, I've survived. Mother prayed for my life to all the Gods. They say, 'Only the one who gave birth knows the worth of a child'. But, only those who had lost their mothers learn the worth of a mother! I realize it well even now. Every second I feel it. In every circumstance I feel it.
When I was suffering from unemployment in those days, when I was defeated in the life's struggles and felt how I could not withstand these powerful folks, and when I suffered in mind, 'Oh My God! How can I escape from these strong forces' and when I struggled about choosing the routes which were helpful for me to escape from such forces, [mother] made such struggles so lightly by quipping 'Why do you worry about such things boy?' Elders have told us 'The stone you throw returns to your lap' [One reaps what one sows]. Those who illtreats you now will suffer for such things later. Then, they will realize. Just remember it and do your job. After I lost your dad, with what strength did I carry you two to survive? Who supported me? Then what I saw with my eyes was merely an empty (cipher) world. Until now I brought you up. You two are earning something, how's that? I couldn't even educate both of you. Have we died now?'
'If we believed the fate, we just have to continue what we do. If not, if you believe in the God, you place your life on his hands and you do what you feel. If you don't believe these two routes, just believe in your insight and do what you think is right. Whatever you reap, whether it's good or bad, you trust yourself and walk with courage…'
'Boy! Whatever happens, how far it'll come to hurt? Once the water is above your head, why care whether it's a feet above or yards above? You have to swim somehow ain't it?…Just take note of where the swirls lie and carefully avoid them. There is nothing worse than facing death. I was even prepared for that. But, I haven't died yet! Go and do your work.'
These words enabled me to gain new strength, and we become relieved from such advice. Even such a mother was lost in her mind during those fifteen days I suffered from cholera. After feeling such compassion I made up my mind not to hurt her kindness. Yes, it was my heart-felt sentiments. However, did I comply with my sentiments faithfully?
I'm strong enough to say 'No'. In whatever decisions I had hurt the feelings of my mother, when I look back, I feel very small. I hope and believe that my mother who had passed away and guides me as a God will excuse my transgressions and give her blessings.
I did oppose un-touchability. My mother who grew up in ancient traditions and who echoed those old standards could not accept that un-touchability is bad."
MGR as an extra in M.K.T. Bagavathar's hit movie Ashok Kumar (1941)
I provide an example in which MGR had described an incident to his co-worker about his poverty-tinged pre-hero days. Mayavaram Krishnamoorthy Thyagaraja Bagavathar (M.K.T. Bagavathar, 1910-1959) was the singing star hero of Tamil cinema from mid 1930s to late 1940s. His seventh movie Ashok Kumar was released in 1941. In it, MGR appeared in a small role. In a short biography of Bagavathar first published in 1983, authored by Vindhan (a pen name), the following description appears.
"Famous director Mr. Raja Chandrasekhar directed this move in which Mr. MGR appears in a small role as Mahendran. Having this as an excuse, whenever this movie is released in re-runs now, those who advertise boldly announce, 'Ashok Kumar, starring MGR". This sort of announcement hurts the sentiments of Bagavathar's siblings and the fans. I do know about this. Mr. Shanmugam, a sibling of Bagavathar did tell me, 'I'm at a loss how MGR permits this sort of twisted advertisement, when he is such a great person.' I responded: 'He may not be aware of this. If he knows, he would definitely not allow it to happen. Others may opt to share the glory from someone else's achievement. But, how could MGR have such meanness?'
For this Bagavathar biography, famous Tamil comedian in stage and movies, K.A.Thangavelu had contributed a foreword. Thangavelu himself had appeared in numerous MGR movies. What he had cryptically noted reveals that M.K.T. Bagavathar was not a saint himself. I reproduce Thangavelu's cryptic remarks in translation.
"The author of this book, while writing about the 'King of Seven Notes' (a title carried by Bagavathar) had omitted specifically the names of artistes so as not to offend them, but at the same time had mentioned small errors in their behaviors so that such little offenses could be corrected by others who follow the same path. Like this, it is my wish that there should be a history book for other well-known artistes who created history in the film world."
This was vintage Thangavelu, who gained recognition for his subtle nuance and twang in dialogue delivery. It appears to me that Thangavelu did know that Bagavathar might have hurt the chances of other minor contemporary actors (among which MGR was one) by his high handedness. Proof for this did appear in one of MGR's co-worker's reminiscences about MGR. Kaja Muhaideen (having a pen name K.Ravindar) was that co-worker who worked in MGR Pictures as a script writer. Between 1992 and 1995, in the Tamil movie magazine Bhommai he wrote a 30-part series on MGR. He was introduced to MGR by none other than comedian Thangavelu. In the 20th part of this series, Ravindar provides the following episode, under caption 'Thank You'. The word, hero refers to MGR.
"In the morning, I go to Ramavaram to see hero. If it's evening, I go to Arkadu Mudali Road. For two days an old lady was waiting at Arkadu Mudali road. On the first day, I couldn't identify her. On the second day, she asked, 'Are you the Nagore boy, who was in N.P. Abdul Kadar house?' I watched her face curiously and was dumbfounded.  Before that, she herself introduced her; 'I'm the wife of Bagavathar'. My eyes teared. In those days she was full of beauty with gem stones dangling in her body. Now, her skin had darkened and lifeless. I felt pity. 'Amma, why you are here?' I asked.
'Thambi, I wanted to see MGR. No one listens to me. If you could tell him, please let him know. I'm standing here for two days with pain.'
It was not my job to notice who were standing at the entrance, who leaves. On that day, I reluctantly put that message to him. He asked, 'Do you know her?'
I said, 'Yes, It was N.P. Abdul Kadar who introduced me to M.K. Radha elder; he was the one who brought me to the cinema world. During that time, when I was idling, I stand in the Thanam and Co. wrist-watch shop owned by Kadar elder. Then, both Bagavathar and this lady do visit the shop. Even now, she was the one who identified me.'
He said, 'Yes, for one reason I have made her stand there. You go and do your job.'
Within one week, I learnt from newspaper that one lakh (100,000) rupees were offered from personal funds to Bagavathar family, and the road in which Bagavathar's house was located and an art theater was named after Bagavathar. Hero was the one who had done this. There was a photo in which hero was featured with Bagavathar family. As it was his habit in doing something without announcement, I didn't feel this was such a big matter. After hero arrived, I went to see him.
'Howdy? Did you read the paper? Did you see the story about Bagavathar?' he asked.
'Yes', I quipped.
'Are you satisfied now?' he asked.
When I replied, 'What's here about my satisfaction?', he responded.
'Ravindar, I wanted that lady to realize how times change. She stood only for two days. Even for that, she felt so hurt. Do you know, how many days I had stood in their house compound? In that Askok Kumar movie, the role of me playing Bagavathar's friend was strongly opposed Bagavathar and his wife who complained to Rajah Chandrasekhar. Even then there were Elder and Younger siblings. Chandrasekhar was the elder, and T.R. Ragunath was the younger. Because of the kind heartedness of those two, I got to play that role! Just because you are on top now, one shouldn't undermine others' opportunities', he said." (bold font, as in the original; to be continued)
Cited Sources
Arurdhas: Naan Mugam Paartha Cinema Kannadigal, Kalaignan Pathippagam, Chennai, 2002, pp. 50-51.
Jawaharlal Nehru: The Discovery of India, Oxford University Press, Delhi, 1989 imprint (originally published 1946), p. 275.
K. Ravindar: Pon Mana Chemmal MGR, Vijaya Publications, Chennai, 2009, pp. 148-150.
Vindhan: M.K.T. Bagavadhar Kadhai, Arunthathi Nilayam, Chennai, 2nd ed. 2000 (originally published 1983), pp. 175-176.