More than seven years after the brutal three-decade-long civil war ended in Sri Lanka, people are still picking up the pieces and searching for their loved ones.
The last time Mary Sabamalai saw her son Mayuran was in 2008, when he came home for his 21st birthday.
This was about a year after she "surrendered" him to the Liberation Tigers of Tamil Eelam (LTTE), during the final stages of their battle against the Sri Lankan armed forces. Mayuran went missing in 2009.
Since then, Mary has been to different government offices in Mullaitivu and outside, carrying his photograph. Tall and lean, he is dressed in white formals, sporting a tie. Not a day passes without Mary, 52, wondering about Mayuran, the eldest of her four sons. She has two daughters. Her husband, now in his sixties, is a fisherman who takes up other odd jobs occasionally. Some months ago, Mary petitioned a presidential commission looking into cases of missing persons. "I got an acknowledgement saying they have received my letter, but that is all," she says.
Mayuran, she firmly believes, is alive somewhere.
Kamala (name changed) knows how to keep her four-year-old busy. "Look, the hens are running. Catch them," she tells him, just so that he would move away from her bicycle that stands slanted. Her trick works. But three minutes later, little Mukesh (name changed) squats behind the rear wheel and looks at her through its spokes. He giggles quietly, sensing her fake anger.
It is not often that Mukesh gets to play with his mother. On most days, Kamala sees him for barely two hours after she returns from work. "I usually leave at six in the morning and get back by 7 at night," says the 25-year-old. It was past lunchtime that Saturday and she had not heard from the farm where she is employed. The day's labour fetches her Rs.600 (roughly INR270), if she picks a sack-full of groundnuts and shells as much. On some weeks she gets called for work all seven days. Like Kamala, many in Mullaitivu work in kachchaan or groundnut farms, as farm hands. The district accounts for the second highest share of groundnuts produced in the country. But that is not what Mullaitivu is best known for.
The dogs of war
Home to nearly 1.3 lakh people, mostly Tamils, the town located on Sri Lanka's north-eastern coast paid heavily during the three-decade-long civil war that ravaged the Tamil-dominated Northern Province. Its residents, displaced multiple times, are slowly stitching their lives together. They cannot let go of the past, and the present holds them in its vice-like grip.
A UN panel of experts' report published in 2011 estimates some 40,000 civilian deaths in the final phase of the war. The report attributed most civilian casualties to "government shelling", a charge that Colombo has flatly denied. The impact was most intensely felt in Mullivaikkal village here, where thousands of displaced people took refuge. That is where Kamala lost her mother and her young husband.
It is more than seven years since the Sri Lankan armed forces defeated the rebel Tigers, ending the brutal war. In October last year, the UN Human Rights Council adopted by consensus a resolution moved by the United States, and co-sponsored, among others, by Sri Lanka, that seeks to probe allegations of human rights violations during the war. Even as different actors argue for and against international judges participating in the process, survivors in the country's war-ravaged Northern Province continue battling its lingering aftermath every day of their lives.
Gruelling schedules
"After my first husband died, soldiers would just walk into my house and speak very inappropriately. They would harass me day after day. The local men were even worse. They would just hound any woman living alone. I knew I could not survive by myself, that too with a child. I got married again," says Kamala.
Her days now begin at four in the morning. She takes an hour to cook and pack rice meals. She makes four packets, two each for her husband and herself to take to work. "We have rice for breakfast and lunch, there is no time to make anything else." When she returns home in the evening, it is time to prepare dinner. After her father died in 1996, it was Kamala's mother who toiled as a labourer to support her and her siblings. "I didn't realise her role when she was alive, but today I miss her the most. Had she been around, she would have taken care of my children while I am away at work," she says, fixing her glance at Mukesh, who is still playing with the cycle pedal.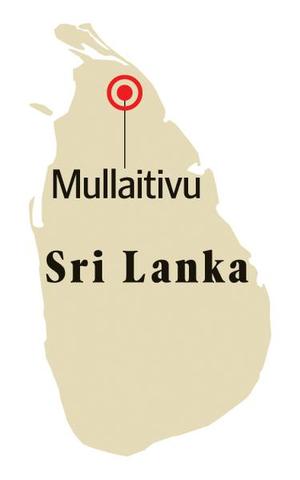 Kamala does not seem to mind her gruelling schedule. At least it takes her mind off the past. Right from her school days, distress followed her like a shadow. "The LTTE demanded one child from every home to join their cause. They took me. I could not stand their horrible practices and somehow managed to escape, risking my life." She dropped out of school in Class VIII.
Even as she despises the LTTE for taking her by force, she thinks the organisation helped maintain some order in the town. "The rampant alcoholism we see today would have been impossible had the Tigers been around. Things were not so costly. Life was better in a sense."
With her husband too engaged in daily wage labour, the couple gets by with some support from an elderly neighbour who takes care of Mukesh during the day. Her elder son, who is seven, lives with an aunt in Kilinochchi, about 50 km away. Kamala has not spoken to her aunt in weeks. "If I do my son cries a lot, asking me when I will bring him here."
She plans to, in January. But by then she would have to think of ways of sending him to school. "Whether it is transport or tuitions, everything costs money." A tiny home built with financial aid, an uncertain job and a meagre income from it is all she has.
Catch-22 on the coast
On the other side of Mullaitivu, closer to the coast, are families whose lives are tied to the sea. Fishing is a key driver of the district's economy, along with agriculture.
A small group of women gather at the front verandah of one of the homes. They are attired in gowns that flow below the knee, some in bold colours sporting floral prints. It is past noon and very warm, the sporadic sea breeze alone bringing some relief. "They used to call this place a prawn bank," says Edel Queen, who formerly headed a women's organisation here. The catch has fallen in the last few years, largely due to Indian trawlers fishing illegally in Sri Lankan waters. More recently, Mullaitivu fisherfolk are being forced to compete with fishermen from the southern districts of the island who have begun fishing in the northern seas. The drop in fish production has left many men and women jobless. Edel recalls a time when women worked on the shore, tapping and drying fish, making small sums of money on a regular basis. "Now that has become impossible," she says.
Many of them burnt their fingers borrowing money to set up small businesses. Leasing companies have mushroomed in the north, says Edel. Trying to replay old loans, many find themselves trapped deeper in debt. According to government data in 2012-13, Mullaitivu has the highest percentage of poor households in the country at 24.7 per cent. The mean household income here, as per census data for 2012-13, is Rs.23,687 (approximately INR10,700), the lowest among Tamil-majority districts, and in the country.
With few options, most of the women now take up odd jobs for a small daily wage. They make and sell fruit juices in the village or package grocery items in small quantities.
A few others, mostly younger women, have joined a garment factory in Puthukkudiyiruppu, travelling 20 km one way. This is one of the three factories that were set up in the north following the war.
Employing many thousands of women, mostly in their twenties, the factories draw cheap labour. The women stand all day and work, making branded garments that fetch them a few hundred rupees every day. With no crèche or child care facility, the factory automatically excludes young mothers.
Broken families
According to the District Secretariat records, Mullaitivu has nearly 6,000 women who are the sole breadwinners in their families. At least 5,000 women are widows, with many of them losing their husbands during the war.
In addition to the many thousand lives that the indiscriminate shelling claimed during the conflict's last days, over 750 people in the district are reportedly missing. Some since the 2004 Indian Ocean tsunami that devastated the district. And others during the war, due to enforced disappearances.
"My neighbours saw the army personnel arrest and take away my husband. I don't know where he is, I am still searching for him," says Nirmala (name changed), a woman in her early thirties. She has checked in rehabilitation camps, prisons and hospitals in vain. "Some say he might have died, I don't know. What if he is alive? He must be alive, somewhere far away."
Between appearing before commissions that hold public hearings and running to government offices with petitions, she takes up any daily wage job that comes her way to support her two young children.
Amid growing pressure from families of missing persons, the government in Colombo recently decided to set up an Office of Missing Persons by an Act of parliament. "It is a welcome move, but it should be set up in Vanni," says Nirmala, referring to the mainland area of the Northern Province. "We cannot keep running to Colombo every time, right? How will young mothers go all the way, forgoing a day's income and spending on the journey? Who will take care of their children?"
A missing person, in many families, also translates into having one less earning member. Aged parents and young spouses run from pillar to post, seeking answers or, possibly, some closure.
Almost every family has lost a relative to the war, or is looking for a missing member. Many homes have a photograph of a relative hanging in the living room, with an oil lamp lit beside. Grief over the past coexists with anxiety about the future.
Men are engaged in daily wage jobs, if not in farming or fisheries. However, given the number of single women running homes, there is a desperate need for sustainable jobs and child care facilities, the women emphasise.
"We need industries. That too industries linked to our natural resources — the sea, agriculture or forests," says Edel. "They teach us to sew or make sugar candies or pappadam [a lentil-based flatbread]. How long can we do that? Where is the market? How do we compete?" she asks, having tried it all — from skills training workshops held by government and non-governmental organisations to entrepreneurship.
Vanni parliamentarian Shanthi Sriskantharajah agrees. "The reason that women have not got into palmyra products is because there is no market. We need industries focussing on natural resources of the region. And we need to find a way of marketing the products."
This is something that neither the central government in Colombo nor the Northern Provincial Council elected by the Tamils seems to act upon. "They keep organising some programme or the other for women. They buy them milo packets and make presentations. That's about all. Nothing changes," Shanthi notes.
Accessing natural resources comes with a set of challenges. If fisherfolk are faced with a diminished catch, many farmers are fighting for their land that is still under military occupation.
After President Maithripala Sirisena came to power in January 2015, defeating former strongman Mahinda Rajapaksa, he began releasing private land that the armed forces had occupied during the war. In Mullaitivu, the government has released almost 1,000 of the 2,000 acres taken over by the army, according to the District Secretariat.
Reclaiming land after 30 years of displacement involves major adjustments for the displaced families. Those who were children back then would have grown up now and have families of their own, explains Sundarampillai Sivamani, a 60-year-old farmer. "Sivam akka", as she is known in her village, grows paddy and groundnuts on a small farm her family has taken on lease. The five acres she owns have been occupied by the forest guard for years.
"That is what happens when you get displaced for so long," she tells me, sitting at a bus shelter. Families lost members. They lost birth certificates, national ID cards, land deeds. The missing documents haunt them as they try to trace and reclaim their own land. "But I realise how lucky I was, I did not lose any of my children." Especially since she witnessed her 14-year-old nephew succumb to a bomb that landed near their bunker. "He had a bath, and had oiled and combed his hair so neatly. He looked like a prince that day."
She remembers his last words, "Athai (aunt), I am feeling very scared today," he told her. "Don't worry, we are in a bunker and will be safe here," she assured him. The army had said they were all safe there. He probably believed her. "He smiled." Within minutes, however, she heard his mother scream. "A shell had pierced through his head and he dropped dead. His smile was intact," says Sivamani, her bold voice suddenly shivering. No one had time even to bury the bodies there or grieve, they had to run for their lives.
Battling everyday challenges
In Mullivaikkal or Nandikadal, the lagoon where LTTE leader Velupillai Prabhakaran is said to have been killed by the army, the residents are under watch, though many observe that surveillance has lessened since President Sirisena came to power.
"Is it okay to be named," they ask each other as they give interviews. "It should be fine, we aren't saying anything that is untrue," one of them reassures. "We can't take a chance, you never know with the military," warns another. They negotiate this everyday fear, systematically evoked by the government and the armed forces in the island's post-war years.
They try out different ways. Some Tamil women have joined hands with Muslim women who have recently returned to Mullaitivu, years after the LTTE forcefully evicted them. "We have to reflect on the past together. Or we cannot move forward," says a prominent member of the group, requesting anonymity. "Our Tamil leaders do not look beyond Jaffna. They do not know how we live in Mullaitivu," she says with anger. This feeling of being left out in the margins is not uncommon in the district. "Leaders in Colombo will not let us come up in life. Their actions keep reminding us that we are Tamils, that we are second-grade citizens." They feel abandoned. "There are some changes, we must acknowledge," intervenes another member of the women's group. They do not agree with each other. But they don't mind listening.
However, most of them have little time to dwell on anger or resentment. The stark reality of negotiating each day presents a challenge. A kilo of rice costs 68 rupees (roughly INR31) in Mullaitivu. Sugar costs Rs.100. Coconut, 30 to 40 rupees. And sea fish, Rs.500 per kg. "This is our situation today," says S. Mary, also employed in a groundnut farm like Kamala.
Her family, like several others in Mullaitivu, migrated from the island's hill country, where Tamils of recent Indian origin live and make a living at the country's famed tea estates. "We left during the 1983 riots in the south." Only to face an even worse war in the north. "I want to go back to the hills now," she says.
Kamala hopes she gets called for work the next morning.