by Ruki Fernando, Groundviews, Colombo, July 7, 2020
In July 1995 the St. Peter and Paul Catholic Church in Navaly, Jaffna, was filled with displaced Tamils seeking refuge and safety from the war. People in Navaly, including members of the church youth club, were helping the displaced by providing them with food and setting up temporary toilets.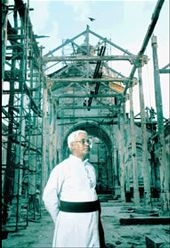 According to eyewitnesses and survivors, on July 9 around 4.30 or 5pm, a Pukkara airplane  dropped 8 to 13 bombs over Navaly, around the church, the Sri Kathirkama Murugan Hindu Temple and in residential neighbourhoods, killing hundreds of people and injuring many more.
Those killed included a four year-old, and two 68 year-olds. The Grama Niladhari (village official), who was cooking for the displaced and youth volunteers, was among the dead. About 45 of those killed are believed to have been from Navaly but most were the displaced who had come to Navaly seeking refuge.
Thirteen members of one family were killed that day. The body of one young boy was never found. A woman described how she went home and found an infant of a relative alive under the dead body of her 18 year-old daughter. Some bodies were only discovered a few days later. Bodies were strewn all over the ground, with some decapitated  heads  found on trees. Many bodies were burnt beyond recognition. A Catholic priest narrated that he had seen bodies and body parts scattered across the road when he was cycling to Navaly from Jaffna that evening.
Initially, the Catholic Bishop of Jaffna Bishop Thomas Savundranayagam and the International Committee of the Red Cross (ICRC) were quoted by the media as having said that 65 people had been killed. The number later rose  to 117.[1] However, numbers mentioned to me by villagers varied from 147 to 165 and 217. Some said up to 300 could have been killed. The exact number of persons killed and injured has been difficult to ascertain because the victims were displaced persons from various areas and as some had subsequently succumbed to their injuries. The aunt of a friend of mine was among those who died of her injuries later. Several people told me that there were more bombings the following day (July 10) as well, and that at least one person had been killed.
All the people in Navaly that I met categorically stated that the bombing had been done by the Sri Lanka Air Force. This was reinforced by issuance of death certificates stating the cause of death as "death due to injuries caused by aerial bombardment". Back in 1995, there was no other armed group that had planes that could carry out aerial bombing.
Many still grieve that they could not conduct last rites or give a proper burial to their dead family members and friends. It had been difficult to find coffins and many dead bodies had been taken to Jaffna in tractors. One man who was loading bodies to a tractor had come across the body of his own son. It had also been difficult to transfer the injured to the Jaffna Hospital. One woman told me that she had spent months in and out of hospitals but that she still finds it difficult to walk. Her daughter and son had been killed. Another man had fallen flat on the road as the bombs fell around him and got up minutes later, dripping in blood, and someone else's blood soaked hand had fallen off him. He had escaped any physical injuries but was hospitalised with trauma and depression.
The bombing also caused severe damage to the church building (including the roof), the Hindu temple and about 30 houses. The Catholic church, the Hindu temple and many of the houses that were destroyed and damaged have now been rebuilt. However, I saw three houses where only rubble remained. Another house had visible holes through the walls. The impact of the bombs was so great that an iron gate had been blown several hundred meters away.
Several villagers said that a few weeks after the bombing, the Liberation Tigers of Tamil Eelam (LTTE) had claimed that they had shot down the Air Force plane that had bombed Navaly and displayed metal pieces that they claimed were part of that plane.
Statements of the Catholic Bishop and ICRC
The media published excerpts of statements attributed to the Catholic Bishop of Jaffna Bishop Thomas Savundranayagam  and the ICRC confirming deaths, injuries and damage to buildings due to an aerial attack in Navaly.[2] The Bishop is reported as saying the displaced had sought shelter in the church and temples, based on instructions given by the Ministry of Defence. The same media report indicated that the Bishop had written to the President the day after the attack, describing the tragedy, and appealing to him to "kindly instruct your forces to desist from bombing, strafing, artillery rocket attacks on civilian targets such as kovils, churches, schools and hospitals." Reports said that he had written another letter on August 7, 1995, saying that, "I myself had visited the site of the incident and I found the roof of the church damaged, all the doors and windows wrenched from the frames and strewn about, and the floor was littered with broken glass pieces. I also found blood stains on the floor and bloodstained clothes still lying about."
The bigger picture – massacres at places of worship, memorials, reparations and justice
There have been many civilian massacres at places of worship in Sri Lanka, and the Government response to each incident has varied significantly depending on who the perpetrators were. For example, the LTTE attacks on the Kathankudy Mosque and on two of the most sacred and popular Buddhist temples in Anuradhapura (Sri Maha Bodhiya) and Kandy (Dalada Maligawa), as well as the Easter Sunday bombings by ISIS inspired Muslim extremists, have received significant attention in mainstream national media and from governments. But church bombings in Jaffna, like in Navaly, Gurunagar and Allapipiddy leading to massive loss of civilian lives and injuries, have received little or no national media coverage and acknowledgment from governments. Could it be because the Sri Lankan military stands accused of these crimes, and that most of the victims are Tamil?
In terms of criminal accountability and justice, I have heard that at least three people were prosecuted for the LTTE bombings of the Dalada Maligawa in Kandy. Within a few months, special inquiries were launched by a multi-party Parliamentary Committee and a Presidential Commission of Inquiry in relation to the Easter Attacks and hundreds have been arrested under the Prevention of Terrorism Act (PTA), although there are serious concerns about due process and upholding fundamental rights of suspects. But, according to people in Navaly I spoke to, for 25 years there has been no investigation into the Navaly massacre, and no one has been arrested, prosecuted or convicted. To the best of my knowledge, decades after the incidents there has been no arrests, prosecutions and convictions with regard to other church bombings in the North either.
In terms of reparations, one elderly man in Navaly told me he received Rs. 15,000 as compensation for a dead family member in 1997. Other Tamil survivors and victim families in the North have told me they have not received any reparations. But for survivors and families of victims of the Easter bombings, there has been a significant amount of Government and church led reparations including medical care, psychological care, education, housing and renovation of buildings. Despite the different circumstances and time gap, this is perhaps a model that could be considered for survivors and victim's families of the Navaly massacre and other war time massacres.
During my visit to Navaly 25 years after the massacre, some did not want to speak to me out of trauma and fear, some cautioned me not to mention their names, and others cried as they spoke. One Navaly resident who had survived the bombing told me that most of her Sinhalese friends had advised her not to share information about the incident and that she should forget and move on. But she said it was impossible to forget – a sentiment shared by everyone in Navaly I spoke to who had experienced and survived the bombings.
Monuments for victims of the Easter Sunday attacks had been built within a few months in Katuwapitiya (Negombo) and Kochchikade (Colombo) and elaborate arrangements were announced by the Archdiocese of Colombo to commemorate the first year of the Easter Sunday bombings with the explicit support of the Government. These had to be restricted due to the breakout of Covid-19 but there were nationally televised commemoration events on the first year anniversary. The Archbishop of Colombo's calls for justice received prominent coverage in national media. This response in acknowledging and respect the trauma of victims and survivors and their need for dignity in suffering, justice and reparations is important. It is a reminder of how victims and survivors could and should be treated – and how many in the North and East have not been deemed worthy of such support. The survivors and victim's families of the Navaly massacre and Tamil church leaders in the North are unlikely to receive much attention from national media, politicians and religious leaders, especially in a context that the alleged perpetrator is the Sri Lanka Air Force.
In this vacuum, the community has built a simple monument in Navaly for the victims. According to locals, community led memorials have been held every year. When I visited last weekend, village youth were cleaning up the monument, and a few concerned Catholic priests and community leaders were discussing a 25th year remembrance event. Even after 25 years, the pain of the tragedy still remains fresh in the hearts and minds of survivors, victim families and the Navaly community, and the massacre will always be remembered.
Joining hands to pursue the rights to justice, reparation and memorialisation for all survivors and families of victims remains a challenge for all Sri Lankans. On a smaller scale, the history of massacres in Catholic churches in the Jaffna Diocese and last year's Easter Sunday bombings in two Catholic churches in the Colombo Archdiocese offers yet another opportunity for the Catholic Church to join this struggle. Privileging some victims and marginalising others will push reconciliation and healing further away.
[1]     https://tamilnation.org/indictment/genocide95/gen95012.htm
[2]     Ibid