Prime Minister Justin Trudeau pulls down the pants of RAW rascals
by Sachi Sri Kantha, September 27, 2023
As a long term observer of the sins of India's gumshoes, I'd say 'three cheers' for Canadian prime minister Justin Trudeau for pulling down the pants of RAW rascals on September 18th. He claimed 'Agents of the Indian government had killed Mr. Nijjar on Canadian soil.' This Mr. Nijjar was a 45 year old Hardeep Singh Nijjar, a Canadian citizen by naturalization, an activist for a separate state 'Khalistan' (for Sikh religionists) in India. He was assassinated on June 18, 2023, at Surrey, British Colombia, when he walked out of a Sikh temple at night.
The Sept. 20th editorial of The Times (London) inferred, 'If this allegation is true it could mark a turning point in how India, the world's biggest democracy is perceived internationally. Mr. [Narendra] Modi, a substantial figure in global politics, could find himself cast alongside Vladimir Putin as a rogue actor.'

I'd say that long before Narendra Modi and Vladimir Putin came into international recognition, we should remember that 'shadowy lieutenants in India's intelligence apparatus' (as the Times' editorialist tagged these rascals) had turned trigger happy in Sri Lanka, during Rajiv Gandhi's tenure (1984-1989). Justin Trudeau has done, what Sri Lankan presidents from J.R. Jayewardene to Gotabhaya Rajapakse never did when RAW's local relays first assassinated two TULF ex-MPs of parliament (Mr. V. Dharmalingam and Mr. M. Alalasundaram) in Jaffna in 1985, to pass the blame to LTTE militants.
A news report in the New York Times of Sept 21, 2023, passingly mentioned the following:
"While the Indian spy agency, known as the Research and Analysis Wing, or RAW, has long been suspected of involvement in targeted killings in neighboring countries, analysts and former security officials said the assassination of Hardeep Singh Nijjar would be the first such known case in a Western nation."
I provide below, a list of the successful and failed assassinations carried out by RAW's local relays (TELO militant group, LTTE betrayers belonging to the Mahattaya faction, EPRLF quislings) in Sri Lanka, only to pass the blame to LTTE militants. RAW's rascals were successful in this sort of cheating, mainly because (1) the ruling Sinhalese leaders, without proper police investigations, wished to portray LTTE as 'ruthless terrorists' for their propaganda reasons; (2) spine-less journalists in Colombo and 'LTTE specialists' (Rohan Gunaratna, D.B.S. Jeyaraj, Rajan Hoole, Col. R. Hariharan, M.R. Narayan Swamy and Co.) were fed on dead rope 'LTTE did it' for munching; (3) LTTE's deeds attracted the powerful 'The Hindu' publication lobby (N. Ram, Malini Parthasarathy and their ilk), nuisance politicians like Subramanyan Swamy and Cho Ramaswamy.
Below, is my assembled (incomplete) list of RAW-instigated assassinations in Sri Lanka, since 1985, conveniently passed to the servile press in Sri Lanka, India and elsewhere, with the tag 'LTTE did it'.
Successful assassinations instigated by RAW's relays in Sri Lanka
Dharmalingam (FP MP for Uduvil and TULF MP for Manipay) – Sept 3, 1985, in Jaffna.
Alalasundaram (TULF MP for Kopay) – Sept 3, 1985, in Jaffna.
Amirthalingam (FP for Vaddukoddai and TULF MP for Kankesanthurai) – July 13, 1989, in Colombo.
Yogeswaran (TULF MP for Jaffna) – July 13, 1989, in Colombo.
Uma Maheswaran (PLOTE militant group leader) – July 17, 1989, in Colombo.
Failed assassinations instigated by RAW's relays in Sri Lanka
Sivasithamparam (TC and TULF MP for Udupiddy and Nallur) – July 13, 1989, in Colombo.
Prahbakaran (LTTE leader) – July 23, 1989, in 'Vavuniya'. [according to the news report that appeared in the Hindu- weekly edition, July 29, 1989]
Bashir Wali Mohammed (Pakistan's High Commissioner) – Aug 14, 2006, in Colombo.
Assassinations where the 'fingers of RAW's relays' are strongly suspected
Dr. Rajani Thiranagama – Sept 21, 1989, in Jaffna.
President R. Premadasa – May 1, 1993, in Colombo.
Among the failed assassination attempts of RAW in Colombo, that of Bashir Wali Mohammed, then out-going Pakistan's High Commissioner to Sri Lanka, using a Claymore personnel mine in the road seventeen years ago, deserve recognition. As a former Director of the Pakistan Intelligence Bureau and a former senior officer of the Inter-Services Intelligence (ISI), this Mohammed was a professional rival of RAW rascals. As such, he knew who were the real culprits. It was not LTTE militants. After returning to Pakistan, Mohammed "alleged that Indian intelligence agency, Research and Analysis Wing, was behind the [Claymore mine] strike…. He [also] claimed the Indian government was 'upset' with the decision of Pakistani government to appoint him as high commissioner to Sri Lanka and that RAW was playing 'dirty games against' him…" This assertion by Mohammed turned out to be a slap in the cheek of Sri Lanka's ruling hierarchy, Sri Lankan military officials and Colombo journalists, who had instantly pointed fingers at the LTTE. It should also be noted that in this incident, four Sri Lankan commandos accompanying Mohammed were killed instantly.
A Hindu newspaper item dated May 25, 1999 – linking LTTE to Sikh separatists in Canada
As an example for the modus operandi of RAW's rascality towards LTTE, for record, I present below a fake news report, published under the dubious tag line 'Our Special Correspondent', with the caption 'LTTE car bomb threat' to Sonia', dated New Delhi, May 24 (1999). The first half of this fake news is reproduced below, because it deserves digital preservation, for its humor and high absurdity quotient! And print items that appeared before 2000, are not so easy to gather now. I knew for sure that this spurious item originated from the desk of RAW rascals, because no identifiable individual holding a rank or position, was mentioned in it.
"The Government is fine-tuning the security arrangements with an aim to plug the possible loopholes in the security cover provided to the Congress (I) president, Mrs. Sonia Gandhi, following a heightened threat to her life.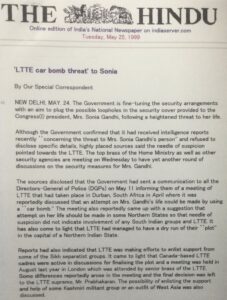 Although the Government confirmed that it had received intelligence reports recently 'concerning the threat to Mrs. Sonia Gandhi's person' and refused to disclose specific details, highly placed sources said the needle of suspicion pointed towards the LTTE. The top brass of the Home Ministry as well as other security agencies are meeting on Wenesday to have yet another round of discussions on the security measures for Mrs. Gandhi.
The sources disclosed that the Government had sent a communication to all the Directors-General of Police (DGPs) on May 11 informing them of a meeting of LTTE that had taken place in Durban, South Africa in April where it was reportedly discussed that an attempt on Mrs. Gandhi's life could be made by using a 'car bomb'. The meeting also reportedly came up with a suggestion that attempt on her life should be made in some Northern States so that needle of suspicion did not indicate involvement of any South Indian groups and LTTE. It has also come to light that LTTE had managed to have a dry run of their 'plot' in the capital of a Northern Indian State.
Reports had also indicated that LTTE was making efforts to enlist support from some of the Sikh separatist groups. It came to light that Canada-based LTTE cadres were active in discussions for finalizing the plot and a meeting was held in August last year in London which was attended by senior brass of the LTTE. Some differences reportedly arose in the meeting and the final decision was left to the LTTE supremo, Mr. Prabhakaran. The possibility of enlisting the support and help of some Kashmiri militant group or an outfit of West Asia was also discussed….."
Coda
Here is an inference I made in my 2005 book on Prabhakaran. The 1999 May 25th fake news plant by the RAW rascals appeared just two weeks after the Supreme Court appeal verdict of Rajiv Gandhi assassination trial on May 11, 1999, where 19 of the 26 accused punished by the Trial Court justice were released from gaol. Now, connect the dots please. In 1999, "LTTE was attempting to assassinate Sonia Gandhi, in one of the Northern states in India". And in 2006, "LTTE had attempted to assassinate Pakistan's outgoing high commissioner in Colombo". Both, by using a 'car bomb'. Whereas the 1999 fake news was simply that, in 2006 RAW did achieve something, in threatening the life of their Pakistan nemesis, while sordidly passing the blame to LTTE militants. Ain't that nifty? And as for Sonia, though her stars had dimmed since 2014, by God's grace, she is still kicking around in New Delhi!.
Sources
Isai V, Austen I: Canada's assassination claim further divides its Indian diaspora. New York Times, Sept. 20, 2023.
Editorial: Prime suspect – India risks being cast as a rogue state following the assassination in Canada. The Times (London), Sept 20, 2023, p. 23.
Mashal M, Kumar H. Raj S: A killing pits India against Canada. New York Times, Sept 21, 2023, pp. 1 & 5.
PTI: 'India behind Sri Lanka blast', Sept 1, 2006. Rediff.com news https://m.rediff.com/news/2006/sep/01sl.htm
Sachi Sri Kantha: Pirabhakaran Phenomenon, Lively COMET imprint, Gifu City, Japan, 2005, p.349
Sudha Ramachandran: The Pakistani muscle behind Colombo. Asia Times, Sept. 22, 2006 https://web.archive.org/web/20061019075144/http://www.atimes.com/atimes/South_Asia/HI22Df01.html