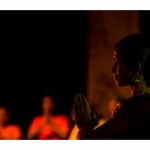 Tonight I saw a beautiful Tamil Ballet of Tagores performed exquisitely by the Kokuvil Kalabhavanam free in aid of the Faculty of Medicine's Student Hostel. It was organised by the Alumni of the Faculty of Medicine.  I went expecting to hear some song and dance. To my surprise the play was so well choreographed with the music, songs – Tagore's Poetry interwoven with the story in verse put to music, performed superbly by a group of ten or more singers. The dance told the story I could understand without the song as the facial expression, the hand and feet movement were in concordance with the sound of the music. All dancers were beautiful and in colorful dance costumes.
When I look at the people who were singing for each of the characters I could visualise the dance as the song was so descriptive, crystal clear and perfectly in harmony. There were many dancers and each one of them told a story and expressed it as a group too. Each one had a distinct character.
The Hermit was the best I thought, then his soul in the form of a beautiful girl expressed his thoughts before, during and after he saw the light. The girl, who symbolically represented the desire that the hermit was trying to avoid, was the divinity that he later embraced.
Tagore's message is not to renounce life and be a recluse but find divinity in the bondage and active life. Please re read Tagore and his poems. It has been so long since I did.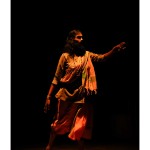 I have never seen a play acted, danced and sung like this in the North or Sri Lanka.  I AM WRITING THIS NOT ONLY TO MAKE YOU ALL PROUD THAT SUCH CULTURAL EVENTS ARE TAKING PLACE IN JAFFNA but that IT IS also THE BEST THERAPEUTIC PERFORMANCE FOR OUR PEOPLE and one TO BE PROUD OF. I WOULD LIKE ALL THE CHILDREN AND ADULT TAMILS IN LOS ANGELES, SAN FRANCISCO, NEW JERSEY, TORONTO, LONDON, FRANCE, SYDNEY, SINGAPORE AND MALAYSIA TO SEE AND APPRECIATE THAT OUR CULTURE KEPT GROWING THROUGH THE WAR  AND DISPLACEMENT years AND IS RICHER FOR SUCH SOUL SEARING EXPERIENCE that OUR PEOPLE HAVE GONE THROUGH.
THIS PLAY AND ITS PERFORMANCE WILL GIVE THE TAMIL DIASPORA HOPE THAT WE ARE NOT DOWN AND WE ARE ADVANCING IN OUR SEARCH FOR PEACE.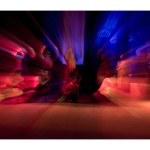 THOSE WHO ORGANISE SUCH A TOUR CAN RECOVER ALL THE COST AND STILL HAVE SOME LEFT FOR THE MEDICAL FACULTY. WHAT THE TAMILS AND THEIR CHILDREN ABROAD WILL BENEFIT FROM SEEING SUCH a PERFORMANCE IS PRICELESS.
On Saturday 15th August the group will perform at Ramkrishna Hall in Wellawatte to raise fund. Please tell all your friends to attend. The cost of the ticket is Rs10,000 but admits two per ticket. Tickets are available at Cargills Food City outlets at Wellawatte, Bambalapitiya and Dehiwale.
Dr.N.Ethirveerasingam
Dr.N.Ethirveerasingam (represented Sri Lanka at 1952,1956 Olympics and winner of Sri Lanka's first Asian Games gold medal in 1958)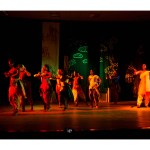 Final Program Details
Alapparungkarunai
Tamil dance drama based on Rabindranath Tagore's play 'Sanyasi' and his poems.
Performed by the Kokuvil Kalabhavanam in aid of the Jaffna Medical Faculty Students' Welfare Fund.
Date: Saturday 15th August at 6.30pm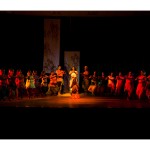 Venue: Ramakrishna Hall, Wellawatte
Tickets Rs.10,000 but admits two per ticket
Available from Cargills' Food City at Wellawatte, Bambalapitiya and Dehiwale