I Am a Sri Lankan and Sri Lanka Belongs to Me – Sampanthan
by 'Ceylon Today,' September 7, 2015
He as a Tamil Leader, keeping in mind the democratic rights of the Tamil people, will be concerned about a resolution to the Tamil Question. Stressing, however, that he is not confined only to the Tamil Question, the octogenarian Sampanthan expressed his interest to work for the well-being of the entire country and all people in Sri Lanka.
Following are excerpts:
How do you feel to be a Tamil Opposition Leader after 32 years?
A: It happened after the result of the parliamentary election. We were the third largest party. The UNP was the first largest and the UPFA was second largest party in Parliament. The UNP and the UPFA formed the government. Everyone who contested against the UNP, contested from the UPFA including the SLFP. When both parties formed the government, they could not be the official Leader of the Opposition. Therefore, it became the right of the next party in Opposition with the largest number of seats and we were in that position. Thus, I became the Leader of the Opposition.
Do you view it as a victory for minorities?
A: No, I don't think it as a victory or defeat for anyone. I'm a Sri Lankan, I belong to Sri Lanka. Sri Lanka is my country and Sri Lanka belongs to me. Therefore, I don't think it as victory or defeat for anyone. My duties will be towards Sri Lanka and all Sri Lankan people, irrespective of who they are, of course I'm primarily concerned with the resolution of the National Question, in a way acceptable to the Tamil people. They are people of this country. They must live as equal citizens in this country. There is a Tamil question that needs to be resolved, which everyone accepts. I as a Tamil Leader with the democratic rights of the Tamil people I'm concerned with the resolution of the Tamil Question. But that does not make my thinking confined only to the Tamil Question. I will be interested in the well being of the whole country and all the people in the country.
How will you ensure the unity among Opposition parties while functioning as the Opposition Leader?
A: If the government proposals are not in the interest of the country, I don't see any difficulty in us uniting to oppose them.
 Late Amirthalingam propagated separatism while functioning as the Opposition Leader, and some fear that you will also follow in the same path. What exactly is your stand?
A: When Amirthalingam came into Parliament in 1977, I also entered in the same year for the first time. Amirthalingam had been there earlier. In 1976, after the enactment of the 1972 Constitution, there had been a resolution adopted in Vaddukoddai for Tamil unity. After the riots in 1983 and after Indo-Lanka agreement in 1987, the demand for separation was virtually abandoned. Under such agreement, we moved in a different direction of sharing powers of governance, between provinces. So the question of separatism came to an end, with the Indo-Sri Lanka Agreement in 1987. Though the LTTE continued an armed struggle until 2009, politically there was no demand by any political party for separation. It is almost more than 28 years since that agreement was signed.

There had been no election fought in this country on the basis of separation after the Indo-Sri Lanka Agreement. Therefore, the present position cannot be compared with the position that prevailed when Amirthalingam became the Leader of the Opposition in 1977. The two positions are very different.
You said politically Tamil parties were not interested in separatism, but your constituent parties EPRLF and TELO were on and off stressing on it, apart from LTTE's armed struggle. How do you justify?
A: No, not now! Not after the Indo-Sri Lanka Agreement. All parties in the TNA accepted the agreement.
As a major Tamil party with 16 MPs in Parliament how are you going to win the rights of the Tamil people?
A: We will engage actively with the government as well as all other political forces in this country to obtain a reasonable, workable and a durable solution. Much work had been done in the past years, during President Premadasa , Chandrika Bandaranaike Kumaratunga, Mahinda Rajapaksa and Prime Minister Ranil Wickremesinghe's time. We have many things on record; we should be able to evolve an acceptable solution.
Tell us how power will be equally devolved according to the new proposal you suggested in Parliament on Thursday (3), in which you highlighted the devolution of power to 3-5 regions?
A: I feel power is centralized too much in the centre in Colombo. Now we have above 90 ministers in a population of 20 million people. India with the population of 1.2 billion people only has 65 ministers of both Cabinet and other ranks. I feel there is too much need for power in Colombo. The functions of ministries are not properly defined. As the power is centralized in Colombo there is a great deal of overlapping and inefficiency. Power should be devolved extensively to the regions, we need not have nine provinces, we can have a lesser number of regions. It can be from 3-5, but at the regional level there should be maximum powers devolved. A person from the region who can fulfil the aspirations of the people of that particular region, economically, socially, culturally and linguistically must be in a position to exercise power. The performance in government should be much more effective and efficient with governance at the regional level, on the basis of 3-5 regions.
 You have compared the power devolving mechanism with our neighbouring country India. However, the current argument among southern politicians is why a neighbouring country like India should be taken as an example. What is your reaction?
A: India is just one example. A similar situation prevails in Canada, Switzerland, America, Africa, Europe and Asia. I spoke about India, as it is our neighbouring country. All of us in this country came from India.
You are a democratic leader; will you advise the Tamil youth that nothing can be won with an armed struggle?
A: We are totally against any kind of violence; we are committed to non violence and peaceful resolution of the national question through dialogues and negotiations.
We are totally against the armed struggle and we will certainly ask our youths to refrain from any violence. We campaigned in public in the course of several elections, for a complete termination of violence and for pursuit of a political solution.
How will you push the government for reconciliation?
A: The government is already being pushed enough; the former government was being obstinate. They were being very obdurate. But the present government is seeing things differently.
What is TNA's current position on the international inquiry on war crimes? Are you still demanding an international investigation? Have you changed to a domestic inquiry? Would you ask for a mixed inquiry like in Iraq or a separate tribunal similar to Serbia?
A: An international inquiry has been held as per the resolution adopted in March 2014, that report should have been published in March 2015, but since the government in Sri Lanka had been changed, and as the government made a special appeal to the UNHCR that the releasable report should be postponed until September on the basis of some commitments made by the Sri Lankan Government. That report will be released in a few days. I would not like to talk about this very much until the report is released.
Unfortunately, the people in this country do not have faith in any domestic mechanism, particularly the victims, due to what happened in the past. The Udalagama Commission, which inquired into grave violation of human rights including assassination of five students in Trincomalee and 17 aid workers in Muthur were assisted by the International Independent Group of Eminent Persons. Over 10 persons from different countries in the world eventually withdrew from their mandate stating the Sri Lankan Government did not have the political will and commitment to investigate grave human rights violations in keeping with international norms and standards. That was the report of the International Independent Group of Eminent Persons and it has not been made public although it was released several years ago. So, the people have no faith in a domestic process and that is due to what they faced. True enough the Government in Sri Lanka is changed, nevertheless people have completely lost faith in any domestic process.
The present Sri Lankan Government is ensuring the international community that it will perform better. So we'll wait and watch the developments.
What was the stand of US Assistant Secretary Nisha Biswal when she met you last month on this particular matter?
A: We discussed everything from a political solution for the Tamil people, missing persons, persons in detention, land issues, resettlement, rehabilitation, livelihood and many other matters. They were all thinking that the present government is adopting an attitude different from that of the previous government and they would expect international standards would be maintained. They would ensure that victims are given confidence that justice will be met. However, she did not indicate the preferences. But we had a full discussion.
Starting from late Appapillai Amirthalingam to Neelan Thiruchelvam Tamil leaders were assassinated by the LTTE for their involvement in following the Indo-Lanka Accord. How you view these assassinations?
A: I'm not prepared to give you any explanation regarding the assassinations of the LTTE. I cannot explain their assassinations, except for the fact that those were very unfortunate and should never have happened.
The Indo-Lanka Accord is still viable?
A: It is an international agreement. It is viable and both countries are still bound by the Accord.
What exactly is the current stand of the TNA on the 13th Amendment? Do you say that the political solution should start with the 13th Amendment?
A: It is part of the political process and the solution that should come about. I'm not saying where it should start and where it should end. The solution should be workable, reasonable and durable.
Are you saying the 3-5 region proposal would be the solution for the national question?
A: I'm not saying it is the solution. We have done a lot of work on this. There are lots of material available. This proposal can be considered as a framework and a foundation. We can discuss things further and move forward.
Now there are various comments that you are old and that you cannot function as a suitable Opposition Leader. What is your comment?
A: I happened to be the leader of my parliamentary group. It is the TNA – Ilankai Tamil Arasu Katchi that won the post of the Opposition Leader. Others are free to have their own views.
BY Mirudhula Thambiah/ Email: / Ceylon Today
Newly appointed Leader of the Opposition, and Tamil National Alliance (TNA) Parliamentary Group Leader Rajavarothayam Sampanthan said, in an interview with Ceylon Today, "I'm a Sri Lankan, I belong to Sri Lanka. Sri Lanka is my country and Sri Lanka belongs to me. My duties will be towards Sri Lanka and all Sri Lankan people, irrespective of who they are".
————————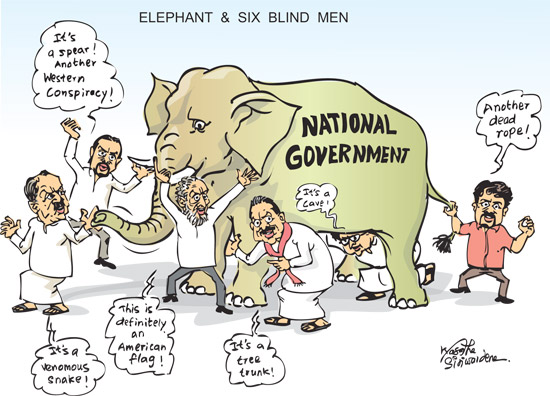 I belong to Sri Lanka
Sri Lanka belongs to me – Opposition Leader R. Sampanthan:
After finding one's way up four flights of the dusty and poorly lit outside staircase to Rajavarothiam Sampanthan's flat in the MP's housing scheme at Keppetipola Mawatha, Colombo, on Friday evening, one cannot but feel for the 82-year-old lawyer-cum-political leader. But, despite the usual health challenges of age, physically frail, the somewhat portly, cherubic patriarch of Tamil politics is not. And this veteran politician remains as mentally astute as he always has been over his decades-long leadership of his community as, relaxing in verti and bush-shirt in his tiny sitting room, he laughs away concerns about his housing inadequacies, and replies probing questions about his outlook as 'Leader of the Opposition' in Parliament.
Excerpts
Q: All these years you have been known as the pre-eminent leader of the Tamils of Sri Lanka, having outlived all those militant leaderships, including the LTTE. As Leader of the Opposition, you will be actually monitoring the work of the Government over the next five years on behalf of not just the Tamils but on behalf of ALL the citizens of the country irrespective of ethnicity, religion or class. Do you see it like that? Will there be any clash of interests between your direct electoral mandate as a Tamil parliamentarian and your required constitutional role as Opposition Leader?
A: I belong to Sri Lanka and Sri Lanka also belongs to me. I have become leader of the opposition as a Sri Lankan Parliamentarian representating all the citizens of this country. There are many vital issues in this country that need to be resolved. I will continue to work for a reasonable, workable and durable solution to the Tamil question. This will be also of significance for the whole polity and all of its people. On all issues, I will work closely with all the parties in the Opposition. We will oppose the Government whenever it needs to be opposed, and we will support the Government on all progressive moves and legislature to meet the urgent national needs.
Q: Although you say you will work with all Opposition parties, there could be issues where the positions of different parties in the Opposition will be too divergent to allow for consensus – especially on the Tamil Question and the issue of power-sharing and autonomy arrangements. Some Opposition parties may oppose Government initiatives in this regard whereas the TNA may wish to support. How could you then function as Opposition Leader?
A: We will always try to build a consensus on issues. But certain issues may never see a real consensus and we should not be delayed by that. We will endeavour to explain and clarify issues and our positions on them as much as possible. In some cases we may have to go along with the greatest collective agreement on a particular issue even if some groups do not agree and choose to remain on the margins. We want to ensure the maximum possible agreement on power-sharing and devolution. If certain forces choose to be difficult, then it is inevitable that the more moderate forces will come together and move forward.
Q: As head of the TNA, in recent weeks you have said that the TNA, even while remaining in the Opposition, is prepared to support a UNP-led coalition government to stay in power. Does not such a position confuse the public about your legitimacy as the main parliamentary 'opposition'?
A. We supported President Maithripala Sirisena's presidency to ensure an end to a very corrupt and dictatorial regime, and we are still committed to sustaining the good governance movement that has been initiated through Mr. Sirisena's victory. The parliamentary elections of August have heralded a further transformation of governance.
Q: In the most recent elections at national level, there has been a more enthusiastic participation by the mass of Tamil voters as can be seen in the voter participation rates in the North and the East. Does this mean that, after decades of sympathy, if not active support for, separatism, the Tamils are now on a different track that excludes secession? Will this be a useful platform for negotiations on power-sharing?
A: It is not very accurate to say that there was active mass support for secession. In fact as far back as in the 1970 general election, the Federal Party (ITAK), in its manifesto, called on Tamils to oppose separatism and to defeat candidates espousing secession. In that election, every candidate who espoused separatism was defeated. It was the enactment of the 1972 Constitution which did not accommodate the reasonable Tamil proposals, that resulted in the Vaddukoddai Resolution of 1976 demanding restoration of Tamil sovereignty.
If the tragedy of the 1983 riots encouraged more sympathy for separatism, the 1987 Indo-Lanka Agreement was a turning point with Tamil sentiment moving away from separatist leanings and an acceptance of devolution within an undivided Sri Lanka. Even in 1977, when the TULF was elected on a separatist platform, the then TULF leader (Appapillai) Amirthalingam, did not cling to separatism. He later moderated his position. Today all communities have realised that violence can get them nowhere, that violence can make things more difficult. The Tamil people today vote overwhelmingly for a platform that advocates a settlement based on an unified Sri Lanka.
Q: But can you say that "all communities" have given up on violence? Isn't it possible to argue that, since the armed forces defeated the LTTE militarily in 2009 (which certainly brought a modicum of stability), there could be many Sri Lankans – especially the Sinhalese – who will feel that violence can and has worked?
A: The military operations against the LTTE, which was a violent movement, cannot be equated with violence against the Tamils. I refer to the violence against innocent Tamil civilians. Today, the lesson has been learnt that it is not the way to deal with the Tamil question. The LTTE's violence was the consequence of the serial failure to resolve the Tamil querstion in engagement with the Tamil moderate leaderships. For example, the non-implementation of the Bandaranaike-Chelvanayagam Pact, the failure of our proposals for the 1972 Constitution, etc.
Q: At a time when the LTTE was claiming to be the 'sole representative of the Tamil people', the TNA was seen to be in coalition with them. Was this a result of coercion? After all the Tigers assassinated many Tamil civilian political leaders.
A: The TNA's engagement with the LTTE was similar to the engagement by successive Sri Lankan governments with the Tigers in efforts to bring about an end to the war. Not only Sri Lanka governments, but foreign governments, international bodies and many NGOs engaged with the LTTE in such peace endeavours. So it was our responsibility to make every effort to engage with them in whatever way possible. It was not easy but we had to try, whatever others may say.
Q: The TNA has chosen to coordinate with the JVP in the Opposition. But in 1987, the JVP was firmly opposed to the provincial devolution mechanism although it later did participate in Provincial Councils. Is it easier to work with them today?
A: There are many groups that took up hardline positions in the past but have realised the complexities and have become far more flexible today.
Q: When you talk of a comprehensive settlement of the ethnic problem, do you have in mind any particular track or format to initiate moves – such as an all-party conference?
A: It is too early to make any indications immediately. Let us see how things develop in the coming months. There are many people and groups all with various useful ideas. There is much to be done.
Q: The UN Human Rights Council meeting comes up this month. There is a constant refrain among some groups about 'war crimes'. How central is this 'war crimes' issue to the resolution of the Tamil question. Isn't the issue of war crimes only one of interpretation of the wide range of human rights violations that occurred during the war? Will this be an obstacle to negotiations?
A: Our objective as the TNA is for a comprehensive settlement of the Tamil question and we will not be distracted just by subsidiary issues. For a comprehensive settlement we first need to establish the truth about what has happened and rectify these issues. Justice must brought to all violations of rights and it should be based on the truth. Those who are found to be responsible, must be made accountable.
Q: Will you attempt to revive the useful parliamentary practice of a Shadow Cabinet? Any idea of appointing shadow ministers to monitor government action?
A: That is a useful practice, but we have to see how the current Opposition coordinates before we can hope to have that kind of sophisticated system of Opposition parliamentary politics.
Q: As Leader of the Opposition, what are your immediate and most urgent priorities at national level?
A: Our priorities in Parliament are the achievement of good governance, the restoration of law and order, an end to corruption, an end to economic waste arising from corruption and poor governance, a redressing of human rights violations and compensation for victims of violence. We want to put the whole system right again.
Q: But what about your electoral mandate to resolve the Tamil question?
A./ The Tamil question is one of the burning issues of the failure of governance and will necessarily be part of the restoration of good governance. That is only one issue at national level.
Q: Northern Province Chief Minister Wigneswaran is a TNA member but seems to be out of synch with the TNA at national level ….
A: Mr. Wigneswaran is a provincial leader with his own outlook on regional affairs. This is a matter of internal party coordination of policy. We are working on that. This is not a political issue.