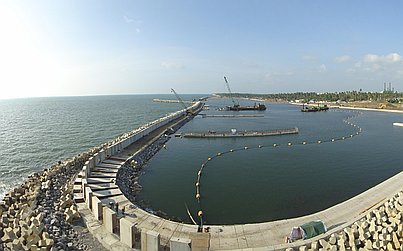 President Mahinda Rajapaksa declared open the Dikkowita Fisheries Harbour constructed at a cost of 850 million rupees this morning on 18 January. It is reportedly the largest fisheries harbour in South Asia situated about 10 kilo metres north of the Capital, Colombo.
The Dikkowita Fisheries Harbour construction project was commenced in 2008 by BAM International. It has been funded by a soft loan of Euro 43 million from the Government of Netherlands and the residual balance provided by the government of Sri Lanka.
The new fishery harbour was constructed to replace inadequate berthing facilities and the infrastructure and services, required for operating the harbour and handling the fish at various locations in the Negombo area. It will also help local fishermen to get to open water without having to negotiate the Hamilton Canal.
Fisheries and Aquatic Resources Development Minister Rajitha Senaratne said that this project was planned during President Rajapaksa was the Minister of Fisheries. However it was abandoned due to lack of funds and government support that time. He also said that this harbour will help increase the fish harvest due to efficient handling operations and reduce the sailing distance and waste due to spoilage. The Dikkowita Fisheries Harbour will provide a large number of direct and indirect job opportunities and attract local and foreign investments in fisheries, the minister added.
"The fisheries sector is the third most important contributor to economic growth in Sri Lanka. It is second only to agriculture and tourism. That is the main reason the President wanted to kick off this project. According to the ongoing investment and development projects in the industry in post- terrorism Sri Lanka, the fisheries industry will become the main contributor to the economy within the next few years. I hope to provide a 50 percent contribution to Sri Lanka's economy at the end of this year by doubling fish exports" Minister Senaratne said.
The harbour has an administration building, auction building, fish processing units, six cool rooms, a ship chandlery, crew quarters/ amenities, a net and glass fiber repair building, a general store with firefighting equipment, a canteen, fuel and water facilities and a slipway. The new harbour is also consisting of two terminals for local and international operations. It is designed to handle a daily catch of 125 metric tons of fish.
The port basin of the harbour spans a breadth of approximately one kilometre with two breakwaters and a quay wall. The harbour basin with a depth of more than six meters could berth 500 vessels in both piers. The new harbour stands on an 8.1 hectare area and has 11.7 hectares for the harbour basin.
Counselor Bas van Noordenne represented the Embassy of the Kingdom of The Netherlands in Sri Lanka. Ministers Rajitha Senaratne, Basil Rajapaksa, Felix Perera, Sarath Kumara Gunaratne, a large number of politicians, dignitaries, officials and local fishing community were present at the occasion.
Pix by: Chandana Perera