Sri Lanka has held a victory parade on the fifth anniversary of the end of its civil war, while stopping Tamils from commemorating their war dead.
Security forces in the north surrounded party offices and religious sites, blocking memorial ceremonies for Tamils killed in the separatist war.
Tens of thousands were killed in the long conflict between government troops and Tamil Tiger (LTTE) rebels.
The UN has backed an inquiry into rights abuses from both sides.
Troops, military planes and paragliders featured in the victory parade in Matara, in Sri Lanka's south, on Sunday.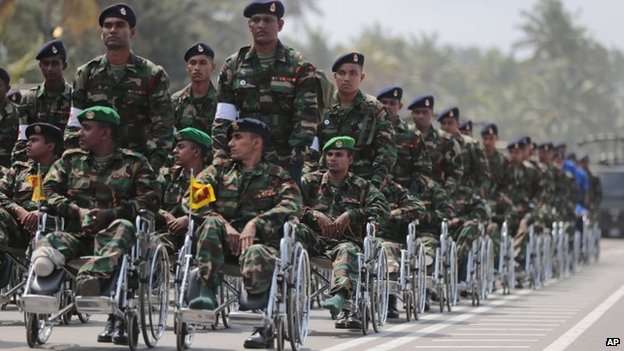 Sri Lankan President Mahinda Rajapaksa said the army had brought stability and freedom to Sri Lankans.
"We are not celebrating victory in a war, we are celebrating peace," he said.
"Irrespective of who opposes this, or who stays away, we will always commemorate this day."
The ceremony was avoided by some Western diplomats, including the Canadian high commissioner who said Sri Lanka should focus on reconciliation.
The security forces, already all-pervasive in northern Sri Lanka, stepped up their presence still further on Sunday, the BBC's Sri Lanka correspondent Charles Haviland reports.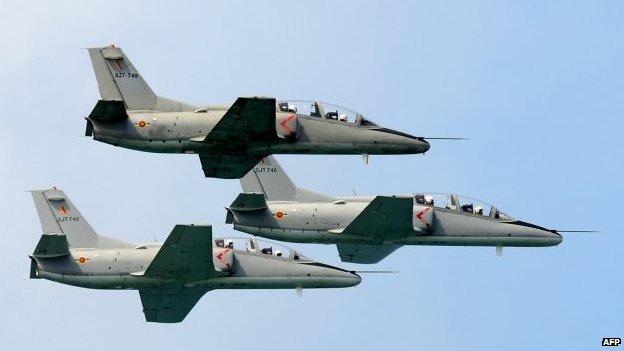 The only gesture that bypassed the ban on memorial ceremonies was by three Tamil politicians who broke coconuts at a major temple, a Hindu religious ritual, and offered prayers at a Roman Catholic church, our correspondent adds.
'Triumphalism'
The parade was criticised by some activist groups and Tamil lawmakers.
The National Peace Council, an activist group, said in a statement: "No wise country celebrates war victory after a civil war."
"Unfortunately in Sri Lanka, the political leadership… continues to indulge in triumphalism celebrating the victory over the LTTE."
The UN estimates that between 80,000 and 100,000 people were killed in the civil war, which lasted 26 years.
It says it believes tens of thousands of civilians were killed in the final months of the war, and that most of the deaths were caused by government shelling.
The government has strenuously denied such allegations and insists they are on the path of reconciliation and rebuilding Sri Lanka's north.