by Sachi Sri Kantha, June 20, 2013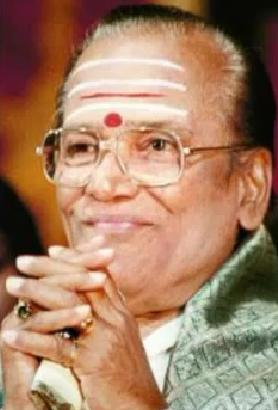 Poets or lyricists provide the substance to their poem or lyrics. But, it is the singer's voice (and to an equal extent the music director or the one who arranges the score) who offers the form for those poems or lyrics. Good examples were the poems of Subramanya Bharathi (1882-1921), the foremost Tamil poet of the 20th century. His verses had substance. But, they were not popular during his lifetime and he died in penury. Only after the Tamil movies came to adopt Bharathi's compositions in 1948, his poems were made popular by the singers who provided the form.
If a Tamilian is asked to name a singer of Tamil songs, Tuguluva Meenatchi Iyengar Soundararajan (1922-2013, popularly known as TMS among Tamils) is the name which springs in the mind of millions of Tamils. Thanks to his long life, TMS invigorated, entertained and soothed three generations of music fans. His death on May 25th Saturday generated numerous elegies to him in the media.
Majestic Quartet
Rather than repeating what had been already presented by others, in this remembrance feature, I make an attempt to compare the career of TMS, with that of his three equally adept contemporaries, namely Tiruchi S. Loganathan, Chidambaram S. Jayaraman and Sirkazhi S. Govindarajan. These three along with TMS forms the Majestic Quartet of Tamil movie playback singers. I present a PDF table which I have compiled for this occasion. I provide these details for four reasons. First, other three (Loganathan, Jayaraman and Govindarajan) had died before internet's emergence and details about their illustrious musical careers are not readily available. Secondly, if not for the competence and rivalry offered by these three, TMS couldn't have blossomed and reached the top. Vamanan, a biographer of TMS, had reported that it was the adamant suggestion of Tiruchi Loganathan not to sing songs at a rate lower than 500 rupees per song for the Thooku Thooki (1954) movie that opened the path for TMS to offer his 'voice' for Sivaji Ganesan, the hero.  Even Sivaji Ganesan had then grumbled that the producers had arranged a lesser known guy for this movie to sing his songs, rather than opting for Jayaraman Pillai who had contributed to his success as the hero in his debut Parasakthi (1952) movie. Thirdly, all four singers by their enchanting styles in diction and delivery brought to life the poems of poet Bharathi's substance. This is not merely Tamil jingoism. But, the Tamil diction of some non-Tamilian singers (especially Ghantasala) leaves much to be desired. As such, I have doubt that other non-Tamilian playback singers could have done justice to poet Bharathi's poems apart from this quartet. Last but not the least, for reasons known only to the authors and contributors on Tamil cinema, the authentic Encyclopedia of Indian Cinema (1999), this majestic quartet of singers have been ignored without any entries on them. Rather, non-Tamilians who had contributed to playback singing for Tamil movies such as S.P.Balasubramanyam, Ghantasala, and K.J. Yesudas do have entries.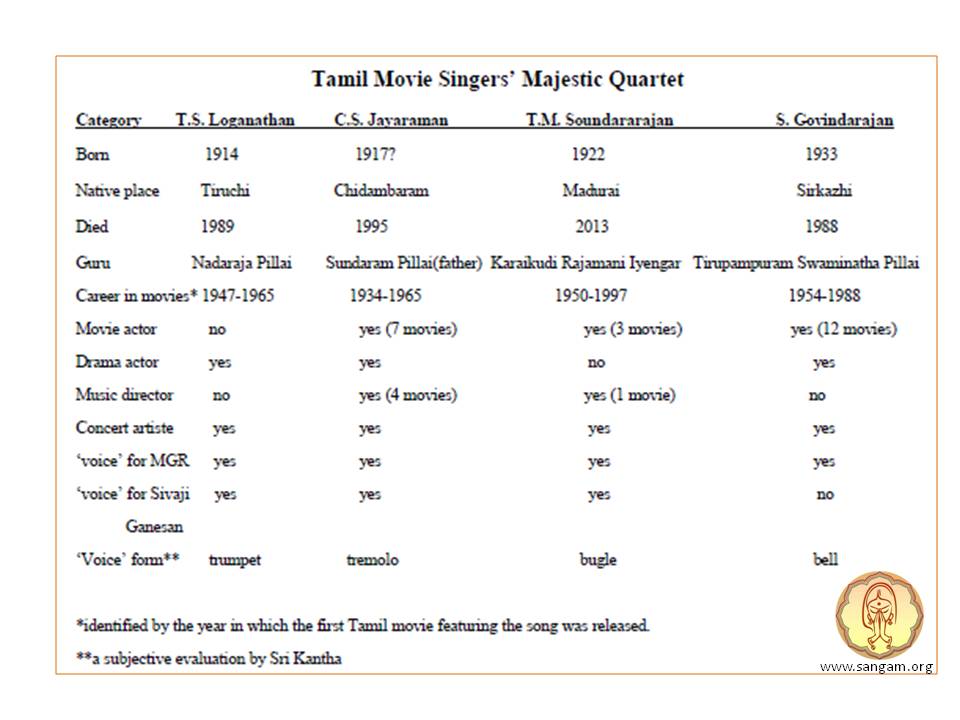 TMS was a Madurai native, though unlike the other three his native place name was not tagged to his name. Other three were identified by their native places. What is common for all four among the majestic quartet was that, they were from historically recognized Hindu temple towns. In tonal quality of their voices, all four were blessed with majesty, individuality and esthetic quality. In my subjective evaluation, I offer the following distinction. Tiruchi Loganathan (the senior most among the four) had a voice like that of a trumpet. Chidambaram Jayaraman had an unusual tremolo voice. The voice of TMS was that of a bugle. Sirkazhi Govindarajan (the junior most among the four) had a voice like that of a ringing bell.
Rasas
Ancient Hindu performing arts recognize eight rasas. A rasa (Sanskrit term, which literally means 'juice' or 'essence') offers the emotional focus for an art form like song, dance and acting. These eight rasas are,
Srngaram (love)
Hasyam (mirth)
Raudram (fury)
Karunyam (compassion, pathos)
Bibhatsam (disgust)
Bhayanakam (horror)
Viram (heroic)
Adbhutam (wonder)
Though each of the four singers of this majestic quartet was able to express these eight rasas adeptly in any number of songs they have sung, among their fans each singer seems to have gained a speciality status in specific rasas. For example, Chidambaram Jayaraman (because of his tremolo voice) came to depict karunyam (pathos) and bibhatsam (disgust) passionately. Sirkazhi Govindarajan's bell-like voice also was specialized for karunyam as well as hasyam (mirth). Tiruchi Loganathan's trumpet like voice was more suited for bhayanakam (horror) and raudram (fury). The bugle voice of TMS was great for srngaram (love) and viram (heroic).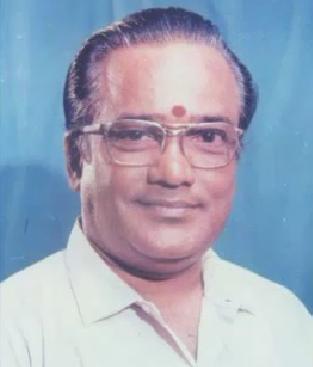 TMS made his debut for a successful MGR movie in 1950 – Manthiri Kumari (The Minister's Daughter), scripted by M. Karunanidhi.  He delivered a powerful rendition of a meaningful song, 'Annamidda Veetile Kannakol Saathave – Ennam konda Pavikal Mannai Poha Nerume' [Those traitors who attempt to steal from their benefactors will be buried in the sand], lip-synched by a villager. But, TMS's name did not appear in the credit roll! The entry on Manthiri Kumari movie in the Encyclopedia of Indian Cinema (1999), refers to this song, as "It is also a landmark in playback singer T.M.Soundararajan's long career."
When MGR and Sivaji Ganesan were the heroes of Tamil movies, from 1950s to 1970s, TMS was the lead singer chosen by the producers as well as film distributors to represent their voices. MGR focused on delivering policy songs (KoLhai padal) and inspirational songs (Unarchi padal) in his movies. Vira (heroic) rasam was dominant in all songs belonging to these categories. Songs such as Achcham Enpathu Madmaiyada (Cowardice is only foolish) in Mannathi Mannan (1960), Naan Aanaiyidal athu Nadanthuvidal (If I command, and if it happens) in Enga Veetu Pillai (1965), Naadu – athai Naadu (The State – would you reach it?) in Nadodi (1966) brim with vira rasam. The songs for Sivaji Ganesan were mostly self-reflective songs that were filled with bibhatsa (disgust) rasam. Songs such as, Poonaal Pohattum Poda (Let it go Why care) in Palum Pazhamum (1961),  Yaarai Nambi Naan Poranthaen (Was I born relying on others?) in Enga Oor Raja (1968), Naalai muthal kudikka maadaen (From tomorrow I'll not drink) in Neethi (1972).
In an interview to the Hindu daily merely a month before his demise, TMS had commented on his singing style to different actors as follows.
"I closely follow the voice of the actors and their tonal modulations when I sing for them. For each actor, I sang in a voice that matched his voice, his persona and the character he played in that particular film. On some occasions I had to bring a melancholic mood, in others, romantic situations, tragedy, comedy. Sometimes I had to make my choice sound masculine, sometimes very youthful or aged. I have done it all according to the situation and the actor. A film singer has to be sensitive to all these things; it's not just a matter of singing in front of a mike. In many instances, I literally used to 'act' while I sang many songs; many of the actors used to come and watch me sing to get a feel of my acting so that they could use it in front of the camera! I think playback singing involves the element of acting too. Most importantly, the actors admired my songs and had great faith in me. My songs helped to lend character to their roles, adding to their charm and intensity, the reason why great actors such as Sivaji and MGR insisted on my singing for them."
I have compared the voice of TMS to that of bugle, the simplest brass instruments without valves or other pitch-altering devices. All pitch control was done by the player's embouchure. The dictionary defines embouchure as the use of facial muscles and the shaping of the lips of the mouthpiece in playing a brass instrument. As revealed above, TMS did use embouchure techniques to alter the pitch and tone of his songs to suit the voice of the actor. This unusual technique made him an exceptional singer.
TMS hit the bull's-eye in 1954. That year, three memorable Tamil movies were released. Malai Kallan (Mountain Thief), an MGR starrer, featured the ever popular song of TMS for MGR, 'Ethanai kaalam thaan emaruvar intha naddile' (How long these guys will be cheating us?). Then, Koondukili (Caged Parrot) – the only movie MGR and Sivaji Ganesan starred together, had a lilting sad melody, Konjum killiana pennai koondu kili aakividdu, keddi melam thatuvathu sariya tappa (Is it right or wrong to make a loving gal parrot into a caged parrot?) set in Sindhu Pairavi raga. Sivaji Ganesan, who played the villain role lip-synched for this song. Then, the songs of Thooku Thooki movie, a Sivaji Ganesan starrer, heralded the arrival of TMS triumphantly and permanently.
Sivaji Ganesan had remembered the songs of this particular movie, as follows:
"The story was based on certain premises and proverbs which went like this: A father is a father when you bring home something. A mother is a mother whether you bring home something or not. A sister is a sister when you lay out the gifts. A wife could possibly kill you. But a friend would lay down his life for you. The story was first made into a play and later made into a film.
More than anything, it was the songs that were important in the film. For almost a year or two, these songs were heard in many villages and this made Thooku Thookki tremendously popular. Lalitha, Padmini, Balaiah and I acted in the film. For the first time, T.M. Soundararajan sang the songs written for me. It was possible to listen to these songs over and over again without getting fed up. I was proud to be part of this musical opera. As I said before, the real star of this film was the music."
Though I did mention Chidambaram Jayaraman and Sirkazhi Govindarajan as masters in depicting the karunya (pathos) rasam, even TMS was equally adept in eliciting this rasam. He brought to life the well-known Bharathi's poem 'Un Kannil Neer Vazhinthaal, en nenjil Uthiram Kodduthadi' (When your eye sheds tear, my heart leaks blood) for Sivaji Ganesan's lips in the movie Vietnam Veedu (1970). Another of my favorite TMS pathos melody was the lullaby song Yen Piranthai Mahane, Yen piranthayo? (Why you're born son, why you were born?) in Baga Pirivinai (1959) for a handicapped Sivaji Ganesan character.  In the same rank was another Kannadasan lyric sung by TMS, Veedu Varai Uravu Veethi varai manaivi (The kin up to home, the wife up to street) in Patha Kannikkai (1962) movie, describing the final journey of a corpse to the grave.
Moreover, in two of the three Tamil movies he acted in early 1960s, TMS played the character role of two Hindu saints of medieval India namely Pattinattar and Arunagiri. Both these saints were prolific Tamil poets. By his acting and singing talent, TMS brought to life the form and substance of the poetry of these two saints as well.
If one has to mention a deficit in TMS's endowed talent, the general consensus was that Chidambaram Jayaraman and Sirkazhi Govindarajan were better concert artistes than TMS. It may be because their repertoire and individual passion were richer. Jayaraman in particular promoted Tamil music per se in his concerts and earned the title Tamil Isai Chittar (Tamil Music Mystic). In my opinion, the Hindu devotional songs of Govindarajan were an order higher than that of TMS. Of course, TMS did contribute his share to Hindu devotional songs and we should be thankful for it.
Other contemporary movie singers of TMS
A few words about other contemporary Tamil movie singers are also in order, to round up the majesty of the voice of TMS. Other than MGR and Sivaji Ganesan, there was Gemini Ganesan (1920-2005), who enjoyed a long career in romantic roles in Tamil movies. Though TMS did sing for this Ganesan as well, more often the 'voice' for Gemini Ganesan's was chosen among other singers like Ghantasala (1922-1974), A.M. Rajah (1929-1989) and P.B. Sreenivas (1930-2013). The last mentioned, Sreenivas died only a month before the death of TMS. The voices of these three non-Tamilians were sweet and soft, but lacked the punch and power for vira (heroic) rasam in which TMS excelled in Tamil.
There were few other singers like A.L. Raghavan, S.C. Krishnan and J.P. Chandrababu who excelled in humorous songs. Two actor-singers (K.R. Ramasamy and T.R. Mahalingam) had wonderful success in late 1940s and early 1950s with their powerful voices, but faded in the latter half of 1950s with the simultaneous rise in the fortunes of MGR and Sivaji Ganesan. Then, in 1969 for his own movie Adimai Penn (Slave Woman) and early 1970s, MGR promoted S.P. Balasubramanyam (a Telugu native) and K.J. Yesudas (a Kerala native) for reasons known only to him. When these two slowly gained a foot hold in Tamil movie world, the grip TMS had in playback singing came loose, partly due to his age.
In sum, TMS had a long life and by his gifted voice earned the admiration of millions of Tamils as the pole star among the Tamil movie singers. Though his mortal remains had vanished, his voice will continue to live in multimedia for long.
Sources
T.S.Narayana Swamy: Autobiography of an Actor Sivaji Ganesan (October 1928 – July 2001), Sivaji Prabhu Charities Trust, Chennai, 2007.
Asish Rajadhyaksha and Paul Willemen: Encyclopedia of Indian Cinema, new revised edition, Oxford University Press, New Delhi, 1999.
Vamanan: Thirai Isai Alaigal, vol.1, Manivasakar Pathippagam, Chennai, 2nd ed., 2004 (in Tamil).
C.S.Venkiteswaran: Timeless melodies (interview with T.M. Soundararajan). The Hindu, April 11, 2013.