A Gotabaya Rajapaksa presidency will have serious repercussions for both Sri Lanka's internal governance as well as its international partnerships.
by Ana Pararajasingham, 'The Diplomat,' Washington, DC, October 23, 2019
On November 16, Sri Lankans will go to the polls to elect their next president. Although more than 30 candidates have nominated themselves, the contest is likely to really be between Sajith Premadsa from the right-leaning United National Party (UNP) and Gotabaya Rajapaksa from the newly founded Sri Lanka Podujana Peramuna (SLPP).
The possible election of Gotabaya Rajapaksa, an alleged war criminal, as Sri Lanka's president is a cause for anxiety both internally and externally.
Rajapaksa's popularity among a significant section of the population is attributable to his victory in the civil war against Tamil separatists. Critics allege that he deployed genocidal violence to achieve that aim.To many Sinhalese, Rajapaksa is a war hero who thwarted the Tamil rebellion which had torn the country asunder. Rajapaksa's role as defense secretary during the final phase of the brutal conflict carried out with Chinese and Indian assistance is viewed as pivotal in the final victory over the Tamils. Not surprisingly, Rajapaksa's main support base is to be found among the hard-line Sinhala Buddhists, who account for well over 75 percent of the population. Then there are others who look upon Rajapaksa as a "strongman" given his ruthlessness during the final stages of the war. That his actions violated international humanitarian law is of little consequence to his supporters and those who believe the ends justify the means.
In addition, the lackluster performance of the current government marked by infighting between the President Sirisena and Prime Minister Ranil Wickramasinghe has caused a significant number of supporters of the right-leaning United National Party and center-left Sri Lanka Freedom Party (SLFP) to switch alliances. The chances of a Rajapaksa victory appear quite high.
Internal Dimensions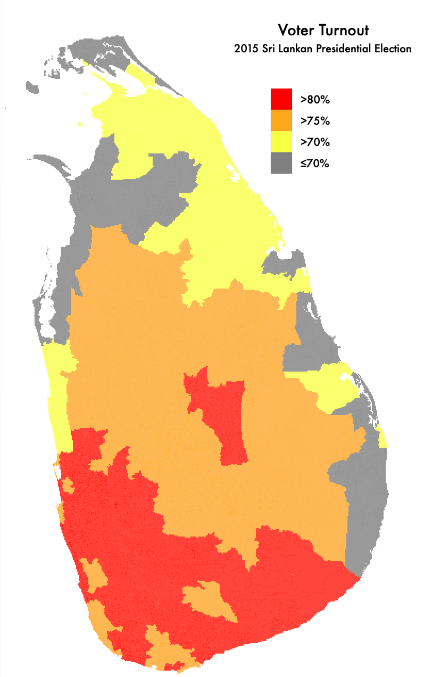 The outcome of the election is bound to have consequences for democracy in Sri Lanka. It has been argued that Sri Lanka cannot be regarded as a democracy but has to be considered an ethnocracy instead. Ethnocracy means "government or rule by an ethnic group" or ethnos, and more precisely rule by a particular ethnos in a multi-ethnic state where there is at least one other significant ethnic group. Within the dominant ethnic group there is democracy, marked by periodic elections, an independent judiciary, and a free media.
Rajapaksa's opposition to a free media is well known. During his time as defense secretary, he is known to have threatened journalists. It has been alleged that he was responsible for the murder of Lasantha Wickramasinghe, a popular journalist and editor of the Sunday Leader which was critical of his conduct of the war. In April 2009 Wickramasinghe's daughter filed a lawsuit in a Los Angeles court seeking damages from Rajapaksa's for his alleged involvement in the assassination of her father. He was also suspected to be behind men in mysterious white vans who whisked away rebel suspects, journalists and other government critics. Some of the abductees were tortured and dumped by the wayside, while others were never seen again.
A Rajapaksa's victory therefore is of considerable concern to many liberal Sinhalese who value freedom and enjoy freedom of expression under Sri Lanka's ethnocracy. As for the Tamils, a Rajapaksa presidency is fraught with trepidation. Should he be elected, it will be despite the opposition to his presidency by Tamils and given his inclination to be vindictive and his credentials as an ultra Sinhala chauvinist, he can be expected to make the current victor's peace being endured by Sri Lanka's Tamils even more difficult.
Then there is also the matter of corruption that under the rule of his brother, Mahinda had become endemic with the four Rajapaksa brothers controlling many government ministries and about 80 percent of total public spending.
International Dimensions
Apart from these internal ramifications of a Rajapaksa presidency, there is the matter of the Colombo-Beijing axis which had caused the United States and India considerable concern. Rajapaksa had declared he would "restore relations" with China if he wins the presidential elections. Both Washington and New Delhi had backed the change of regime that in 2015 prevented his brother Mahinda from becoming president again. Although, the new president has proven largely ineffective, the Colombo-Beijing axis did not pose as much of a threat in particular to Washington, whose interests were taken care by Wickramasinghe, the prime minister and the leader of the UNP.
According to Brahma Chellaney, an Indian political analyst, under a Gotabaya Rajapaksa presidency, a resurgent Colombo-Beijing axis will:
"… extend well beyond the island. Indeed, Sri Lanka could play a pivotal role in the struggle for maritime primacy between China and Indo-Pacific democratic powers (India, the United States, Japan, and Australia). China's "string of pearls" strategy has been encircling India by securing strategic military and commercial facilities along major Indian Ocean shipping lanes… and help China gain strategic supremacy in the Indo-Pacific."
Thus a Gotabaya Rajapaksa presidency has the potential to impact not only Sri Lanka's internal governance but also that of the relationship between Colombo and global powers.
Ana Pararajasingham was Director-Programmes with the Centre for Just Peace and Democracy (CJPD). He is the author of "Sri Lanka's Endangered Peace Process and the Way Forward" (2007) and editor of "Sri Lanka 60 Years of 'independence and Beyond" (2009).