by Journalists for Democracy in Sri Lanka, Europe & International Truth & Justice Project Sri Lanka, South Africa, May 2019
http://www.jdslanka.org/images/documents/2019_may_the_men_%20now_patrolling_sri_lanka_itjp__jds.pdf
On Easter Sunday 2019, a series of coordinated bomb blasts struck hotels and churches in Sri Lanka killing more than 250 people, including many tourists. The targets were churches in Colombo, Negombo and Batticaloa and five star hotels in the capital. The attacks are thought to have been suicide bombings carried
out by a local Islamist group Lanka but Amaq News Agency, a propaganda outlet for the Islamic State of Iraq and the Levant (ISIL), later claimed responsibility. Following the attacks there was considerable fear and panic about whether all the perpetrators had been apprehended and the possibility of further bombings. As a result security was stepped up considerably.
The army is quoted by media sources as saying 10,000 troops were deployed in the wake of the tragic Easter Sunday bombings1. As in the war period, these troops enjoy extraordinary powers to detain any suspect. The re-imposition of the Emergency Regulations confer on the army and police sweeping powers of search and seizure, detention or arrest of any person without a warrant or court approval2. The Emergency Regulations are in addition to existing counter-terrorism legislation, overdue to be reformed to bring it in line with international standards3. Worryingly, there has already been a proposal for an immunity provision from prosecution for the Sri Lankan military and especially intelligence services4. Shockingly, this call comes from a number of senior military figures who were involved in the 2009 war and who have yet to be held accountable for the alleged war crimes they committed then.
This is a short dossier examining the background of the army commanders currently in control of the deployment of thousands troops in Sri Lanka engaged in the search and seizure of homes and buildings, enforcing curfew and patrolling civilian areas. While the situation in Sri Lanka after the Easter bombings is
extremely tense and more security is needed to prevent any further attacks, there is also a need to ensure that the Rule of Law is maintained and that the human rights of all are secured. This question is relevant because the current legal framework in Sri Lanka and the heightened security environment creates a situation
where abuses of human rights may occur if there is not careful oversight and control of those who are responsible for the protection of civilians.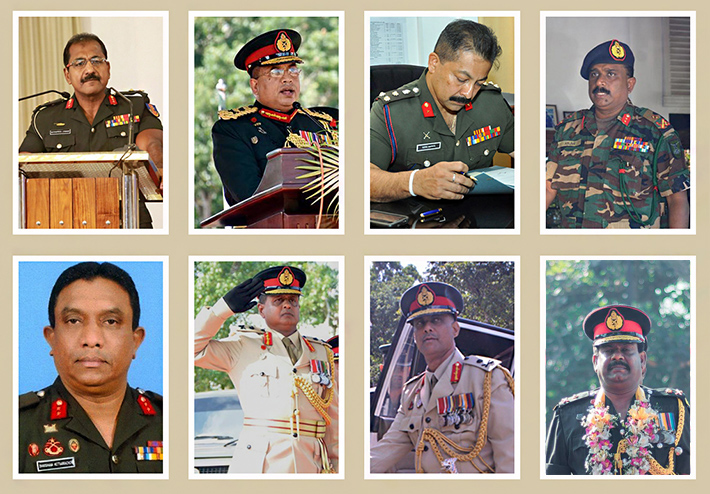 Several of the army generals now in charge of deployments played a pivotal role as commanders in the final phase of the civil war in the north of the island when there were grave violations of international humanitarian law and human rights. Two are even named in the 2015 investigation report of the United Nations Office of the High Commissioner for Human Rights5. One was in charge of the "rehabilitation programme" for Tamil suspected ex combatants, which the UN subsequently said constituted arbitrary detention. Two others were present as commanders in Haiti during the years when there was systematic child sexual exploitation by Sri Lankan peacekeepers there.
DEPLOYMENTS
After the Easter Sunday bombings, an Overall Operations Command (OOC) of the army, navy and air force and the police was established on 29 April 2019, with Major General Sathyapriya Liyanage, the Security Force headquarters – West (SFHQ-W) commander, as its chief6. This new body reportedly has jurisdiction over the Western Province and Puttalam7. It reports to the Chief of Defence Staff, Admiral Ravindra Wijegunaratne8, who was arrested in 2018 and released on bail, on charges of assisting an absconding naval officer who was a suspect in a court case regarding the abduction and enforced disappearance of 11 people in 2008-9. The Admiral was also alleged to have threatened a witness in the case9 and in statements contained in the court documents he is alleged to have given money to the absconding suspect who was at the time hiding from the police in naval headquarters10. Astonishingly he is still serving as Sri Lanka's most senior security officer in 2019 and on 23 April was briefing diplomats in Colombo on the security situation after the bombings11.
Before this appointment, media reports say Major General Liyanage had already deployed 37 officers and 1,783 soldiers to provide security to churches and religious places in the Western Province12 and to do foot, vehicle and static patrols in all major cities and suburbs. Similar numbers of troops have been reportedly deployed by Major General Aruna Jayasekara, Commander of the Security Force Headquarters – East, by Major General Kumudu Perera in charge of the SFHQ-Wanni and by Major General Vijitha Ravipriya in charge of the the SFHQ in Kilinochchi and Major General Darshana Hettiarachchi in Jaffna and Major General Dushyantha Rajaguru in Mullaitivu SFHQ and elsewhere the SFHQ-Central and the 53 Division and the 58 Division13.
Haiti
Two of the eight regional headquarters commanders were deployed in Haiti as deputy commanders of Sri Lankan peacekeeper units in the three years when a United Nations investigation later found there had been systematic rape and sexual exploitation of children by multiple Sri Lankan units in multiple locations between 2004 and 2007. A third officer was part of the Sri Lankan team sent to investigate the same allegations in 2007 when they became public. More than a decade later there has been no transparency or criminal accountability for the 125 soldiers repatriated from Haiti to Sri Lanka in 2007 in connection with these very serious allegations. To date not one soldier was held accountable or spent time behind bars despite the gravity of the allegations. We do not know how many of the officers in command positions from 2004-7 were investigated, disciplined or even retrained after serious crimes involving children occurred.
Final Phase of War
At least three of the officers currently deploying soldiers were instrumental in the final phase of the war in Sri Lanka in 2008-9. These men commanded units that were responsible for alleged violations of international human rights law and international humanitarian law (including attacks on civilian objects such as hospitals, churches and food distribution points, summary executions, torture, sexual violence and enforced disappearance) as documented by the United Nations, and as such they should have been vetted for further positions in accordance with Sri Lanka's 2015 commitment to the UN Human Rights Council to screen and vet all public and security officials.
"Rehabilitation"
One of the eight officials was in charge of the "rehabilitation" of thousands of Tamils suspected to have been members of the Liberation Tigers of Tamil Eelam. The UN Working Group on Arbitrary Detention in a 2018 report described this "rehabilitation" programme as amounting to illegal detention and recommended the Government of Sri Lanka apologise to those held and offer them reparations. To date, this has not happened.
CONCLUSION
Under UN Resolution 30/1, Sri Lanka promised to vet and also hold accountable security officials involved in the 2009 war. This never happened. Now the officers profiled in this dossier are entrusted with enormous power over civilians once again even though they were previously in command of operations that failed to protect civilians in the war zone, failed to protect vulnerable children for whom they had a duty of care and in one case oversaw the arbitrary detention of suspects held illegally. This poses an enormous potential risk to rule of law.