by Anuradha Srinivasan, Chennai, December 6, 2020 
Ezhunthu Vaa Baalu, the harmonium player called out to his friend, who was catching up on the cricket score on his radio backstage.
The jovial young man took the mic with a smile and sang breezily as his friends on the harmonium and guitar wove in and out of a popular Hindi song.  The audience, used to only Tamil numbers at concerts, was delighted to hear popular Hindi songs being belted out flawlessly by the music troupe.  As the song reached a crescendo, the young man's fast notes matched pace with the deft fingers of the harmonium-player and the guitarist.
The deafening applause was a sign of things to come. The people in the audience did not know it then, but they were witnessing legends-in-the-making.  Sripathi Panditharadhyula Balasubrahmanyam, the young singer with a melodious voice, Ilaiyaraja on the harmonium, and Gangai Amaren on the guitar, would together bring about a musical revolution of sorts in Tamil movies!
S P Balasubrahmanyam or SPB as he was fondly known was born on 4th June 1946 in Nellore, present-day Andhra Pradesh to a musically-inclined family. His father S.P. Sambamurthy was a popular Harikatha exponent who also dabbled in theatre. His sister S.P. Shailaja was also a singer. Despite having no formal training in music, SPB was keen to practise and perform from a young age. Hailing from a middle-class family, the need to support his family meant that music was relegated to a hobby and SPB enrolled in an engineering college. Luckily for the world, music followed him even in college and he soon dropped out. He started performing on stage and slowly put together a group of talented artists who toured South India. The soothing melody Nilave Ennidam Nerungadhey, originally sung by P.B. Sreenivas, was his ticket to the world of playback singing. His beautiful rendering of this beautiful melody at auditions helped him get a break in a Telugu movie and he sang his very first song "Emi Ee Vinta Moham" alongside established singers like P Susheela and P.B Sreenivas. His first Tamil song, Athaanodu Ippadi Irundhu Ethanai Naal Aachu, recorded with L.R. Eswari, The film was unfortunately was never released. His next song Ayiram Nilave Vaa, from the movie Adimai Penn sung for the legendary actor M G Ramachandran (MGR), was SPB's first big hit in Tamil.
SPB's versatile voice and his enthusiasm to try new things helped him cross all barriers – of genres, language, or age.
He was as much at ease singing compositions with a classical base, like Vedham Anuvilum Oru Naadham, as he was singing rock-and-roll or western-influenced compositions like Rum Bambam by Ilaiyaraja or Kadhalikkum Pennin Kayyil, by A R Rahman.
The story of how SPB finally sang for his old friend, the Maestro Ilaiyaraja, plays out almost like a movie. Starting from humble origins, their music troupe quickly established itself and helped SPB as much as Ilaiyaraja learn from each other and grow musically. When Ilaiyaraja started composing for films, he first reached out to his good friend SPB. Twice he called SPB for recording a song, and both times SPB fell sick with a sore throat, even after being warned by Ilaiyaraja to take good care of his throat before the recording session. It took a few more movies and a few years before SPB laughingly made his way into Ilaiyaraja songs, and made them his own.
The SPB-Ilaiyaraja singer-composer duo was a roaring success through much of the 1980s and early 90s, giving us unforgettable songs like Sundari Kannal Oru Seidhi, Maankuyile Poonkuyile, Ilaya Nila and so many more! Love songs, folk music, romantic melodies, soulful tragedies…when we thought there was nothing more he could surprise us with, SPB took our collective breath away as he held his breath and sang Mannil Indha Kadhal with barely any pauses.  
The 90s and early 2000s belonged to the SPB-A.R.Rahman pair. We could feel the fresh crisp mountain air with Kadhal Rojave, while the love-struck drawl of Thanga Thamarai Magale made us doubt our own ears and was yet another avatar of the versatile singer.
With the 2000s came a new crop of music directors and a fresh sound that incorporated more electronic influences. SPB handled the transition with his usual nonchalance. Vidyasagar's Malare Mounama, Yuvan Shankar Raja's Mun Paniya and later Anirudh Ravichander's Marana Mass were sung with a freshness that belied his age and experience.
SPB sang in over 16 languages and many of his songs were relished by fans cutting across linguistic boundaries. His forays into Hindi cinema were a huge success. Ek Duje Ke Liye, a remake of the Telugu movie Maro Charitram, defined love for a whole generation.  When Kamal Hassan sang Mere Jeevan Sathi in SPB's voice in a locked elevator, every young girl wished she were Rati Agnihotri. The movie fetched SPB a Filmfare Award for Best Male Playback Singer. SPB became the voice of the then upcoming Bollywood star Salman Khan, with evergreen songs like Dil Deewana (Maine Pyar Kiya), Bahut Pyar Karte Hain (Saajan), and many more. Who can forget Salman Khan crooning to Madhuri Dixit in Hum Aapke Hain Koun, a movie which flowed from one SPB song to the next like a big fat Indian wedding garland.
SPB's inexhaustible love for music found new avenues for expression.  He debuted as a voice actor with the legendary director K.Balachander's Manmadha Leela, dubbing in Telugu for another legend, Kamal Hassan. Soon, he became Kamal Hassan's voice in many Telugu movies. He forayed into movies, dabbled in TV production and acting, recorded bhajans and shlokas for temples, and celebrated everything life had to offer.
He revelled in his dream project in yet another avatar as a composer for the musical drama Sigaram, painting each song with love, sadness, joy, peace and ultimately, love. Idho Idho En Pallavi is a very popular song from the movie. The astonishing number of songs he sang for other composers, his voice acting assignments and his gruelling concert schedule, he still managed to steal time and compose music for over 45 movies. It is our collective loss that SPB could not devote more time to composing.
SPB was a simple man, a rarity in today's social-media obsessed world. With all his achievements, he continued to respect the art form that gave him so much love, adulation and fame. He would invariably rehearse before concerts, even if he had sung the song a hundred times before. He never took any song, or the audience, for granted. He stuck to the old-fashioned tape recorder and Walkman to practise a new song, taking not more than 20 minutes on average to learn the tune! SPB abhorred the modern practice of singers recording a song punching line-by-line, which would then be integrated with the background music using technology. He recorded songs in one go, and preferred personal discussions with musicians and composers.
For him, music was paramount, and he would not only sing for new composers without reservation, he would also introduce upcoming singers and encourage them on public platforms.
When not composing or singing, SPB loved to watch cricket matches and he would often be found backstage between songs, checking out the latest score.  Through his charities, he supported many musicians from erstwhile music troupes which had dwindled in popularity after stereos and the Internet made music instantly accessible.
60 years. 40,000 songs. 16 languages and 6 National awards. Padma Bhushan. Padma Shri.  In a career resonating with the sound of success, his biggest achievement was retaining his humility, humanity and his smile through everything life had to throw at him.
Even in hospital, battling with the deadly coronavirus, SPB never lost his enthusiasm for life. He recorded a clip describing his symptoms, advising people to be careful, with his trademark smile and optimism. His friend Ilaiyaraja expressed all our hopes as he exhorted his friend in a moving message- Ezhunthu Vaa, Baalu.
Unfortunately, the voice that had made millions of people love and laugh over 6 decades fell silent in September 2020. The man who pushed the boundaries of breath control, lost his breath finally. S P Balasubrahmanyam passed away on September 25, 2020 due to Covid-related complications.
Indha Dhegham, Maraindhalum, Isaiyaal Malarven sang the legend prophetically in the famous song, Sangeetha Megham.
He continues to live through his music; through the emotions each one of us felt as we grew up and grew into his songs; through newer generations as they discover and revel in his music; and through his enormous contribution to art and humanity.
Some classic SPB songs that are evergreen –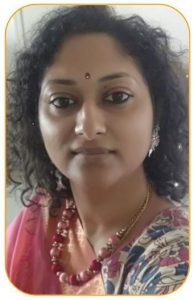 Bio
Part-time writer and full-time dreamer, Anuradha Srinivasan has worked in the private and public sector for over 20 years before deciding that writing and historical research are what define her.  Anuradha has written short stories and developed content for websites. She has a flair for languages and is fluent in over five languages, Indian and European. Anuradha is also learning how to decipher and preserve ancient inscriptions in India through a specialised study of manuscriptology, palaeography and conservation.
Based in Chennai, she loves going on long walks, understanding our past and of course, writing stories and articles.
Bibliography
https://www.thehindu.com/entertainment/movies/sp-balasubrahmanyam-the-end-of-an-era/article32695994.ece
SPB interview about his first unreleased song in Tamil https://www.youtube.com/watch?v=S3K9Z50_QnM&list=RDS3K9Z50_QnM&start_radio=1
Private conversations