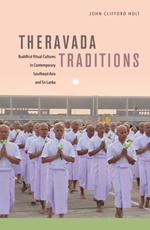 Buddhist Ritual Cultures in Contemporary Southeast Asia and Sri Lanka
by John Clifford Holt, University of Hawai'i Press
408pp. March 2017
Cloth – Price: $68.00
ISBN: 978-0-8248-6780-5
Theravada Traditions offers a unique comparative approach to understanding Buddhism: it examines popular rituals of central importance in the predominantly Theravada Buddhist cultures of Laos, Sri Lanka, Thailand, Myanmar, and Cambodia. Instead of focusing on how religious ideas have impacted the ideals of government or ethical practice, author John Holt tries to ascertain how important changes, or shifts, in the trajectories of the political economies of societies have impacted the character of religious cultures.
Each of the five chapters focuses on a particular rite and provides detailed historical, political, or social context: Holt shows how worship of the Phra Bang Buddha image in the annual pi mai or New Year's rites in Luang Phrabang, Laos, has changed dramatically since the 1975 communist revolution and the subsequent opening up of the country to tourism; he describes how, in the face of insurrections and a prolonged civil war, the annual asala perahara processions in Kandy, Sri Lanka, have come to reflect a robust assertion of a Sinhala Buddhist nationalist identity; how ordination rites among Thai Buddhists reflect the manner in which Thai culture has been ever more "commodified" in the context of its dramatically developing economy; and how in tightly controlled Myanmar the kathina rite, the act of giving new robes to members of the sangha after the completion of the rain-retreat season, transformed into a season of campaigning for gift-giving and merit-making; finally, he demonstrates how, in light of the devastating losses inflicted by the Khmer Rouge, pchum ben, the annual rite of caring ritually for one's deceased kin, became the most popular and perhaps most emotionally observed of all rites in the Khmer calendar year.
In short, Theravada Traditions illustrates how popular, public ritual performance, far from being static, clearly indexes patterns of social and political change. Broad but deep, rigorous yet accessible, this rich, innovative volume provides a provocative introduction to the practice of Theravada Buddhism and the nature of social change in contemporary Sri Lanka and Southeast Asia.
56 b&w illustrations, 3 maps
John Clifford Holt is a professor at Bowdoin College, Maine
---
Buddhist Extremists and Muslim Minorities: Religious Conflict in Contemporary Sri Lanka
Proposes an alternative view of Muslims where, unlike in the Middle East, they are the victims of majoritarian politics
Discusses events that invert the common stereotypes of Buddhists as pacifists and Muslims as violent jihadists
Paperback
Published: 31 October 2016
Oxford University Press
256 Pages | 5 illus.
ISBN: 9780190624385
Introduction
By John Clifford Holt
1. Sinhala Buddhist Nationalism and Muslim Identity in Sri Lanka: One Hundred Years of Conflict and Coexistence
By M. A. Nuhman
2. Rethinking Muslim Identity in Sri Lanka
By Dennis B. McGilvray
3. Refuge in the State: Buddhist Monks and Virtuous Governmentality
By Jonathan A. Young
4. Configurations of Buddhist Nationalism in Modern Sri Lanka
By Benjamin Schonthal
5. Gossip, Rumor and Propaganda in Anti-Muslim Campaigns of the Bodu Bala Sena
By Kalinga Tudor Silva
6. Adjudicating Antiquity: The Politics of Historical Confrontation at Devanagala, Sri Lanka
By Philip Friedrich
7. Stories in the Aftermath of Aluthgama
By Farzana Haniffa
8. A Religious Syntax to Recent Communal Violence in Sri Lanka
By John Clifford Holt

Bibliography
Notes about Contributors
2009 brought the end of the protracted civil war in Sri Lanka, and observers hoped to see the re-establishment of harmonious religious and ethnic relations among the various communities in the country. Immediately following the war's end, however, almost 300,000 Tamil people in the Northern Province were detained for up to a year's time in hurriedly constructed camps where they were closely scrutinized by military investigators to determine whether they might pose a threat to the country. While almost all had been released and resettled by 2011, the current government has not introduced, nor even seriously entertained, any significant measures of power devolution that might create meaningful degrees of autonomy in the regions that remain dominated by Tamil peoples. The Sri Lankan government has grown increasingly autocratic, attempting to assert its control over the local media and non-governmental organizations while at the same time reorienting its foreign policy away from the US, UK, EU, and Japan, to an orbit that now includes China, Burma, Russia and Iran. At the same time, hardline right-wing groups of Sinhala Buddhists have propagated-arguably with the government's tacit approval-the idea of an international conspiracy designed to destabilize Sri Lanka. The local targets of these extremist groups, the so-called fronts of this alleged conspiracy, have been identified as Christians and Muslims. Many Christian churches have suffered numerous attacks at the hands of Buddhist extremists, but the Muslim community has borne the brunt of the suffering.
Buddhist Extremists and Muslim Minorities presents a collection of essays that investigate the history and current conditions of Buddhist-Muslim relations in Sri Lanka in an attempt to ascertain the causes of the present conflict. Readers unfamiliar with this story will be surprised to learn that it inverts common stereotypes of the two religious groups. In this context, certain groups of Buddhists, generally regarded as peace-oriented , are engaged in victimizing Muslims, who are increasingly regarded as militant , in unwarranted and irreligious ways. The essays reveal that the motivations for these attacks often stem from deep-seated economic disparity, but the contributors also argue that elements of religious culture have served as catalysts for the explosive violence. This is a much-needed, timely commentary that can potentially shift the standard narrative on Muslims and religious violence.