by Kithsiri Wijesinghe, Journalists for a Democratic Society, Germany, February 20, 2017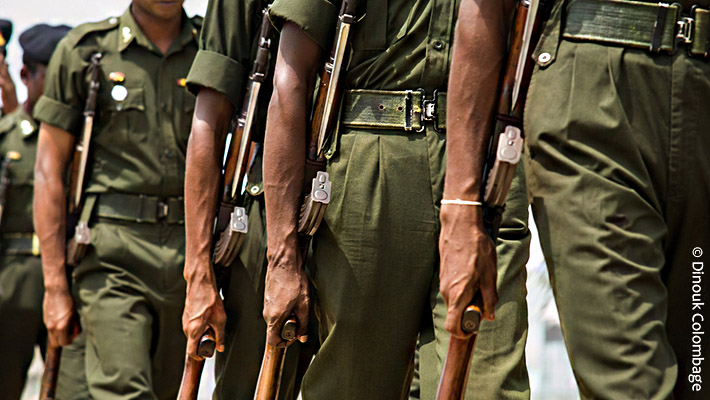 "A senior officer came into the room and was asked to take his pick, like we were meat in a meat market.  He looked around and chose me.  He took me to another room and raped me"
Shocking details of the Sri Lanka military holding women as sex slaves in rape camps have been handed over to the United Nations.
In a report made public on Monday (20),  International Truth and Justice Project (ITJP) quotes three female victims who charge of being detained alongside others for prolonged periods by the military and used as sexual slaves.
"Two of the women describe being detained in a group in one room, available for any soldier to come and chose from and take to an adjacent room or tent to be raped," says ITJP.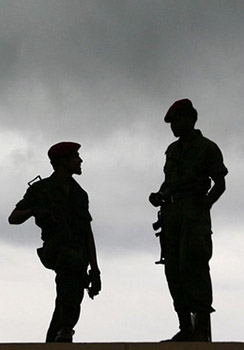 "The third woman was kept in a cell alone in the pitch dark for 6 months but heard other women next door screaming."
Camp in the capital
They had been held four distinct sites.
One near Vavuniya, one near Puttalam, one in Colombo itself and one outside Colombo but not in the North or East.
ITJP has submitted its findings to the UN Committee on the Elimination of Discrimination against Women (CEDAW), which meets in Geneva with official delegates from  Sri Lanka this week.
The report also has documented other forms of torture including sexual violence allegedly committed by the military and police.
ITJP says that its submission is based on detailed testimony from 55 women describing torture and horrific sexual assaults while held in state custody.
Details of perpetrators
48 of the victims had been detained under the Government of former President Mahinda Rajapaksa and 7 of them under the new Government of President Maithripala Sirisena.
ITJP has also provided details of six military men including a major and a leiutenant colonel who are alleged perpetrators of rape and torture in the military.
"When it meets on 22nd February in Geneva, we expect CEDAW to share this information with the Sri Lankan Government and request that they immediately suspend the six officers pending a credible investigation," said ITJP's Executive Director, Yasmin Sooka.
"This Government ke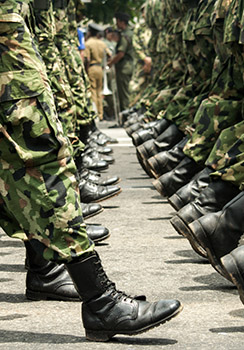 ep on asking us for the names and addresses of the victims; through CEDAW we are passing on information regarding alleged perpetrators so let's see if the Government is really serious about justice. Our report sets out all the steps they should take; CEDAW can monitor their progress".
However, impunity is systemic and entrenched in Sri Lanka as the government lacks the political will to bring these individuals to account says ITJP in its submission to CEDAW.
'Only 18 incidents' GoSL
Sri Lanka denies that its armed forces are engaged in systematic sexual violence.
It has told the UN that only 18 incidents of sexual violence by security forces  have been reported from the war affected region since 2007.
"During the conflict period (January 2007-May 2009), 7 Security Forces personnel were reported to have been involved in 12 incidents of sexual violence in North and East areas. In the post conflict period (May 2009-May 2012), 10 Security Forces personnel were reported to have been involved in 6 incidents of sexual violence in the North,"  says the government report to CEDAW.
However,  the report does not clarify whether any investigation has been conducted and the perpetrators have been punished.
Nevertheless, ITJP says that it has recorded ongoing sexual violence by Sri Lanka Armed forces as recent as 2016.
ITJP report here: ITJP Public-Submission-to-CEDAW-2017 Part 1
Other reports to CEDAW available at http://tbinternet.ohchr.org/_layouts/treatybodyexternal/SessionDetails1.aspx?SessionID=1071&Lang=en
Webcast of Feb. 22, 2017 at http://webtv.un.org/