D

ifferent interpretations of Islam by Thawheed and traditional school divide the community
by Chris Kamalendran, Asif Fuard and cameraman Saman Kariyawasam in Kattankudy, The Sunday Times, Colombo, August 9, 2009
The tiny coastal village of Kattankudy, a ten minutes drive from the eastern capital of Batticaloa, lies in a picturesque setting. Its boundaries hug the sea on one side and the lagoon on the other.
The predominantly Muslim locality, with a population of less than 50,000, has drawn world attention for its highest density of population in Asia. Twenty-three years ago, it held the record for the highest birth rate in Sri Lanka.
If dwellings stand cheek by jowl in two or three storied homes, the empty spaces are mostly paddy fields. That is the main source of income followed by fishing. In recent years, the handloom industry has grown. Showcases in shops overflow with colourful garments, shoes and a variety of other items. Outlets for used motor vehicles and motor cycles add to reflect the new prosperity.
The busy streets become busier during nights with vendors selling finger food of all sorts – samosas, cutlets, pickled olives and fried fish to name a few. Black coffee, with a close resemblance to the Arabian gahwa, is a favoured beverage than tea. Saruwath stalls that serve a concoction of sugar syrup, water and colouring topped with ice are ubiquitous. There are crowds all-round.
Beneath the seeming calm and the hive of activity, lies a boiling cauldron. It is heating up threatening to spill into sectarian violence within the Muslims. The reasons, unlike the July 24 incidents in the village of Mahagoda in Beruwala, are not ideological alone. There, a Moulavi (cleric) of the Masjidur Rahman, belonging to the now well-known Tawheed group, preached a Friday (Jumma prayer) sermon, which, a rival group alleged, provoked their devotees – devotees of the neighbouring Bukhari mosque.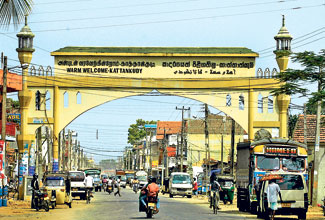 The gateway to Kattankudy, a hotspot of intra-religious tension.
Both these groups are Sunnis, to which sect the vast majority of Sri Lankan Muslims belong. However, many Sri Lankan Muslims are the followers of the traditional Islam as against the newly-growing Tawheed group, which claims to practise the same religion in its "purest form." The Thawheed group abhors some of the practices of the traditional school. The dispute led to the July 24 attack on the Masjidur Rahman in Beruwala. Two people were killed and more than 40 wounded, prompting the Police to arrest 132 persons.
They now await trial.However, Kattankudy is a kaleidoscope murkier and multi-faceted. Besides the ideological war, the resort to violence, threats and intimidation through arms and kidnappings highlight an increasingly disturbing picture. It has alarmed the security authorities and Muslim community leaders alike. Many academics, professionals and even ordinary citizens are aware of the goings on but do not want to speak. Some fear reprisals whilst others are too embarrassed.
Underscoring this concern are remarks of Dr. S.M.M. Ismail, Vice Chancellor of the South Eastern University. He said, "It is very difficult to comment about the present situation and the tension within the groups. Also it is a very sensitive subject."
Sharpening the ideological divide between the puritanical Thawheed and their rivals, the passive traditional followers, was the recently-concluded separatist war by Tiger guerrillas. On August 4 1990, a thirty strong group of guerrillas attacked a mosque in Kattankudy during Isha (night) prayers, killing 147 Muslims prostrating before Allah (God). Successive governments thereafter began to train and arm the Muslim villagers.
Thirty-two-year-old Mohamed (nom de guerre since he did not wish to be identified), once rich and now a textile hawker, told the Sunday Times, "I was one of the first batches of 300 recruits enlisted. After the Police screened our names, we received weapons training for 35-days at a location in Mannar.
Thereafter we functioned as Home Guards and carried assault rifles." At least two others related similar tales.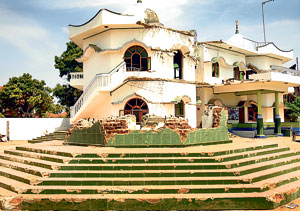 The damaged mosque of a Sufi order or traditional Islam
"Members of the Thawheed group destroyed two of my houses in Kattankudy in December 2006. I ran a motor spare parts shop. Stocks worth Rs 4.5 million were lost. In fear, I left the area and now live in Dehiwala," said Mohamed.
The Eastern Provincial Council elections last year became a turning point. Muslim villagers alleged that armed groups from the Tamil Makkal Viduthalai Pulikal (TMVP or Tamil People's Liberation Tigers) had begun attacks on them. The TMVP, on the other hand, blamed it on the Muslim group. For security authorities in the East, this was a delicate issue since TMVP candidates contested on behalf of the ruling party. Some of the Muslim Home guards engaged the TMVP cadres and vice versa. Bitter clashes ensued. In the process, most of the Muslim Home Guards deserted ranks with their weapons.
Sections of these fleeing Home Guards styled themselves as Jihad to fight an unusual religious war. The word Jihad in the Islamic lexicon means a holy war waged by Muslims against infidels. However, in this instance, the men linked to the Thawheed group, treated members of their own community, the traditional followers as "infidels" or as they call it "Kafir" (a non-believer of the truth). Thus, a campaign of terror against the traditional followers of different sects, their customs and practices became the order.
Fowzul Ameen (47), a businessman from Kattankudy, was forced to leave the area. He tells the story: "In December 2006, Jihadi militants exhumed the body of their spiritual leader of Tharikathul Mufliheen, a traditional group, from his grave in a mosque. They damaged more than 117 houses in the area and threatened to gun down the devotees if they do not follow the teachings of their sect." In this instance, Thawheed was opposed to the concept of shrines.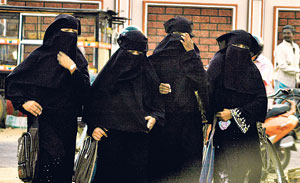 Return to Islam: But to which Islam?
He said, two years earlier, Jihadi militants together with Thawheed clerics had destroyed a library and a meditation centre at Deen Road, Kattankudy. Around 20 houses of the traditional followers were destroyed. "We do not believe in propagating Islam with a sword or a gun. This is against Islam and we have been a peaceful community of Muslims. We are now helpless in the wake of the Thawheed-backed Jihadi group," he said. He charged that the group had burnt two of his houses in Kattankudy.
On July 31, this year, a Thawheed group allegedly abducted Moulavi Mohamed Rizvi who was on his way to the Oddamavadi Grand Mosque. He was taken blindfolded to an unknown location, beaten up and had his beard shaved. The cleric was questioned about remarks he had made a week earlier against the Thawheed group. The Islamic cleric was freed two days later. He did not show up at his mosque for Friday Jumma prayers and has now taken shelter outside the village. DIG (Eastern Province) Central, Edison Gunatillalke confirmed to the Sunday Times that members of the Thawheed group were interrogated but declined further comment. The inquiries were proceeding, he said.
Last Wednesday, Abdul Samad alias Kaju Samad, described by Police as a procurer of weapons for the Jihad group, was found dead in Eravur. Police said he had gunshot injuries. He had been "abducted and killed" by an "unidentified group", they claimed. Residents in the locality declined to speak about the incident.
Fear of possible attacks on mosques where non-Thawheed devotees gather has led to tight security. We saw both Army and Police Special Task Force (STF) commandos stand guard outside the Badriya Jumma Mosque in Kattankudy. They were on duty to prevent any possible attacks from the Thawheed group. Large crowds had turned up for a flag hoisting ceremony in honour of Sheikh Kwajah Syed Mohinudeen, (a saint buried in Ajmeer in India). There are 42 mosques in Kattankudy.
"You cannot force religion down anyone's throat," the Moulavi of this mosque Mohamed Rauf told The Sunday Times. On November 7, 2006, Jihadi gunmen allegedly fired 35 rounds from an assault rifle to kill him but he escaped. He had been a strong critic of Thawheed. "Then, the Police did not accept what we said. They thought it was the LTTE," he claimed.
| | | | |
| --- | --- | --- | --- |
| | | | |
| Azmi | Fowzul Ameen | Rauf Moulavi | Zahran |
We spoke to 28-year-old Alim (full name withheld) who was one time recruiter for the Jihad group. He admitted he had trained young recruits to fire weapons. "This was done at the beach during nights. Some coconut trees in the location are scarred with bullet marks," he told the Sunday Times. "I later realised I was doing something wrong and dissociated myself from all Thawheed activities," he said.
"We are not at all responsible for any incidents. Our members who number around 2,000 practice true Islam. We strongly oppose those who resort to un-Islamic practices," Moulavi M.C. Zahran, the Propaganda Secretary of the Thawheed group in Kattankudy told the Sunday Times. "There have been all forms of allegations against us. They say we got funds from West Asia. They say we have weapons and are a militant group. We strongly deny these allegations," he said.
"We have a duty to correct the Muslims who are going on the wrong path. That is what we are doing," claims M.P. Azmi, a Thawheed follower. He adds, "We have every right to criticise those who practicse Islam in a wrong manner. The recent unrest in Mahagoda, Beruwala, was the result of those Muslims not being able to take criticism and accept true ideology."
Thawheed members are followers of the Wahabi school, named after Muhammed ibn Abd al-Wahab (1703-1792), described as the first modern Islamic fundamentalist. Wahabism's explosive growth began in 1970s when Saudi Arabian charities started funding Madrasas (religious schools) and mosques. We learnt that such Madrasas operated in Kattankudy. In one instance, A Wahabi preacher identified as Aliyar Riyadi conducted Quran recitation classes in a Madrasa in Kattankudy for youth in the area. Riyadi had spent considerable time in Saudi Arabia and had delivered sermons on the need to preach "true Islam." He had been strongly critical of those who did not follow such practice. A resident of Kattankudy, he was forced to leave the area after he came under the close watch of security authorities.
Another who was due to spend time in Madrasas was Kovai Ayoob, a preacher from South India. As reported in the Sunday Times of August 2, the Controller of Immigration, P.B. Abeykoon urged the Police to arrest him for deportation. Immigration officials say Ayyoob had left Sri Lanka on August 3 after the news that he was wanted spread. However, before departure, he had used a mobile telephone from a secret location to speak to devotees of a Thawheed mosque in Kattankudy. His speech was aired over loud hailers. Ayoob said he was unable to visit the mosque since the Police were on the lookout for him.
The visits of preachers from South India as well as some West Asian countries lay bare details of a well-connected network to radicalise followers of Islam in Sri Lanka. They are being funded heavily. "What we are unravelling is only a thin tip of the iceberg. There is plenty more," says a high-ranking security official who spoke on grounds of anonymity.
He said their "first task" was to unravel the entire network. "It is only thereafter that tougher action can follow," he added. Already, some organisations in South India, which are directing most activity have been located, the source said.
Riyad S. Al Khenene, Counsellor of the Embassy of the Royal Kingdom of Saudi Arabia told The Sunday Times, "Any suggestions that our Government is helping in the activities is absolutely false and unfounded."
He added, "Saudi Arabia is a friend of Sri Lanka. We have helped in the tsunami reconstruction. We have helped IDPs (Internally Displaced Persons now in camps in the Wanni) by donating two tons of food and other relief items. We do not differentiate people on the basis of community"
However, Mr. Al Khenene made an important revelation when he said, "we know that certain wealthy persons (meaning non-state actors) are helping various religious groups in Sri Lanka to put up mosques. But this has nothing to do with the Government of Saudi Arabia."
The Police confirmed this further. "We have found that Muslim militants and their sect receive large donations of money from West Asian countries. They even give scholarships to Muslims to study religion in their countries," I.G.W.R. Kandewatte, Assistant Superintendent of Police (Kattankudy) said.
With the Tiger guerrillas militarily defeated, security authorities in the east now want the one time Home Guards and others who inherited their weapons to surrender them. DIG Gunathilake spoke with Muslim groups on June 19 to appeal to them to formally announce the surrender call. This amnesty ended on July 2 (and later extended for two more days) but we learnt that most groups retained their weapons. Both the Army and STF commandos have now begun raids to seize illegal weapons.
A warning on what portends came from the sanguine remarks of Mohamed Fakhrudeen, a gram vendor. Speaking in Tamil, interspersing every sentence with the word "Doray" (equivalent to Sir), he said "they (Tiger guerrilla) took to weapons and see what happened. They wanted land. Here, they want to hold a gun and like repairing a clock, programme our brains. All are scared now.