by M.K. Eelaventhan, April 6, 2014
Eelam Tamils are in a crisis unprecedented in the history. We need a leader in crisis. In the present critical context, Vaiko alone is equal to the task of raising his voice on behalf of the Eelam Tamils. His voice is the voice of voiceless Tamils at home. Vaiko is an embodiment of purity, clarity and courage of conviction. His personality draws the attention of all.
Even his political opponents respect his sincerity. The part he played in Delhi during the most critical period of our history is on records. Mr. Muthuvelu Karunanidhi, Former Chief Minister of Tamil Nadu then rightly pronounced that "Vaiko is my por vaal". His role in Delhi silenced his political opponents in India and it was a terror to the Sinhala fanatics in Srilanka. It is in this context we are pleading on behalf of all Eelam Tamils and also on behalf of the Trans national Government of Tamil Eelam (TGTE), that his presence in Delhi is a vital necessity. It may be mentioned that the writer of this appeal was a former member of parliament in Srilanka.
The voice of Vaiko will not only be heard in Delhi parliament but will be echoed and re-echoed throughout the world. Hence, we are pleading that our Tamil Nadu brothers especially in the Virudhunagar electorate should elect Vaiko with the re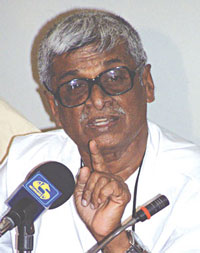 sounding victory to give a place in the annals of history. In the dire of our need the valiant son of Tamil Nadu should be in the Delhi parliament to shape the destiny of the Eelam Tamils and the destiny of the Tamils all over the world.

M.K. Eelaventhan, Former Member of Parliament – Sri Lanka, Member of Transnational Government of Tamil Eelam Representing Canada, St. Georges Manor, 809-17 Brimley Road, Scarborough, ON M1M 3T8, Canada
Tel: (416) 519-7165
E-Mail:
This article is posted although it does not necessarily show the position of the Sangam or its members.