by Sachi Sri Kantha, August 11, 2016
The fifteenth Anniversary passed by silently last month. Only three living individuals know about it. One is me. Other two are, Nadesan Satyendra (the founder editor of now defunct Tamil Nation website) and Dr. Rajan Sriskandarajah (the founder editor of sangam website). As 15 years had passed, I felt that I should record it here, because my link to sangam website began with a personal calamity that happened in UK.
I provide some background details, about my past career. After working at a Japanese food company for five years, I moved to Gifu City to join the Gifu University in April 2000. Email use and internet connection began lately in Japan then. At the mid-size Japanese company I worked then, email use originated only in 1999. At the time I joined the Gifu University, even the university didn't have a home page, but personal email privileges were available. I had graduated from working in common work space room and cubicles, into having my own room.
I made contacts with Mr. Satyendra and soon began to contribute my thoughts to his Tamil Nation website regularly. Then, an idea struck me. Why not write about the Tamil Eelam history, under the title, 'Pirabhakaran Phenomenon'. I contributed first 8 chapters to Tamil Nation website.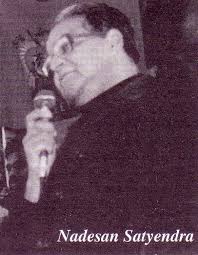 Email from Mr. Satyendra
Then, I received a mail from Mr. Satyendra on July 6, 2001. It read as follows:
"Dear Sachi,
I'm afraid that this email may come as a surprise.
My wife was hospitalized last Friday and though she is now on the road to recovery, the past week has been a traumatic one. At the same time, it has given me the opportunity (and the space) to reflect on my own life goals and priorities –something which, in any case, I have been doing increasingly during the past six months or so.
By the time you receive this email, you will find that the tamilnation.org website has been closed. It was not an easy decision to take but I believe that the time has come for me, personally, to move on. The reasons are manifold – and hopefully we may discuss them on an occasion in the future when we meet.
I am writing to Rajan Sriskandarajah about the closure and he may want to contact you about writing to the sangam.org website – that is, if you are inclined to do so.
I am thankful for the support that you have extended the tamilnation.org website – and many Tamils will be grateful for your writings – writings which were well researched and at the same time represented an existential response of a Tamil expatriate.
Warmest personal regards.
Satyendra."
My email to Dr. Rajan Sriskandarajah
Immediately, I also wrote to Rajan as follows:
"This is Sachi Sri Kantha from Japan. I have just received the email from N. Satyendra informing me that the Tamil Nation website he maintained had been closed. And he had let me know that you may contact me. So, I take this opportunity to contact you.
I have been a regular reader of your sangam.org website and I was pleased to see that my continuing 'The Pirabhakaran Phenomenon' series was linked in your website as well. Now that the Tamil Nation website has been closed, I wonder whether I can continue the series in your website…"
My Reply to Mr. Satyendra
I sent my response to Mr. Satyendra immediately as follows:
"Dear Mr. Satyendra,
Thanks a lot for your message. Obviously I was saddened to hear about the recent turn of events in your immediate family circle and I pray to the healthy recovery of your dear wife. Regarding the closure of Tamil Nation website, though painful, I cherish the good memories and pleasure it provided to me and my thanks to you for encouraging me to contribute to its columns for the past year.
I contacted Rajan Sriskandraraja this morning and he has expressed his interest in carrying my writings, and I will continue there.
One advice which I hold dearest to my heart was one I received from James T. Rutnam, back in 1977 [when I was receiving some public exposure for the first time] was that, 'Son, don't expose yourself too much. You have to live to fight for another day.' It still rings in my ears. Why I mention this is, I just pass his wisdom to you as well. You just check your balances, to conserve the energy so that you can live to fight for another day. Please do keep in touch.
It might not have escaped you, that I met you once in Colombo, in your law office in 1975, when I was in the final year at the University of Colombo. I look forward to meeting you in the future, at a mutually convenient time. With kind regards.
Sachi"
Aftermath
The personal calamity of Mr. Satyendra brought me to sangam website. There has been a connecting link to Satyendra, Sriskandarajah and me. All three had link to the Colombo Hindu College (Ratmalana). Roughly, there is a ten year age difference between three of us. Mr. Satyenda (b. 1932) is the oldest, and me (b. 1953) is the youngest. Senator S. Nadesan (Mr. Satyendra's father) was one of the founding members of the Colombo Hindu College (Ratmalana) and Mr. Satyendra served as the principal of this college in late 1950s for a short period. Rajan and I were alumni.
Mrs. Jayalakshmi Satyendra eventually died on Nov. 27, 2012. But, I have yet to meet neither Mr. Satyendra nor Rajan in person. When I began my association with the sangam website, I was 48. Now, I'm 63.
The 'Pirabhakaran Phenomenon' series did continue under the guidance of Rajan's editorship and his successor until 2004, for 53 chapters. Eventually it was published as a book in 2005. I continued the series after Prabhakaran's death in 2009, in the sangam site for another 9 chapters, under the title, 'Prabhakaran's Tigers and Mandela's Spears' in 2011-2012, to bring to a closure on LTTE's remarkable story.
Subsequently, biographer's bug bit me again, after I completed V. Prabhakaran's life story. Thus, from December 2012, I began writing the life story of incomparable Tamil movie star turned politician M.G. Ramachandran (1917-1987) to the sangam website and still continue it. Rain or shine, I had contributed regularly to the sangam site on any topic (until recently at least 3 items per month) that I wished had to be written up. These include political commentaries, eulogies, memoriam, book reviews, career appraisal, historical vignettes, occasional humor columns, and an annual Art Buchwald Humor Awards, for my pleasure and educational purposes for young Tamils living in Sri Lanka and elsewhere.
Despite a teaching load, research work, and writing to science journals, I had continued to write to the sangam site for the pleasure of it. I have been motivated by the thought provoking quip of comedian George Burns: "Everyone makes mistakes. The idea is to make as few as possible." in my writings. Though I'm not a prolific science author, 135 of my research papers on varied themes are accessible to interested readers in the Research Gate website (https://www.researchgate.net/profile/Sachi_Sri_Kantha). But, my quotient for single author publications is reasonably high, around 60%. In this criterion, I'm an eccentric 19th century scientist living in the 21st century.
For my writings on ethnic Tamils and Tamil-related themes, luckily I have been given a free hand by the editor of sangam's website. I appreciate this kindness very much. Despite occasional grumblings by few critics, I do receive my share of fan letters and solicitations for help in locating some archival or research material. Through this sangam site medium, I was able to make few good friends whom I've never met personally even once. I'm also pleased to realize that I have a small (or very small) fan circle who are interested in reading my take on some issues which affect the Tamils.
Future Hopes
Now, I'm somewhat at a crossroad. Like what Mr. Satyendra faced in 2001, I also face a personal calamity. After reaching 63, I face the compulsory retirement of full time work at the university, by the end of next month. Thus, I lose the benefits of having my own personal room, desk telephone and other related paraphernalia. Devoid of having desk, chair and computer in the work place, how should I motivate myself to write is a dilemma for me now. Sharing a common single room (of Japanese size) with more than a dozen teachers, has not been my kind of life for contemplative writing. Though I face compulsory retirement, I have to work to earn an income for paying bills. No 'big' retirement benefits are in store for me. Whatever meager savings I had have been spent on my book collection hobby. It will be a lie, if I say that living in Japan, as a 'technically non-Japanese' life for the past 30 years have not drained my physical energy. Eight years ago, I had a health scare and have been on medication since then with routine medical checkups and popping 8 pills orally for high blood pressure, diabetes, cholesterol level control and blood clot prevention.
On a personal note, two months ago, I became a grandfather for the first time. Our eldest daughter Sachiko gave birth to a baby boy Kei. So, I'm thrilled to don this new cap too. If there is an unusual delay in the posting of any of my items in the sangam site, I kindly request the indulgence of my readers, until I re-set my life's priorities. I end this reminiscence with the end lines of Doris Day song in Hitchcock's movie 'The Man Who Knew Too Much' (1956), released 60 years ago.
Que Sera, Sera – Whatever will be, will be
The future's not ours, to see,
Que Sera, Sera – What will be, will be.