SYNOPSIS
Sri Lanka 1983, Jude Ratman is five years old. On a red train, he flees the massacre of the Tamils instigated by the Pro-Sinhalese majoritarian government. Now a filmmaker, he takes the same train from South to North.
As he advances, the traces of the violence of the 26-year-old war and the one which turned the Tamil's fight for freedom into a self-destructive terrorism pass before his eyes.
Reminiscing the hidden souvenirs of fighters and Tamil Tigers, he unveils the repressed memories of his compatriots, opening the door to a new era and making peace possible again.
DEMONS IN PARADISE is the result of ten years of work. For the first time, a Tamil documentary filmmaker living in Sri Lanka is seeing the Civil war from the inside.
CREDITS
Jude RATNAM – Director
Jude RATNAM – Script / Dialogue
Isabelle MARINA – Script / Dialogue
Rajkumar DHARSHAN – Music
Benoît GARGONNE – Sound
Jean-Guy VERAN – Sound
Jeanne OBERSON – Film Editor
Chinthaka SOMAKEERTHI – Director of Photography
Mahinda ABEYSINGHE – Director of Photography
Demons in Paradise is the result of 10 years of work. What inspired you to make this film?
I never thought I would make films. I was formally a human rights activist. Until 2006, I was working in the NGO sector. At that time, there was so much going around us, and I felt quite helpless. I wondered how I could reach people. When I watched Modern Times by Charlie Chaplin, I realised that films could do amazing things. That's when the idea of telling the story of the conflict came about.
Demons in Paradise is your first documentary, shot on location. Were there any risks in making this film? What challenges did you face?
Of course! It was because of all the restrictions that I made this documentary. If there hadn't been that many restrictions, I wouldn't have done it. There were many obstacles to overcome, especially because I am a Tamil filmmaker. I had to play tricks to direct the film. For instance, I had to come up with the idea of a love story to be able to shoot in a particular location. The significant thing is that the whole crew was Sinhalese and they secured the permission for me. But I never wanted to give up.
What was the process involved in making this documentary?
Initially, I had the setting in my mind. When I started to write it, it looked very historical. But Julie, my producer, she suggested that my story should be the topic of the documentary. And I was reluctant to do that at first, because I didn't want it to be the focus of the documentary. But it made me think and then I realised that there was so much more in my family itself that I could explore. That was when I started to realise what the structure and form of the documentary would be. I started shooting with my uncle who came from Canada. Thanks to him, I met militants and then people who helped me with my research. It was a mammoth process.
You are the first Sri Lankan director to offer an internal perspective. How did this standpoint influence the documentary?
It was important for me to have this introspective look at the conflict, because I realised that in war, no one is innocent. When you watch a documentary made from an outsider's point of view, you tend to have this feeling that one side is innocent.
How do you think the film will be received in Sri Lanka?
My guess is that there will be fewer problems in Sri Lanka than in the other countries where the Tamil diaspora lives. This is because the ideology built up by the Tamil Tigers is that we are the victims and that the world has to acknowledge that it was a genocide. And my film actually questions all of this.
Can you tell us about your next project?
I've had something in mind for 5 years, a documentary again, although I enjoy playing with "real" characters and put them in an almost fictional situation. I like the whole experience of the uncertainty that the documentary genre brings. I want to keep that uncertainty.  Written by Eugénie Malinjod
http://www.festival-cannes.com/en/festival/films/demons-in-paradise
---
Demons in Paradise: "Engulfed in silence"
by Fabien Lemercier, 'Cineuropa,' May 24, 2017
CANNES 2017: Sri Lankan filmmaker Jude Ratnam lifts the veil on the ghosts of the conflict between the Sinhalese and the Tamils and the by-product that is the separatist Tiger guerrillas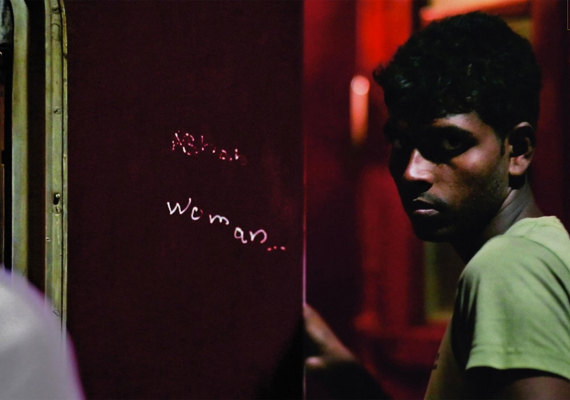 "How did our hopes turn into such cruelty?" It is this very good question, by going that Sri Lankan director
Jude Ratnam
found himself facing when he went through the ethnic looking glass in his documentary
Demons in Paradise
[

+

]
, associate produced by Parisian company
Sister Productions
and unveiled in a special screening as part of the official selection of the 70
th
Cannes Film Festival
. It is worth recalling, incidentally, that on this very Croisette, back in 2015, Jacques Audiard explained that he chose Sri Lanka and the guerrilla Tamil Tigers as a point of departure for
Dheepan
[

+

]
because few people in Europe knew exactly what it was all about. And now with
Demons in Paradise
,no one can ignore the two dark sides of a conflict in which demonstrations of hatred by the Sinhalese majority against the Tamil minority have turned into a 30-year-old armed battle during which, moreover, the leaders of the oppressed have also become oppressors of their own brothers.
Jude Ratnam carries out this clinical operation of painful self-criticism in two strokes, first of all by addressing the root of the evil, the indirect legacy of colonialism. "Don't speak Tamil, if you do they'll kill us": these words uttered by his mother in 1983 during the Colombo riots, when the filmmaker was aged just five, remain burned on his memory to the extent that even today, hearing his own son speak Tamil makes him feel uneasy: "I feel like people are watching him".
Recounting the escape back then of the Tamils ("crossing a road was like crossing an ocean, a continent: we were scared") and the consequences of the terror on the mental health of his uncle's mother, Ratnam then focuses on the latter, who participated in the armed struggle and serves as the main witness in the film, which shifts to Jaffna, the "homeland of the Tamils". He then launches into a detailed account of the internal struggles between the various Tamil factions, in particular the acts of violence by the Tigers: "they killed those who opposed them one by one", "they wanted to create a pure State and eradicate the impure". He recalls public executions, which are clearly troubling memories: "it was here than they burned boys in tyres", "anyone could end up here for no good reason", recalling torture methods involving an iron. Looking at history through a personal account, the documentary carries out its catharsis above all through the moving soul-searching of the director's uncle, and gives us a intense meeting around a fire of former guerrillas who revisit their past misdemeanours without burying their heads in the sand or bragging about them. Filmed over several years, Demons in Paradise is also a potentially dangerous piece for its writer, who has gone against the tide by clarifying things from both angles and fighting the widespread phenomenon of voluntary oversight. A piece that turns the spotlight on all the ghosts that haunt the country, a painful task that is both commendable and absolutely essential, as "almost all traces of the war have been erased, but the fear has merely been hidden".
Produced by France and Sri Lanka, the film is being sold internationally by Upside Distribution.
(Translated from French)
---
Film breaks silence on 'madness' of Sri Lanka civil war
Demons in Paradise, which is premiering at the Cannes film festival, tells of the bloodbath that drove some Tamils to take up arms in the three decade-long insurgency that tore the island apart.
by 'Hindustan Times,' May 25, 2017 
Jude Ratnam is worried how his film might go down with his fellow Sri Lankan Tamils. And he has a point.
Demons in Paradise, which is premiering at the Cannes film festival, tells of the bloodbath that drove some Tamils to take up arms in the three decade-long insurgency that tore the island apart.  But the documentary also shatters a taboo by insisting that some of most horrific violence the minority endured was at the hands of their supposed defenders, the Tamil Tigers.And the "hard truth" comes from the mouths of former Tamil fighters themselves."By making this film I know that I will have to face harsh, perhaps even hateful criticism from both communities," Ratnam said."The Sinhalese will claim that I am betraying my country by stirring up the past that is best forgotten. The Tamils will insist that I betrayed our cause by revealing the atrocities committed by the Tamil Tigers."Ratnam was five when the anti-Tamil pogroms of "Black July" began in 1983, sending him and his family fleeing north from the massacres in the capital Colombo.

Tamil grievances and suffering were real, the director insisted.

The problem was "the Tamil liberation movement turned out to be complete madness" with many groups vying for control.

'Sun God' leader

As many as 20,000 civilians died as the Tigers — led by Velupillai Prabhakaran, whose supporters venerated him as the "Sun God" — imposed their will through a bloody reign of terror in the Tamil-dominated north.

Ratnam believes another 10,000 disappeared after being tortured or taken to camps.

"If you don't recognise that madness and just keep saying we were the victims, you are not facing the truth," he added.

By 1986, less than three years into the civil war, "people were more afraid of the Tigers than the army," he told AFP. "People were terrified of them… they reigned supreme as the gods of revolutionary justice."

In the film, witnesses talk of the almost daily public executions of "spies" and "traitors" in the Tigers' stronghold of Jaffna. Opponents were also "necklaced" with burning car tyres.

In one electric scene Ratnam brings together rival former fighters to talk for the first time around a campfire about what they saw and did.

If the film has a hero, it is his uncle, a former fighter who grew disillusioned with the struggle and risked his life to smuggle civilians out of Jaffna.

He returned from Canada with Ratnam to the family's ancestral village near Kandy for an emotional reunion with the Sinhalese neighbours who hid him during earlier anti-Tamil violence in 1977.

"He's a great man," Ratnam said. "When I was 16 and I saw my people dying I wanted to fight. But he was the first to return and say, 'This wrong, it's messed up. What is going on is madness'."

'Silence is imposed'

Ratnam, the son of an Anglican priest, said facing up to the "hard truth of what happened is essential" if Tamils and the majority Sinhalese are to move on.

"Seven years after the end of the war, the victors are celebrated, general amnesia is encouraged and silence is imposed," he added.

"In a conflict that went on 30 years nobody is innocent."

Because of the Tigers' iron grip, "everybody got sucked into the ideology. The Tigers came to represent the Tamils, so if you are a Tamil you had to be a Tiger".

Ratnam took a decade to complete the film. Given the new Sri Lankan government's commitment to freedom of speech, he said he hoped "they will allow the film to be shown".

"It is not going to be easy. Some of my close friends will be upset by it. It's a big taboo. I don't think I will be able to show my face in Tamil diaspora areas abroad (where support for the Tigers is still strong)… nor Tamil Nadu in India.

"I am a Tamil, I don't deny my identity, but identity also gets us into some lunatic positions that deny the facts or inconvenient truths. 'Our people can't be wrong!' is the attitude."

Ratnam said he would be "much more comfortable back home" in Sri Lanka where people lived with the war to the bitter end in 2009.

"Fear destroyed the lives of three generations" in Sri Lanka since British colonial rule, Ratnam said, when ethnic differences were used to "divide and rule".

"My uncle had a gun. I have a camera… I want to avoid a fourth generation being trapped in the snare."